The sun is a little cooler in the sky, red and orange leaves are starting to appear underfoot along the sidewalks, and the month across the top of the calendar reads "October", which can only mean one thing: It's that special time of year when all things witchy, eerie, and spectacularly supernatural come out to play. Sure, when folks think of the ultimate Halloween destination they might think of Sleepy Hollow or Salem, but Lawrence, KS is nothing to scoff at this time of year. We've got the haunted history, the perfect fall weather, and a community of residents and college students alike who love to have a good time. Add it all up, and we've got a month packed with spooky events that even the most committed Halloween lover would delight in.
I've divvied up all the events/locations/things to do into a few categories, so if one doesn't suit your fancy, keep scrolling. The plan is to update this fairly regularly throughout the month in case more activities pop up, so feel free to check back every week to see what's on schedule!
For the Arts & Culture Admirers
Are you a film buff or a book reader? Maybe just a general supporter of the arts? If so, here are the events for you.
Tip: Don't forget to do some shopping around town, particularly at the weekly farmers' markets and at Final Friday on October 28th. We've got so many local artists and locally owned shops here in Lawrence who love Halloween. 
For the History Buffs & Paranormal Fanatics
Travelers may or may not know about the long and sordid history of Lawrence, KS. Lawrence was heavily involved in the  "Bleeding Kansas" or "Border War" conflict with Missouri, a violent struggle in which abolitionists fought to retain Kansas as a free state before the Civil War. Book a room at The Eldridge Hotel, which stands on the site of its predecessor, the Free State Hotel, which was attacked and burnt down twice in the years leading up to the Civil War. To those with a sixth sense, you might feel a presence from the hotel's original owner, particularly near room 506. Next, make your way to the Lawrence Visitors Center and pick up our self-guided tour, "Historic Cemeteries Tour of Lawrence." Pioneer's Cemetery may be of particular interest, as it was the repository of a mass grave after Quantrill's Raid in 1863. You can also access our self-guided history tours below.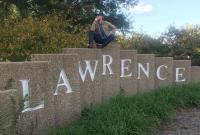 Tip: If you're a fan of the show Supernatural, make sure to ask at the Visitors Center about the proclamation that names Lawrence as the official hometown of Sam and Dean Winchester. A copy is kept there and the lovely folks working will happily point you to the Lawrence sign that Jenson Ackles touched just a few years ago (which you, too, can touch. Respectfully).
For the Live Music Lovers
As always, Lawrence is killing it in the live music game this October, but there are a few performances that are sure to be a spooky time. Some of these shows are ideal for the casual witch, while others encourage wearing your full Halloween costume. Regardless, you can find some seriously weird (in the absolute best way) performances on stage this month.
For the All-Around Halloween Enthusiasts
Some straight-up spooky activities for those who just like Halloween as a concept and want to relish in the season for as long as it lasts. 
For the Littlest Ghosts
No need to be frightened, adults in charge of little ones: Lawrence has plenty to do for the kiddos this month too. Whether you're visiting a local pumpkin patch, dressing up for a costume contest, spending a day at the museum or public library, or looking for places to trick-or-treat safely, we've got you covered.