Winter Wonder Weekend
December 2-4, 2022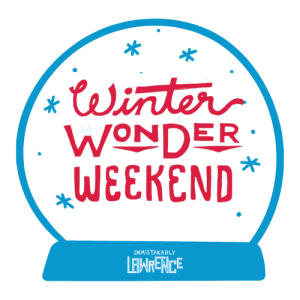 Get in the holiday spirit with a weekend full of winter magic in Lawrence, Kansas. The city is brimming with seasonally-themed events, markets, shopping, food, and entertainment all weekend long.
Do not miss one of the more unique parades in the world, the Lawrence Old-Fashioned Christmas Parade. Riders on horseback and in old-fashioned horse-drawn carriages parade through the streets of Downtown Lawrence. It's one of the community's most treasured winter traditions. Be sure to explore the Downtown district while you're there. Additional activities and entertainment, unique shopping, and delectable dining are only footsteps away. 
Outside of Downtown, you will find markets and craft fairs, more good food, holiday light shows, and a magical experience aboard the Polar Express in nearby Baldwin City.
Use the information below to plan your perfect Winter Wonder Weekend in Lawrence, Kansas!
Music by Richard Rodgers Book and Lyrics by Oscar Hammerstein II Adapted for the Stage by Tom Briggs The timeless enchantment of a magical fairy tale is reborn with the Rodgers & Hammerstein hallmarks of originality, charm and elegance. Studded with memorable music like "My...
Break out your favorite ugly sweater and head to the Lawrence Arts Center Microcinema for an irreverent holiday screening of this campy classic. You'll kick off the night with a pre-show conversation with KU Department of Ecology and Evolutionary Biology exploring how aspects of...
Announcing the return of this popular holiday event! From December 2-9, look for the famous Watkins Hobby Horses in the windows of businesses in the 700 and 800 blocks of Massachusetts Street. Bring your checklist downtown, write down locations for at least six out of the eight...
Cozy up with hot cocoa and blankets and feel the true holiday spirit while watching dozens of beautiful horses and wagons adorned in garlands and bells to celebrate an American tradition this holiday season. The Lawrence Old-Fashioned Christmas Parade is one of the largest...
SANTA'S WORKSHOP is BACK!!! Sponsored by VIBE, Sensora, Crystal Image and Blush Bootcamp. ♥️❄️ Elsa (thanks to This Princess Life) arrives 8:30 -10:30AM Parade at 11AM SANTAAA (thanks to Demetrius Kemp)12 -2PM $5 DIY ORNAMENT MAKING and Letters to Santa himself. We cannot wait...
LPRD HOLIDAY EXTRAVAGANZA LPRD's Annual Holiday Extravaganza will be held 9 a.m.-4 p.m. Saturday, December 3, at the Sports Pavilion Lawrence, 100 Rock Chalk Lane. This is an indoor show for non-commercial and commercial vendors. This annual show continues to bring artisans and...
Lit and Local is a youth-driven event that gives a platform for youth creators to sell their homemade goods to the community. We will be hosting up to 20 youth vendors ages 12-18 and their homemade goods: arts, crafts and baked goods! Come out and find some winter holiday gifts...
Announcing an electrifying holiday game: Bring the kids into the Watkins on December 3, locate the miniature versions of our mascot Ellie the Electric Car on all three floors, and receive a Watkins Museum coloring book. Plus, you'll be entered in a drawing for a $50 gift card to...
The 10th annual Tails & Traditions will feature free fun for your family! Stop by the Watkins, watch the Lawrence Old-Fashioned Christmas Parade, and come in for holiday crafts courtesy of our friends from the Spencer Museum of Art, Center for Russian, East European, and...
In its 18th year, the annual Holiday Homes Tour will once again feature up to eight homes in Lawrence beautifully decorated for the holiday season and put on display for your viewing delight! All proceeds will support Lawrence Habitat for Humanity and our mission of providing...
From the time the lights go up until we say hello to a new year, Lawrence has a full lineup of activities and events to spread the holiday cheer. From theatrical and musical performances to a dramatic Santa rescue and a traditional horse-drawn wagon...