COVID-19 Visitor Dashboard
We are eager to welcome you for a safe visit!
Use this dashboard to get a good understanding of the current COVID-19 situation in Lawrence and Douglas County, Kansas, and to prepare for your visit.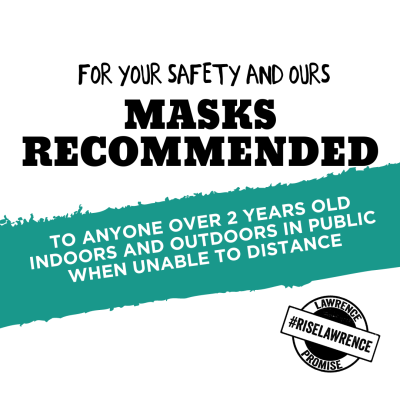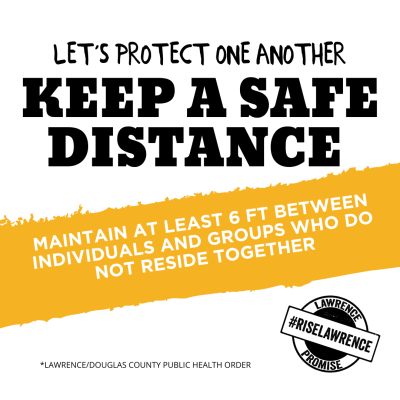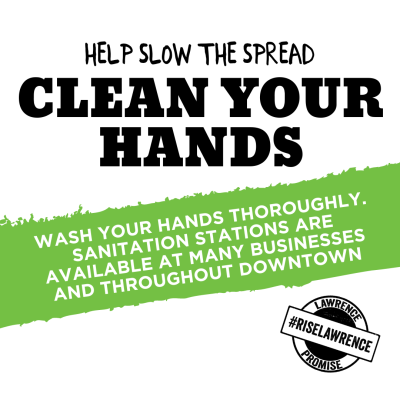 LOCAL COVID-19 CASE DATA
*Total confirmed current active cases in Douglas County. Updated every other day.
*The percentage of people who tested positive for COVID-19 out of the overall number tested in Douglas County. Updated 2x/week.
LAWRENCE PROMISE

The Lawrence Promise is a commitment to keeping Lawrence residents, employees, and visitors safe from COVID-19. Learn more>
LOCAL HEALTH ORDERS & RECOMMENDATIONS
GATHERING RECOMMENDATIONS
Indoor capacity recommendation is 50% the lowest occupancy load
Maintain 6 feet of social distance between groups
INDIVIDUAL RECOMMENDATIONS
Remain at home if you feel sick
Adhere to personal hygiene guidelines
Masks/cloth face coverings are strongly recommended to anyone over 12 years old indoors or outdoors in public and unable to distance
Masks are required for youths age 2-11 in indoor public spaces
Maintain 6-foot social distance
EMPLOYER RECOMMENDATIONS
On-site staffing is unrestricted
Any employee exhibiting symptoms should be required to stay home
TRAVEL RECOMMENDATIONS
Non-essential travel may resume
Follow KDHE travel and quarantine guidelines for travel to high-risk areas
All Lawrence-Douglas County Public Health Orders & Recommendations>
TRAVEL RESTRICTIONS
Those who have traveled to the following locations need to quarantine upon arrival in Kansas. The length of quarantine varies depending on whether you have been tested for COVID-19. This applies to both Kansas residents and those visiting Kansas:
Traveled between Aug. 27 and Sept. 23 to French Polynesia or Guadeloupe.
Traveled on or after Sept. 23 to Grenada.
Attendance at any gathering of 500 or more where individuals do not socially distance (6 feet) and wear a mask.
Been on a cruise ship or river cruise on or after March 15, 2020.
Others needing to continue quarantining:

Received notification from public health officials (state or local) that you are a close contact of a laboratory-confirmed case of COVID-19.
The length of quarantine varies from 7 to 10 days depending on whether you have been tested for COVID-19.
Those who are fully vaccinated not required to quarantine if they meet the criteria outlined.
The travel list was reviewed and updated on September 23, 2021.