Visitors Guide
Explore a City where music beats, diversity thrives, food amazes, sports excel, history is preserved, nature is treasured, and you are welcomed!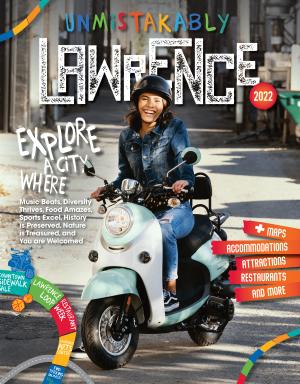 The 2022 Unmistakably Lawrence Visitors Guide features personal essays from Lawrencians about their favorite spaces and places. 
Follow locals Bahozhoni (on the cover) and Caleb as they show you around town on their scooter. 
The theme throughout is fun and games. Don't miss the centerfold gameboard for a fun road trip game!
The 2022 Guide also includes:
Getting Around Downtown and Beyond
Four Places to Explore and more about them
Codes to online events calendar and full restaurant listings
Accommodations Listings
City Map
View a digital copy of the guide here>
Pick up a printed copy of the guide at the Lawrence Visitors Center, 812 Mass Street or use the form below to order one.