Grinter's Sunflower Farm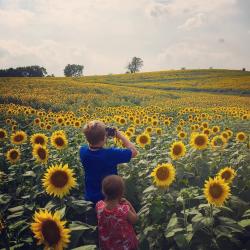 If swimming in a sea of sunflowers sounds dreamy to you, then you must join the thousands of people who swarm to Grinter's Sunflower Farm each summer and fall. The Grinter's never expected their venture into raising sunflowers for birdseed to turn their family farm into a seasonal tourist attraction. But 40-acres of giant sunflowers are quite a sight to see, and people from around the world travel to the farm to see it for themselves.
As with any crop, the exact season fluctuates from year to year, but the flowers typically bloom in late August or early September, and the season is short! There are only about two weeks to view the sunflowers in their most beautiful state. Follow the Grinter Farms Facebook Page for the most up-to-date information about how the flowers are growing.
Since so many people visit the farm in such a short season, prepare to be patient as traffic back-ups have happened in previous years. To avoid the crowds, plan your trip during work hours on the weekdays.
It's also a good idea to check the weather and plan your route before you go. Muddy roads and parking can be a problem with a lot of rain. In other words, if rain is in the forecast, plan your visit for another day. 
For those looking for the most Insta-worthy photo opp, the golden hours - a couple of hours after sunrise and a couple of hours before sunset - are your best bets. 
There is no fee to attend, but donations are appreciated at boxes located on the farm. (Please donate)! Be sure to check out the local goods and baked items at the Sunflower General shop at the farm.
24154 Stillwell Rd, Lawrence, KS 66044
#UnmistakablyLawrence
Let's see those sunflower pictures! Use the hashtag #UnmistakablyLawrence to be featured on our website.