About Lawrence
Looking for the facts and stats?
The first thing you need to know is that, despite what you may have heard about Kansas, Lawrence is not flat.
We're also fun-loving, a bit bohemian, and full of great things to do and see, eat and drink, discover and learn. This college town is fresh and fun with its famously distinctive main street, a vibrant art and entertainment scene and live music, combined with great food and unique shopping. Home to the University of Kansas and Haskell Indian Nations University, Lawrence has a fascinating pre-Civil War history, museums, galleries and sports.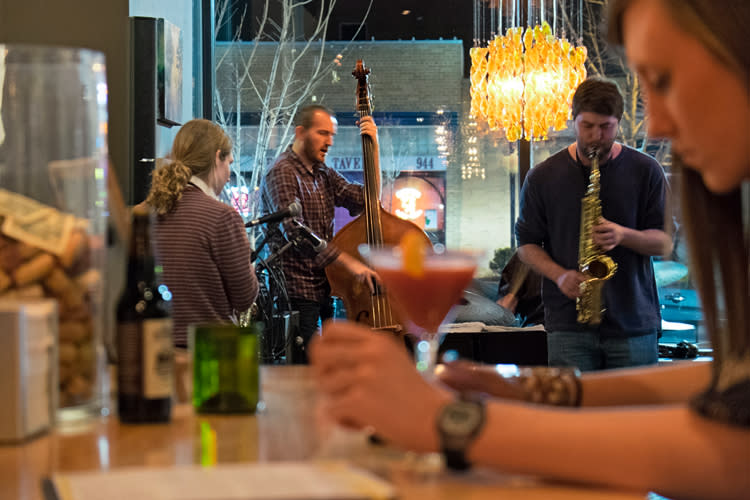 Lawrence is located in northeast Kansas, approximately 40 miles west of Kansas City, Missouri, and 25 miles east of Topeka, and is the county seat of Douglas County. The 2021 Census reported a population of around 95,000. We are in the Central Time Zone, and our area code is 785.
Lawrence sits between the Kansas (or Kaw) River and the Wakarusa River at 38°58′18″N 95°14′7″W and an elevation of 866 feet. Mt. Oread, on the University of Kansas Campus, is the highest elevation, at 1,020 ft. (See, we're not as flat as you might have expected.)
Lawrence is a doubly-blessed college town with not one but two. The University of Kansas was founded 1866 and Haskell Indian Nations University was founded in 1884.
We have a fascinating history. The town was established in 1854 by the New England Emigrant Aid Company with a political agenda – to shift the balance of power toward anti-slavery, so Kansas would enter the United States as a free state rather than a slave state. Lawrence became a focal point of that debate and the Bleeding Kansas era that followed, including the Wakarusa War, the sacking of Lawrence and the Quantrill Raid that resulted in the burning of Lawrence and the massacre of over 200 men and boys. Watkins Community Museum and Freedom's Frontier National Heritage Area help to tell the tale.
Today Lawrence hosts a vibrant art scene and is known for its live music venues. Our pedestrian-friendly main street, Massachusetts Street, is named after the home state of the founders but known to the locals as Mass Street. It's been called "the best destination in Kansas." There you will find unique shops and art galleries, locally owned restaurants, breweries, coffee houses, and, of course, music.
There are also plenty of outdoor activities in this bicycle-friendly town. We have more than 50 public parks and trails, with South Park's gazebo as the summer setting for free public concerts. The universities offer additional sites of interest for academics, sports fans, historians, and visitors.
Key attractions include:
University of Kansas
Spencer Art Museum, Natural History Museum, Dole Institute of Politics, Booth Family Hall of Athletics, and KU sporting events
Historic Downtown Lawrence
Massachusetts Street is the focal point of uniquely-Lawrence dining, shopping, entertainment, and a fiery pre-Civil War history
Arts, Culture, History
Lawrence Arts Center, Lied Center for Performing Arts, Final Fridays Gallery Walks, Lawrence Downtown and Warehouse Arts Districts, Theatre Lawrence, Freedom's Frontier National Heritage Area, Watkins Museum of History
Haskell University Cultural Center, Commencement and Powwow
Outdoor Recreation 
Sports Pavilion Lawrence, Clinton Lake, Prairie Park Nature Center, Burroughs Creek Trail, more than 50 public parks with hiking and biking trails
Visit Lawrence. We think you will find it unmistakable.