Walk this Way!
Final Fridays Art Walk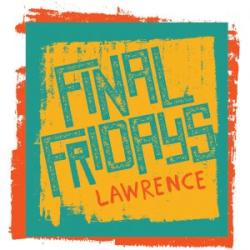 On the last Friday of every month (all year long!) from 5-9 PM, the streets of Downtown Lawrence, the Warehouse Arts District, and random places city-wide come alive with a range of arts and culture events. Storefronts convert into flash spaces and performances and exhibits spill in and out of galleries and businesses.  Final Fridays include activities for kids, exhibitions designed to challenge adults, music, dance, and theater for all ages.
History
Final Fridays began in August of 2010. The Lawrence Arts Center, Downtown Lawrence Inc., The Lawrence Cultural Arts Commission, and a wealth of artists, gallerists, art collectives, and local businesses came together. They all saw the value of the arts in Lawrence, and that an opportunity existed to bring the arts to a wider public.  The idea of a monthly free arts festival was agreed upon, and as a result, Final Fridays was born.
Lawrence has one of the highest percentages of working artists in the country per capita, therefore Lawrence has long stood out in the Kansas landscape as a mecca for creative thought and energy.