KU Campus
Feed your mind on the University of Kansas campus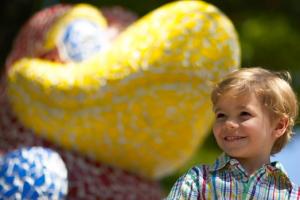 Lawrence is one of the nation's leading cities for advanced degrees per capita (meaning we can be fairly smart without taking ourselves too seriously). This is because the state's flagship university has been intertwined with the growth and development of the city since the 1860's. Townie? Gownie? We've all connected, with strong cooperation between the university and municipality. Campus events are almost always open to the public, residents and visitors alike. Put some Jayhawk into your next visit.
The Jayhawk, KU's world-famous mascot, is a mythical bird whose history is rooted in the historical struggles of Kansas settlers.  This beloved bird, with big-buckled, yellow shoes, is a combination of a noisy and quarrelsome blue jay and the stealthy sparrow hawk.  It is the most visible aspect of a rich tradition that town and gown, together, treasure.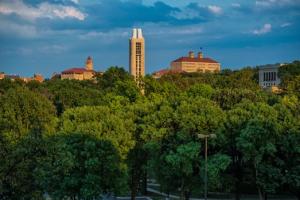 The main campus in Lawrence tops Mount Oread, known informally as "The Hill." It marks the skyline of Lawrence that can be seen for miles around.
This long, curved limestone ridge was named by the town founders who endured bitter conflicts with pro-slavery factions from Missouri. A horrific guerrilla raid in August 1863 burned the town and killed 200 men and boys. Yet a few months after the Civil War ended, KU was founded, opening in September 1866.
Red tiled roofs and beautiful, historic buildings line Jayhawk Boulevard, the center of campus. Some of the most storied buildings are Snow Hall, Dyche Hall, Stouffer-Flint, and the Campanile, a memorial to KU students who lost their lives in WWII. Along Memorial Drive, you'll also find memorials to Korean and Vietnam War veterans from KU.
Cradle of Basketball
No other city in the United States can boast an array of basketball history like Lawrence. Although the game was invented in Springfield, Massachusetts, Lawrence, Kansas is where the game of basketball "came of age."  That's why we're often called the "Cradle of Basketball."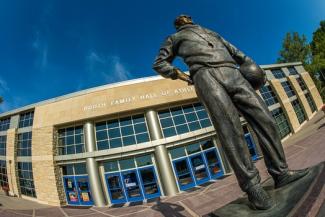 The University of Kansas has the only college basketball program founded by the inventor of the game, James Naismith. With three NCAA National Championship teams, it's safe to say that Lawrence is embedded in basketball history.
On campus visit Allen Fieldhouse, also known as "the house that Wilt [Chamberlin] built" and "The Phog". It is here that the men's basketball team enjoys the greatest home-court advantage of all sports… perhaps because it's the loudest college basketball arena in the country.  The Booth Hall of Athletics within Allen Fieldhouse features the Kansas Athletics Hall of Fame, exhibits highlighting the story of basketball, University traditions and an incredible collection of championship trophies. Don't miss the Interactive Fun Zone where kids and kids-at-heart  can see how they size up to some of the University's finest athletes. The adjacent DeBruce Center is the permanent home for James Naismith's original "rules of basket ball". It also includes a timeline of Kansas basketball, a gift shop and the Courtside Cafe. Learn more about the Cradle of Basketball.
Lights, Camera, Action!
On West campus, you'll find outstanding performances at the Lied Center of Kansas. The Lied Center schedule has something for everyone. Kid-friendly and adult-topic productions, comedy acts, live national acts and much more.
The University Theatre, where the classroom meets the stage. KU Theatre students, faculty, and professional staff are committed to presenting you fully produced productions, from comedies to dramas to musicals to opera. We are proud to be a cultural resource for you that serves to entertain as well as educate and provoke thoughtful discussion  and conversation. With an emphasis on education and training, our selections will challenge you to reflect on your values and those of our society.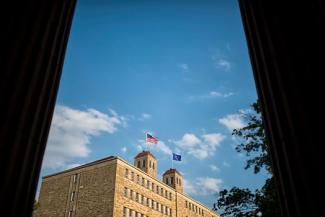 For dining and shopping, check out the Kansas Memorial Union, DeBruce Center and Wescoe Hall. If you need a cup of coffee or a quick snack, you can find spots in Murphy Hall, Watson Library, Strong Hall and more.
The University of Kansas is known for the high quality of its academic programs. It has more than 190 undergraduate majors in the sciences, arts, and humanities. It offers professional education in medicine, nursing, pharmacy, engineering, music, law, social welfare, journalism, business, and architecture.
Nearly 50 of its graduate programs are nationally ranked. KU's University Honors Program is among the best in the United States.
For more information about the University of Kansas, go to www.ku.edu.