Neighborhoods
Each neighborhood has a distinctive style for you to explore
Massachusetts Street (aka "Mass") in Downtown Lawrence is a great place to start your visit, with unique dining, shopping, live music, entertainment, museums, galleries and parks.  But don't stop there.
East Lawrence is the "artsiest" neighborhood, with a great history of its own, and a new chapter as the East 9th Street Corridor becomes an important connection between historic Downtown, the East Lawrence neighborhood and the Warehouse Arts District, where old industrial buildings are getting a revival as galleries, artists' studios and apartments.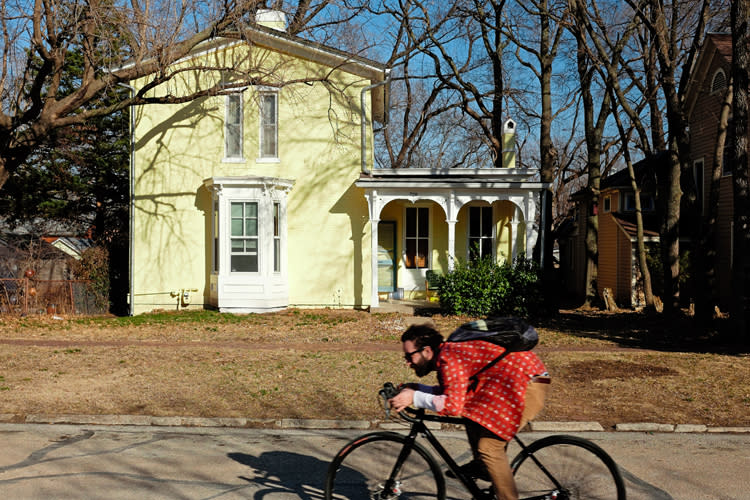 West Lawrence, west of Massachusetts, is the elegant Grand Dame neighborhood with it's lovely, period homes, brick streets and lots of tree-lined charm to go with its long history.
North Lawrence, north of the Kansas River, has a character all its own, with fun shops for antiques, one-of-a-kind items and furniture.  Frank's North Star welcomes the motorcycle crowd, and Johnny's Tavern has been named "most iconic bar in Kansas."  Don't miss the diminutive Green Lantern bar, just south of Johnny's.  Our Visitor Center, in the beautiful Union Pacific Depot, is another landmark in North Lawrence and you can find maps, brochures and friendly volunteers to help you plan your visit.
The Western section of town includes Rock Chalk Park, Sports Pavilion Lawrence and lots of choices for dining, shopping and entertainment. Further West is Clinton Lake for fishing, swimming, hiking and camping.
South Lawrence has plenty of restaurants, shops and things to do, but be sure to include Prairie Park Nature Center and trails.
Of course the campuses of The University of Kansas (in the center of town) and Haskell Indian Nations University (just south of 23rd and Barker Streets) each have their own charm.
Come see the variety Lawrence neighborhoods have to offer, and explore all we have to offer.
Massachusetts Street (referred to by locals as "Mass Street"), is the main street that... Read More
From its beginnings in 1855, the Old West Lawrence neighborhood was different than other Lawrence... Read More
East Lawrence offers a neighborhood full of character and an emerging art scene. Read More
North Lawrence, on the north side of the Kaw, has a distinctive character all its own. Read More
South Lawrence is home to residential neighborhoods and its two main thoroughfares, Iowa Street and... Read More