Cradle Of Basketball
No other city in the United States can boast an array of basketball history like Lawrence. Although the game was invented in Springfield, Massachusetts, Lawrence, Kansas is where the game of basketball "came of age". That's why we're often called the "Cradle of Basketball."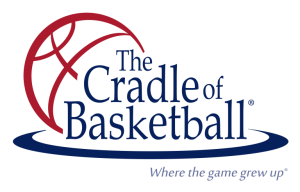 The University of Kansas has the only college basketball program founded by the inventor of the game, Dr. James Naismith. The Debruce Center, a unique facility that explores the rich history of basketball, is the home of Dr. Naismith's original "Rules of Basket Ball". Right next door is the legendary Allen Fieldhouse (the loudest place in all of sports to watch a game). While exploring Allen Fieldhouse you will find the Booth Family Hall of Athletics. This museum of memorabilia honors the greatest athletes in University's history.
With four NCAA National Championships, it's safe to say that Lawrence is embedded in basketball history.
For a little history: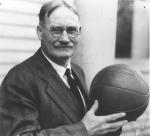 Dr. James Naismith invented the game of basketball on December 21, 1891 to fill the need for an indoor winter sport. In 1898, he brought the sport to the University of Kansas and became the school's first basketball coach. The court in Allen Fieldhouse is officially James Naismith Court.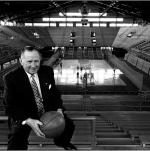 Forrest C. "Phog" Allen became KU's second basketball coach when he replaced Naismith in 1908. Allen served for 39 seasons at KU. To date, Phog Allen is the fourth most successful coach in the history of college basketball and KU's winningest coach of all time. He was instrumental in bringing basketball to the Olympic games. While Naismith is often called "the father of basketball," he reportedly coined Allen the "father of basketball coaching". It is in reference to this beloved coach that his statue stands in front of the Fieldhouse that bears his name and Jayhawk fans warn opponents to "Beware of the Phog."
Download & print the Cradle of Basketball Itinerary
Basketball fans, want more?
Listen to the  only known audio recording of James Naismith from a 1939 radio broadcast, as he describes the creation of the game.
Wilt Chamberlain, also known as Wilt the Stilt and The Big Dipper, was a student athlete at KU.  See his jersey hung from the rafters of Allen Fieldhouse during his induction ceremony.
Some of the game's most successful coaches and players have a connection to KU's basketball tradition, thus the term "Cradle of Basketball."

Coaches:  James Naismith, Phog Allen, Adolph Rupp, John McLendon, Dean Smith, Dutch Lonborg, Larry Brown, Roy Williams and Bill Self.
Players: Clyde Lovellette, Wilt Chamberlain, Jo Jo White, Danny Manning, Raef LaFrentz, Paul Pierce, Nick Collison, Kirk Hinrich, Mario Chalmers, Andrew Wiggins and more.

The official Cradle of Basketball website.