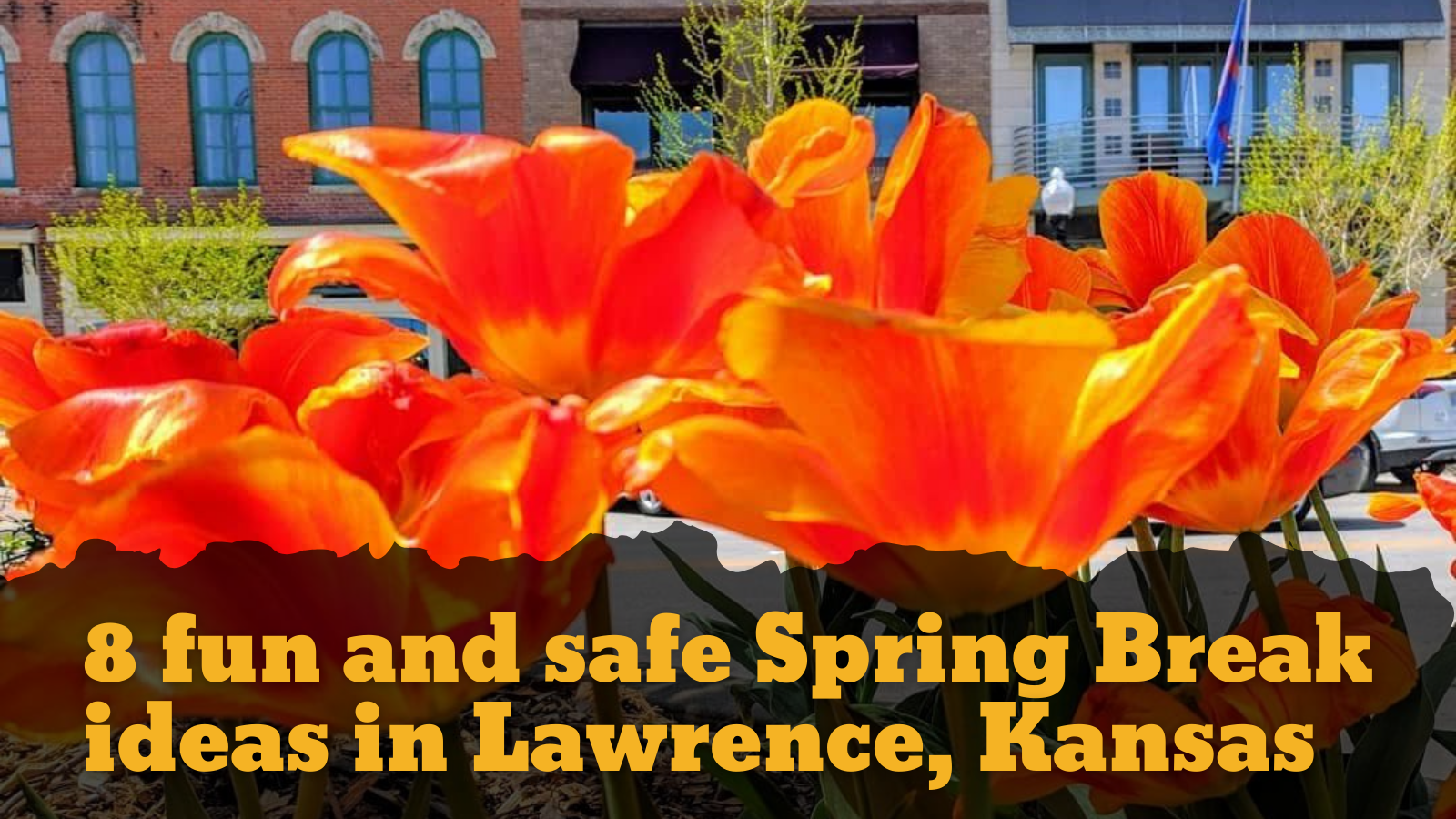 Spring Break. Ah, just thinking about those words separately is like music to my ears. If you're like me, you love the sense of freshness and new growth that SPRING represents. And who couldn't use a BREAK right about now?!
We hunkered down and started staying-at-home nearly a year ago. We learned a lot during that time including that with the proper precautions and safety measures in place we can enjoy the quality outdoor spaces, foods, shops, and activities that Lawrence has to offer. Keep reading for a bunch of fun and safe ideas for things to do this Spring Break (and beyond) in Lawrence.
PICNIC IN A PARK
It's been said that "nothing's better than a picnic." And when you don't have to pack the picnic, it's even better! With hundreds of local restaurants providing carryout and curbside options along with an abundance of parks in Lawrence, the picnic possibilities are endless. We've made some matches for you: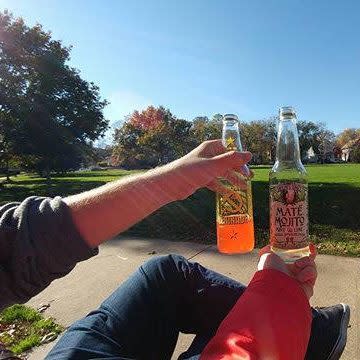 Auntie Em's Deli
 + 
Lawrence Rotary Arboretum
.
 Choose from a menu of specialties or create your own sandwich on your way to the park. You don't want to forget dessert – a slice of Auntie Em's fruit pie or cake will leave you wanting more. If you want a whole pie or cake make sure to order in advance! Lawrence Rotary Arboretum includes a garden, gazebo, pavilion, ponds, and access to paved walking trails.
Latchkey Deli
 + 
South Park
. 
One of the newest additions to the downtown food scene is Latchkey Deli, and it is sure making a splash. Order from the sandwich menu or take the more traditional picnic approach and pick up the meats, cheeses, and bread to make your own. Grab an Italian Cream Soda (or stop in at
Mass Street Soda
and pick from thousands of soda varieties) and head about 500 feet south for a picnic in one of Lawrence's most important and iconic gathering places, South Park. 
Great Harvest Bread Co
 + 
Burcham Park
.
 Great Harvest Bread has moved and expanded, adding fresh-made sandwiches to their menu. Choose from classic, specialty, and grilled varieties. You MUST add some cinnamon rolls or cookies! Take the feast to Burcham Park where you can enjoy the deliciousness as you watch the waters of the Kansas River roll by. 

TRY A NEW ACTIVITY
Spring Break is a great time to get active and try something new. Take your shot at one of these fun activities: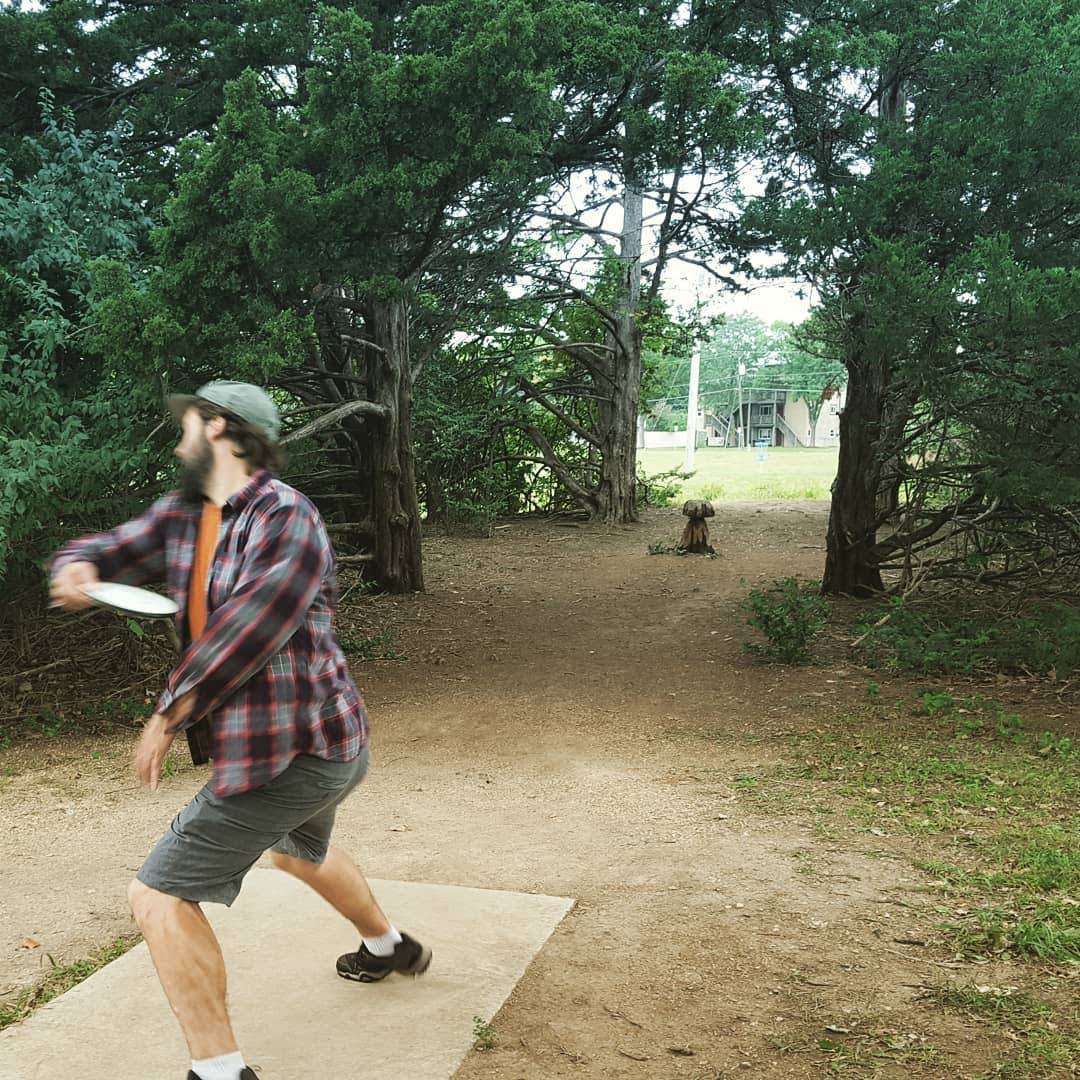 Disc Golf. Did you know Lawrence has four popular Disc Golf Courses? Centennial Park, near 9th and Iowa Streets, has a fun 18-hole course with a variety of shots. The 18-hole Riverfront Park Disc Golf Course in North Lawrence is a shorter yet challenging wooded course. The course in the Bloomington public use area on the south side of Clinton Lake is a long course with 18-holes and lovely lake views. The 11-hole course inside of Clinton State Park ($5 vehicle entry fee) is fairly flat and lots of fun. Need gear? Check out DZ Discs for all your disc gear and local course info!  
Archery. Overton's Archery Center in North Lawrence is a full-service archery experience. The Center offers archery gear, lessons, and a range. Once you get the hang of things, try the outdoor archery range at Clinton State Park – free to practice, but there is a $5 fee per vehicle to enter the park. 
Birding. Migratory shorebirds are beginning to make their journeys north and Lawrence has some great spots to view them and start your lifetime list! Baker Wetlands is one of the most diverse habitats in Kansas. 278 species of birds have been identified at the Wetlands. Clinton Lake is another birding hot spot in Lawrence where 250 species of birds have been spotted, including the majestic Bald Eagle. Speaking of Bald Eagles, the Kansas Riverfront is another place you can see them soaring. 

LEARN LOCAL HISTORY
Just because it's Spring Break, doesn't mean the learning stops! Get a deeper understanding of Lawrence and the surrounding area while you break from the normal routine.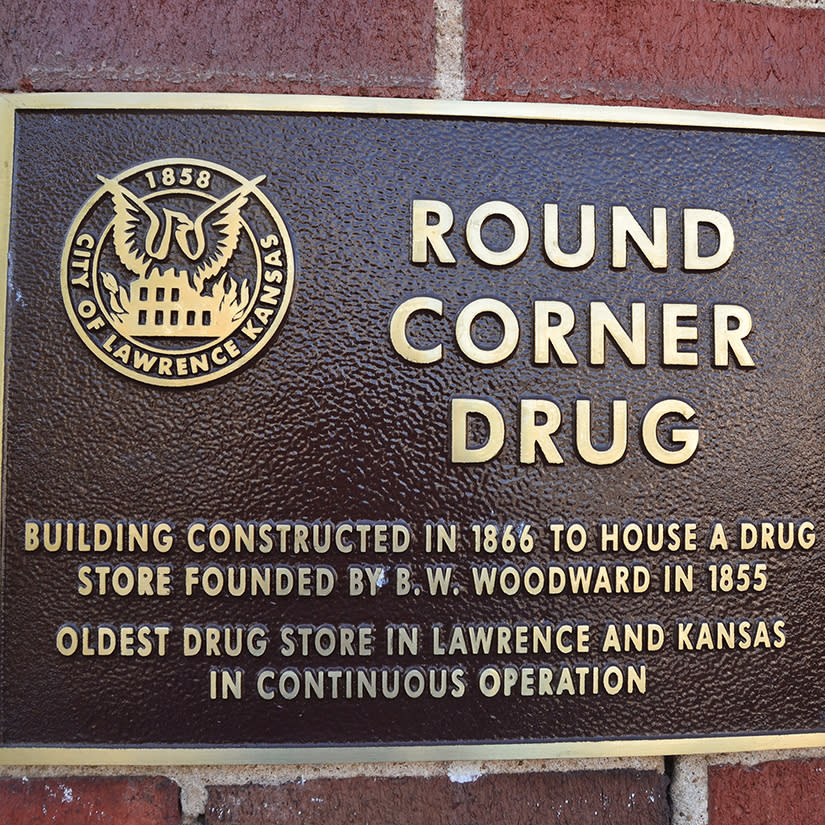 Explore Lawrence at your own pace with themed self-guided tours. These tours offer a glimpse into the history of Lawrence and the surrounding areas. These tours take you on a journey through the historic cemeteries of the area, retrace the steps of Quantrill's Raid, visit some of the most significant basketball sites, and meander through the "crown jewel" of our Historic Downtown district, Mass Street. Pick up self-guided tour brochures at the Lawrence Visitors Center or Watkins Museum of History. 
Get the backstory on Lawrence's historic buildings. Buildings that are home to some of today's most popular shopping, dining, and entertainment venues have quite interesting histories. University of Kansas Journalism students have researched and compiled the unique events that took place at these buildings to create interactive timelines for Lawrence Block-by-Block. 

TAKE CARE OF SELF
Spring is a time of renewal, not just for the earth but for us as well! Treat yourself right and get some "me-time" in. Here are some suggestions: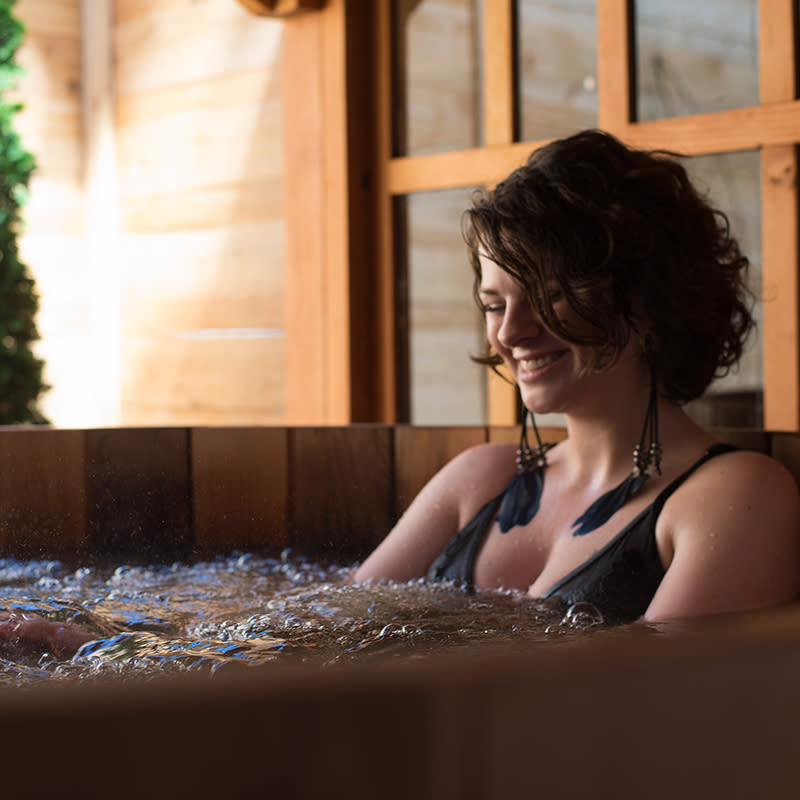 Read a book. Flipping through the pages of a book can do the mind and body good. Hit up one of Lawrence's local bookstores. The Dusty Bookshelf is open for in-person visits and online with curbside pickup and shipping options. The bookstore and gallery are accessible at Signs of Life Monday – Saturday. Call when you get there, (785) 830-8030, and they will open the door for you. Raven Book Store is open for online and phone orders with curbside, free local delivery, and shipping.
Soak and sweat. Book an hour in the tranquil outdoor zen garden at Mud & Lotus where you can enjoy the mineral bath soaking tub and infrared sauna at your leisure. Facials, massages and comprehensive wellness packages are also offered.
Connect with nature. It's true, spending time in nature increases happiness. Prairie Park Nature Center includes a 100-acre nature reserve with walking trails through wetlands, woodlands, and a lake. The public nature trails at the University of Kansas Field Station are open to foot traffic only. The five trails include interpretive signage to enhance the visitor experience.

HAVE A BLAST WITH YOUR BUBBLE
You've been in close quarters with those in your bubble over the last year and local businesses have figured out ways to help you get out together and stay safe while doing it! How about some time away from home to do something different with your peeps? Try these ideas: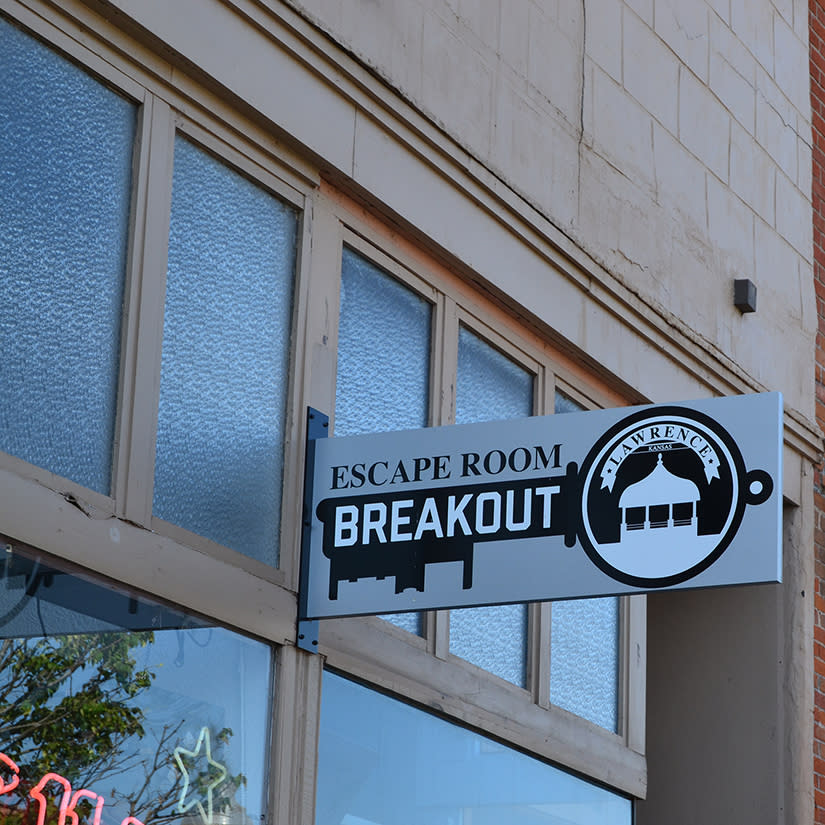 Eat.Drink.Play at RPG. Short for Restaurant, Pub, and Games, RPG has gone to great lengths to be sure you and those in your circle can experience a fun evening of food, drink, and board games in a safe environment. If you're not ready, no problem – food, drink, and board games can be ordered to enjoy at home!
Work together to break out! Bring your family or friend group to the top-rated escape rooms in Kansas at Breakout Lawrence. Choose from four themed rooms, or try them all! A mobile room is available for off-site fun!
Cheers at the latest pop-up. The Shamrock Shack is popping up at Lucia, March 11-21, with over-the-top St. Patrick's Day décor, a bangin' menu provided by Chef and Smoker, and specialty cocktails like "Top o' the Morning" (featuring Jameson Cold Brew) or "Pot o' Gold" (edible flakes of gold included). You must reserve your table in advance – hurry before they're all gone! 

USE YOUR CREATIVITY
It's always good to keep your creative juices flowing. Don't have a project in mind? Here are some local crafty ideas: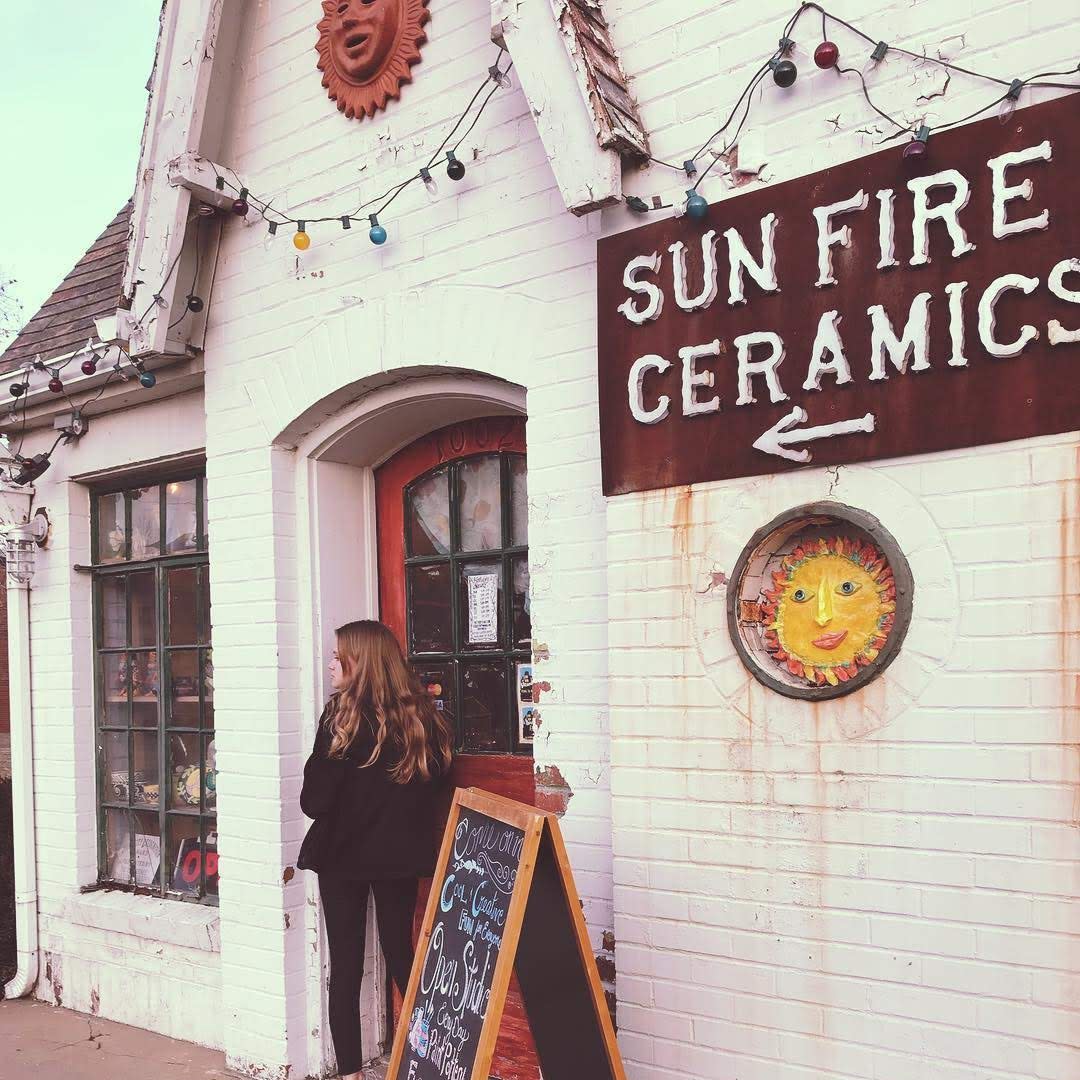 Create your own masterpiece. Try a take-home project or reserve some studio time with Sunfire Ceramics. Whichever way you choose, the friendly staff will make sure you have everything you need to create your own ceramic or fused glass masterpiece!
Pour some wax! Did you know that Waxman Candles has candle-making classes? Individuals and small groups can get instructions from a master candle maker, and have one-of-a-kind candles to burn at home when they're all done.
Try a DIY home décor project. Attend a socially-distance workshop, book a private event, or pick up a DIY kit to do at home from AR Workshop. They have a huge variety of options from wood and canvas art to chunky knit blankets. Even if you don't have a "crafty bone in your body" you'll be pleased with the results!

DON'T FORGET ABOUT COLLEGE HOOPS
March Madness officially gets its start during Spring Break with the beginning of Conference tournaments. After college basketball fans were crushed last year with the cancellation of college basketball right at the beginning of the most exciting time of the year, there's plenty of reason to make the most of 2021 madness!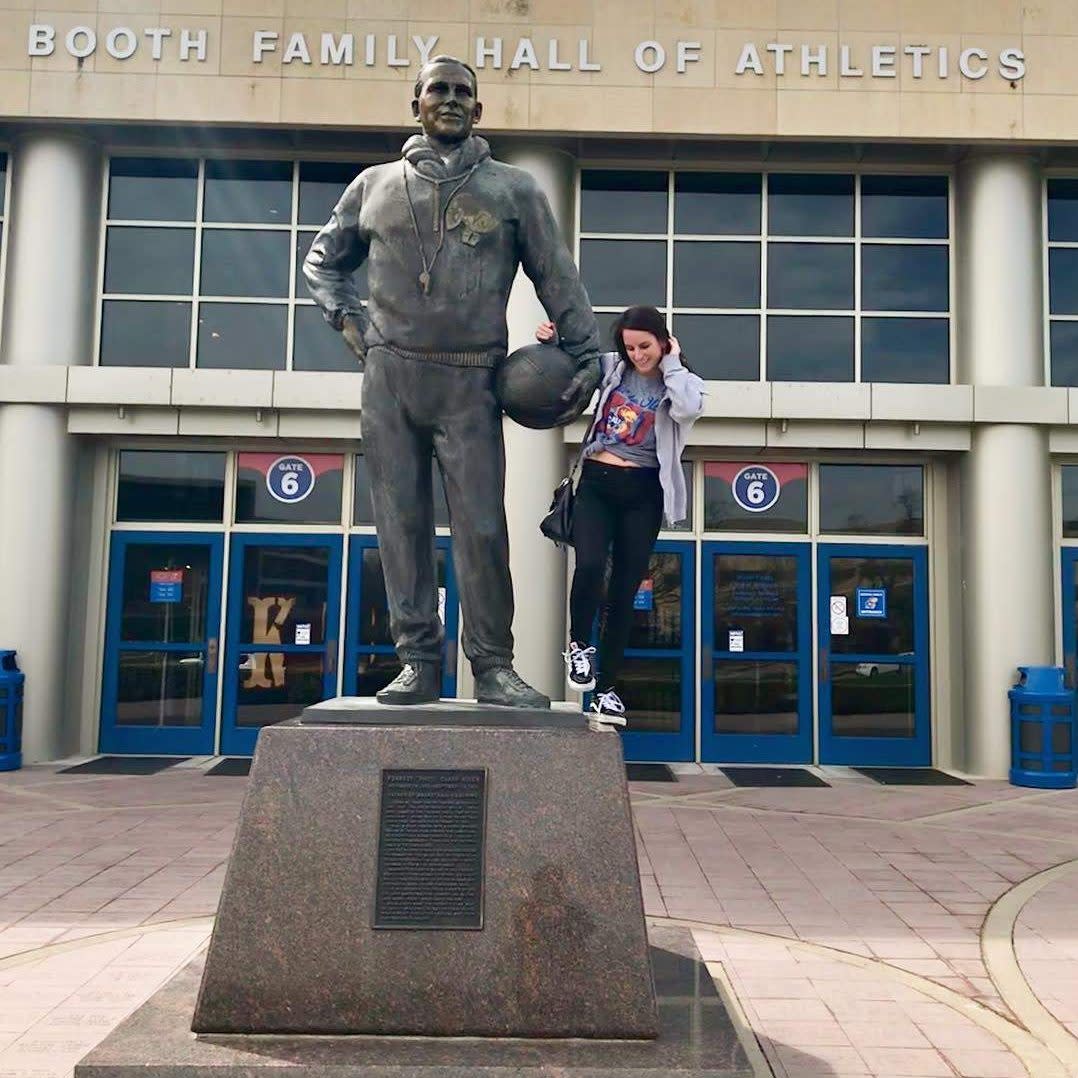 Discover the place where the game grew up. No other city can boast an array of basketball history like Lawrence. We are the place where the game of basketball "came of age". That's why we're called the Cradle of Basketball. Learn more about the history of basketball in Lawrence and visit the sites that help tell our basketball story.
Host a watch party at Allen Fieldhouse. Cheer on the Jayhawks during the Big XII Tournament from Allen Fieldhouse when you book the Jayhawk Basketball Game Watch Experience by The Jayhawk Experience. Each experience includes a guided tour of Allen Fieldhouse, on-court photo op, and more. Behind-the-scenes tours of Kansas Jayhawk athletic facilities may be booked on their own.

MAKE IT AN OVERNIGHT
How does taking a night or a few days away from home sound? Even if you aren't traveling far, taking a break from the routine could be just what you need. Staycation anyone?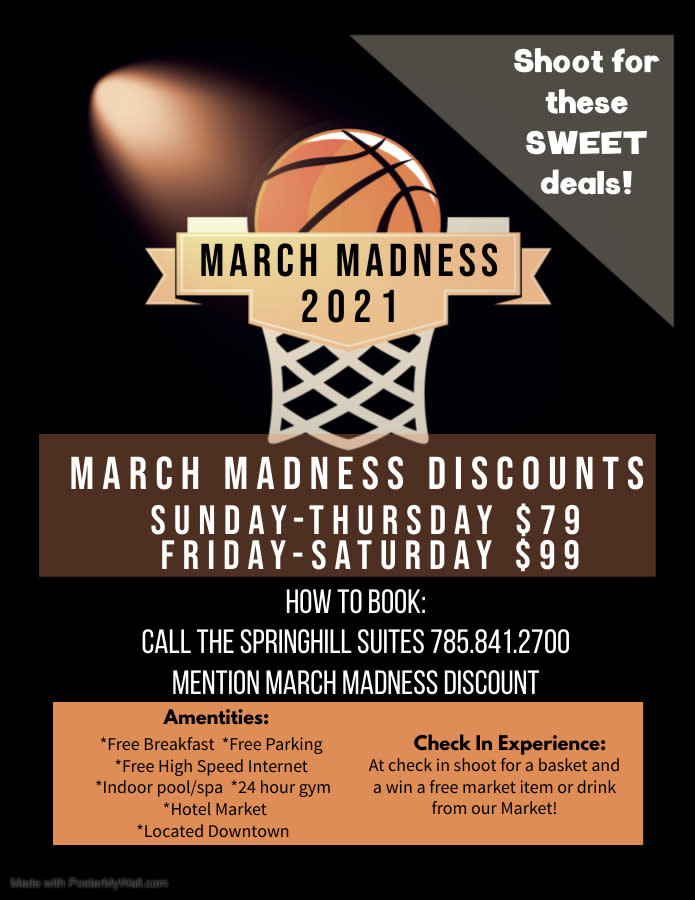 Take advantage of this special. Springhill Suites in Downtown Lawrence is offering March Madness discounts all month long! Bonus: swish a bucket at check in to win a free prize! Spring Hills Suites sits on the bank of the Kansas River and is within walking distance of downtown and North Lawrence dining, shopping, attractions, and recreation. Free breakfast, indoor pool/spa, 24-hour gym, free parking and more! Call (785) 841-2700 and ask for the March Madness discount. 
Reserve a cabin with a view. Seven cabins at Clinton State Park sit atop a high bluff overlooking Clinton Lake. The front porch views at each of these cabins will blow you away. 
Get some R&R at a cozy B&B. Choose from a rural ranch experience, a Victorian country stay, or a close-to-campus retreat. No matter which you choose, you'll be treated like royalty AND wake up to a delicious home-cooked meal in the morning. Lawrence Bed & Breakfasts>

SHARE YOUR ADVENTURES
If you don't share your experiences on social media, did they even happen? No matter how you decide to spend your Spring Break in Lawrence, we would love to see it! When you post your Lawrence spring break pics be sure to hashtag #UnmistakablyLawrence! Here are a few insta-worthy ideas in case you need them: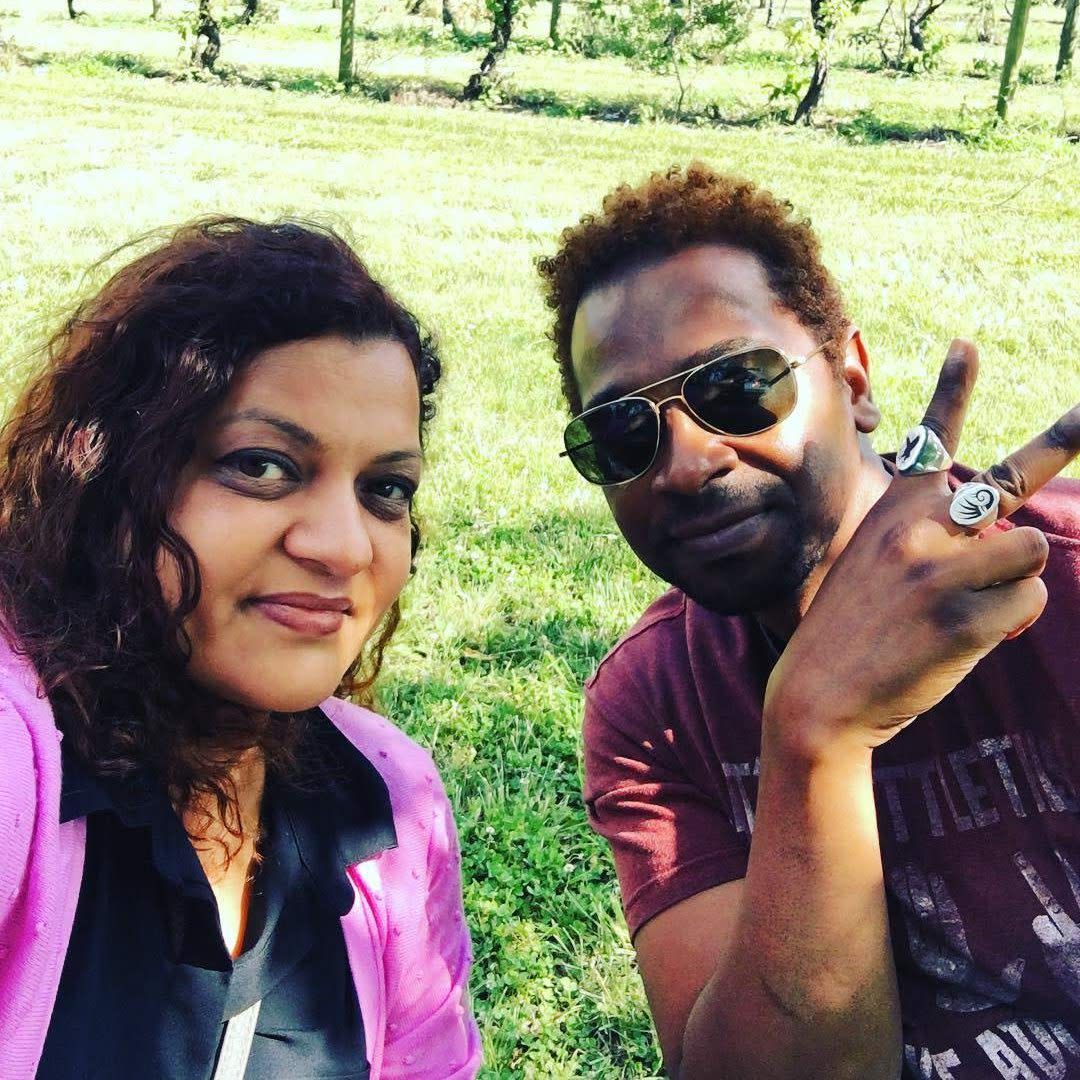 Sunset at Clinton Lake. It's one of the most spectacular views served up nightly and the perfect place for a golden-hour selfie. The sun is currently setting around 6:15 PM, and when daylight savings hits on the 14th plan for a 7:30ish sunset.
Love garage. Many people were sad when the "love garage" door on the University of Kansas campus got painted over. At the beginning of the pandemic, the garage door got a fresh coat of paint with a socially distanced love message. Go get your pic now, you never know how long it will last!
The Wishing Bench. This East Lawrence landmark invites you to take a seat and make a wish. It promises you won't be disappointed. The bench is decorated with objects people decide to add to it. It changes constantly. Have a seat, make a wish, and don't forget to snap a pic!