Dining & Nightlife
Looking for great cuisine or some live jive, you'll find lots of choices in Lawrence.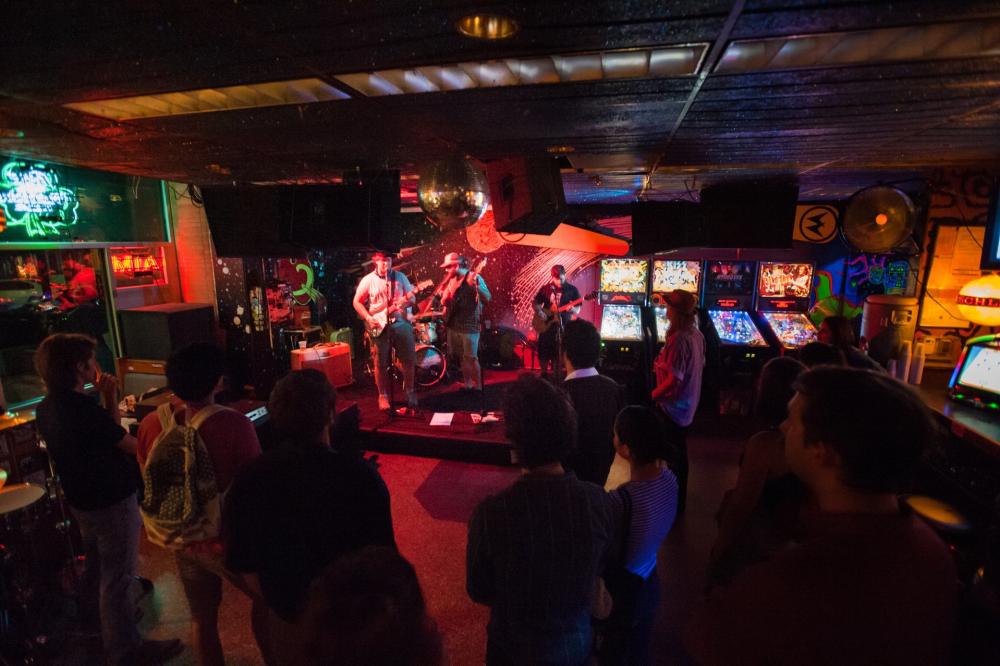 Here are just a few suggestions that tap the surface of what Lawrence has to offer if you're looking for great food, music, and entertainment. Come to Lawrence ready to play.
You'll Love our Live Music Scene
This is the place where Nirvana & Green Day played in a small, standing-room-only shack. This is the place where Janelle Monae packed in her hometown crowd. George Clinton has funked up our streets and we "fought the power" with Public Enemy in huge, outdoor concerts. Up-and-coming local bands like Taryn Blake Miller's "Your Friend"? Check. Concerts by global classic sensations such as Yo Yo Ma or Joshua Bell? We got it. A gathering of the world's best young pianists with free concerts? It's here. We often get the big acts before they're big… ever heard of The Chainsmokers or Chance the Rapper? Live Music Capital of Kansas… we think so!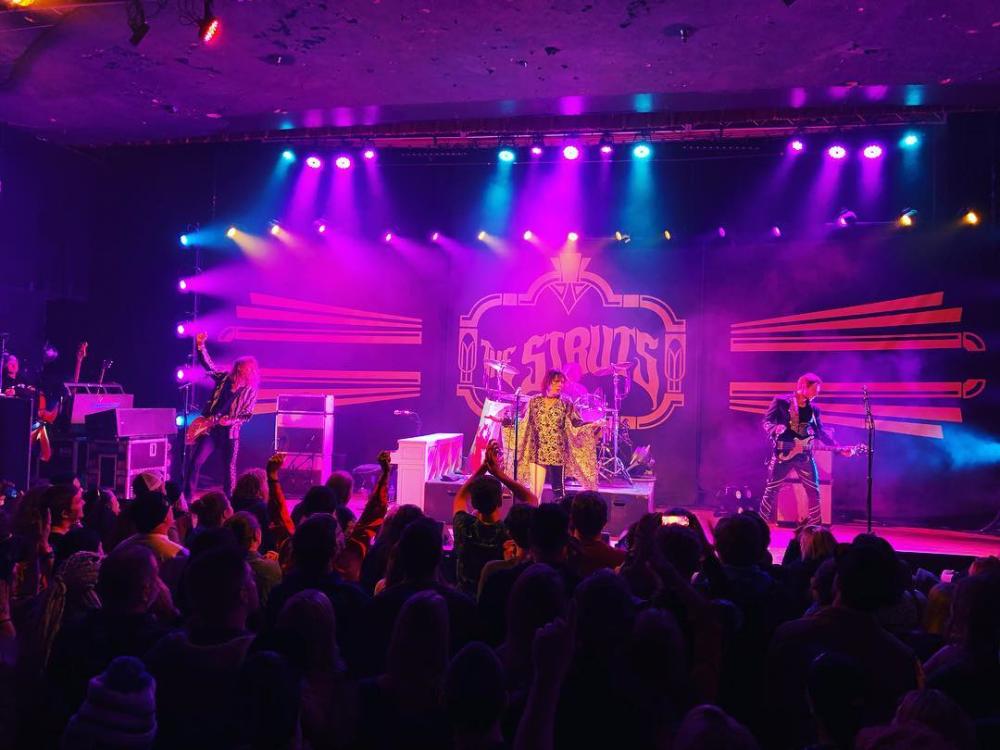 Built in the 1930′s as a silent movie theater and showing movies up through the 1980′s, The Granada has now been hosting live acts for almost 20 years. Featuring national and international touring acts, the Granada has hosted noteworthy and award-winning performers, including M83, The Get Up Kids, Ben Folds, Flaming Lips, Weezer, Henry Rollins, G-Love & Special Sauce, Marilyn Manson, Smashing Pumpkins, Bone Thugs-n-Harmony, John Mayer and many more. You'll find it right on Massachusetts Street, between 10th and 11th.
And there's more music playing.  Check out the calendar at the Replay Lounge, 946 Massachusetts Street. The Replay features pinball, recorded and live music, along with grill and deli sandwiches and drinks at their weekend patio shows.
Climb the stairs to the Jazzhaus, 926 ½ Massachusetts, where their motto is: Work Hard, Play Hard, Sleep Later and Love Life. Can't beat that! This nightclub has been a Lawrence institution since 1982, offering live music, dancing and drink specials. One room offers a stage and room for dancing. A small adjoining lounge area features mood lighting, overstuffed couches, and a more intimate setting, while there is also an outside deck off the back.
See what live music events are coming up. 
Breakfast is Life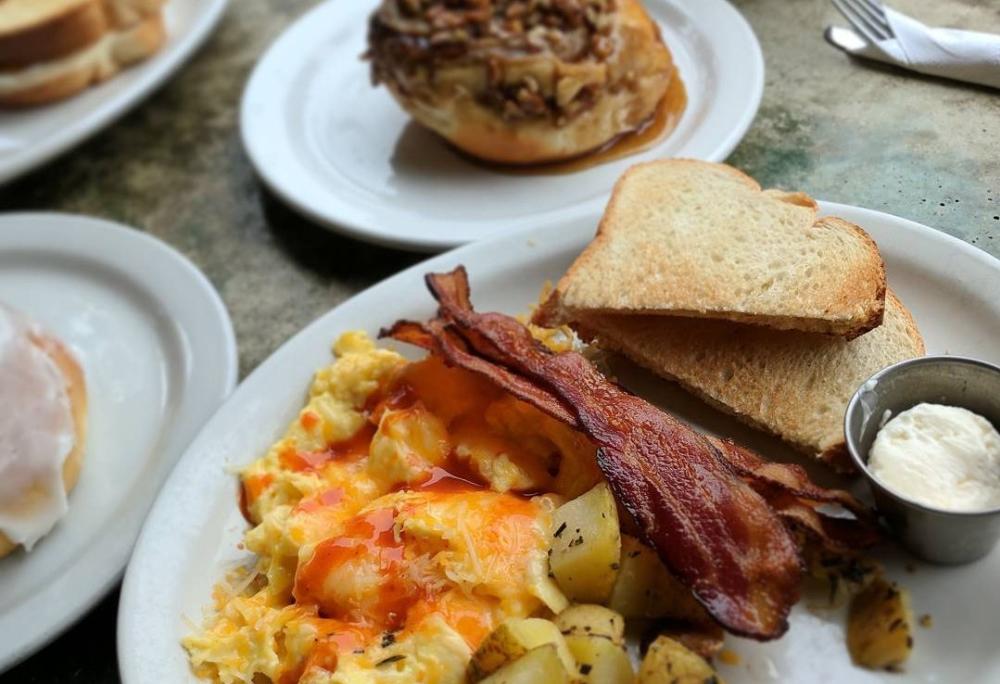 We've all been told breakfast is the most important meal of the day. So make it tasty. Downtown offers plenty of delicious starters to your day. Try some delicious handcrafted pastries or eggs with artisan, brick-oven baked bread at Wheatfield's Bakery Café, where the walls are lined with work by local artists. The Roost, launched with a kick-starter campaign, will wake you up with delicious breakfast options like the Breakfast Sammy or the Goat Cheese Danish. (You won't be disappointed.) Eggs Benedict with a unique twist is often on the Specials board at Milton's Café. Take a seat inside this little spot with big windows or enjoy a table on the patio and enjoy a restaurant that's been a Lawrence staple since 1997.
If you have kiddos looking for a power breakfast, check out the amazing cereal bar at Java Break. The options go on and on, with more than 30 cereals and toppings and homemade almond milk served in a Chinese food-takeout carton. Kids can watch classic cartoons on the vintage televisions, or you can enjoy your espresso outside on the patio, under the trees. It is open 24 hours.
More to the west side of Lawrence hit up Big Biscuit. The name says it all. Or try the breakfast hot bar and freshly brewed coffee at the deli inside The Merc Co-op, a community market and grocer that emphasizes local and organic, and welcomes everybody.
Find more breakfast and brunch options.
It's a Foodie Paradise for Lunch and Dinner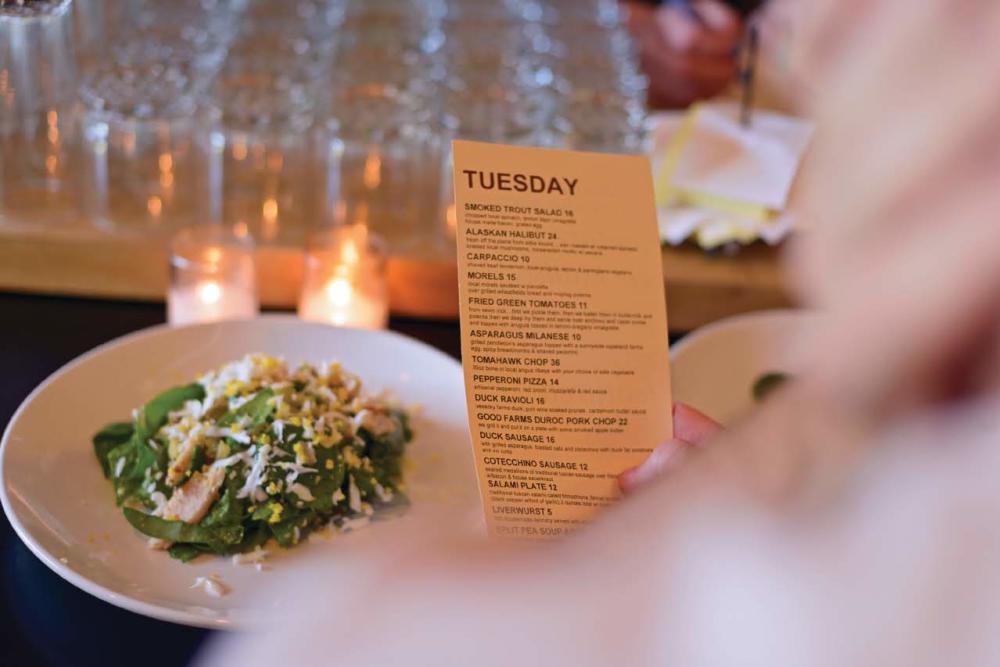 If you're Downtown, step inside one of our local originals, or take a seat at a sidewalk table and watch the passers-by on Massachusetts (Mass) Street. Many of our nationally recognized restaurants and chefs use locally-sourced foods for farm-to-table deliciousness you won't find anywhere else.
Merchants Pub & Plate puts the harvest of local farms into distinctly Midwestern meals to please the most refined palate. Enjoy the atmosphere in this beautiful old building that was once Merchants Bank or soak up the sun on the outdoor patio. Insider… the Happy Hour is legendary as are the brussel sprouts.
715, a winner of Open Table's Diner's Choice 2015, has the air of a European bistro with local, handmade food. Menu options range from housemade pasta dishes or brunch plates of pastrami hash to entrees like pan-roasted salmon with celery root & potato puree, shitake mushroom butter sauce, french beans, and crispy carrot.
Ladybird Diner is an upgraded twist on the stick-to-your-ribs diner food. Grits Supreme, Sweet Potato Black Bean Hash or a Blue Plate Dinner will fill you up. But save room for what the Ladybird is best known for: pie. Meg Heriford and the other pie makers bake 30 to 60 pies a day. Check the Specials board. If your timing is right, try the Blueberry Basil. Yes, really.
The Global Café began with a dual passion for family and food, and they feed their customers like family. With strong ties to the local community and food producers, Kate and Rafael serve around-the-world options. Try the Arepas, a gluten-free, South American grilled cornmeal cake split in half and stuffed to your liking.
Out and about on the west side of Lawrence, foodies will enjoy J. Wilsons innovative dishes in a warm, contemporary ambiance. The small plates, entrees, and seasonal menu define new American comfort food.
This list is just a start.  Find more here.
Something to drink?
CRAFT BEER
The Free State Brewing Company was the first legal brewery in Kansas in over 100 years when it started its 14-barrel brewhouse in 1989. Understandably, this brewpub is now one of the liveliest spots in town, serving hearty food along with the Copperhead Pale Ale, the Ad Astra and the Wheat State Golden.
The Lawrence Beer Company has taken the Warehouse Arts District in East Lawrence by storm. Voted the best new restaurant in Lawrence in 2018, they deliver on their promise of good beer, good food, and good camaraderie, with a few shenanigans mixed in as well.
23rd Street Brewery on the south-west side of Lawrence is a full-service brewpub with exceptional handcrafted beer, and an extensive lunch and dinner menu.
Our two newest breweries are now open. Check out Black Stag Brewery & Pub in downtown and Fields & Ivy Brewery in southeast Lawrence.
COCKTAILS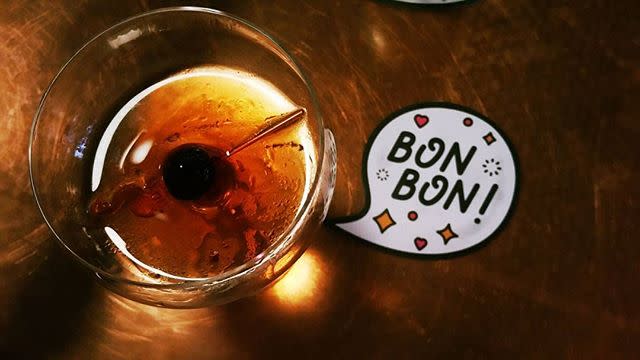 Harking back to another era, John Brown's Underground is a speak-easy with an intimate atmosphere and some sophisticated drinks. Named for the American abolitionist who brought his campaign against slavery to Bleeding Kansas, the ambiance of this little hideaway is much calmer than its namesake. Find it on 7th Street, between Massachusetts and New Hampshire Streets. True to the speak-easy theme, look for the red or green light outside to let you know if you'll get the okay to come in.
Don't miss the specialty cocktails at Bon Bon in the Warehouse Arts District which change seasonally. Choose from cocktail classics and Bon Bon originals such as "A Lie Agreed Upon" with house-made aquavit, chai syrup, and orange (served hot). Bon Bon potions, like the Unicorn Soda, are served with or without alcohol. And if you're up for something sweet try one of the Desserty Cocktails.
Recently opened, Crystal's Spot Cafe and Lounge in Downtown Lawrence is serving up specialty cocktails and delicious desserts. They often host live music, spoken word, and poetry artists. They are open Thursday – Saturday, 6:00 PM – 11:00 PM, and make the space available to groups for private events the rest of the week.