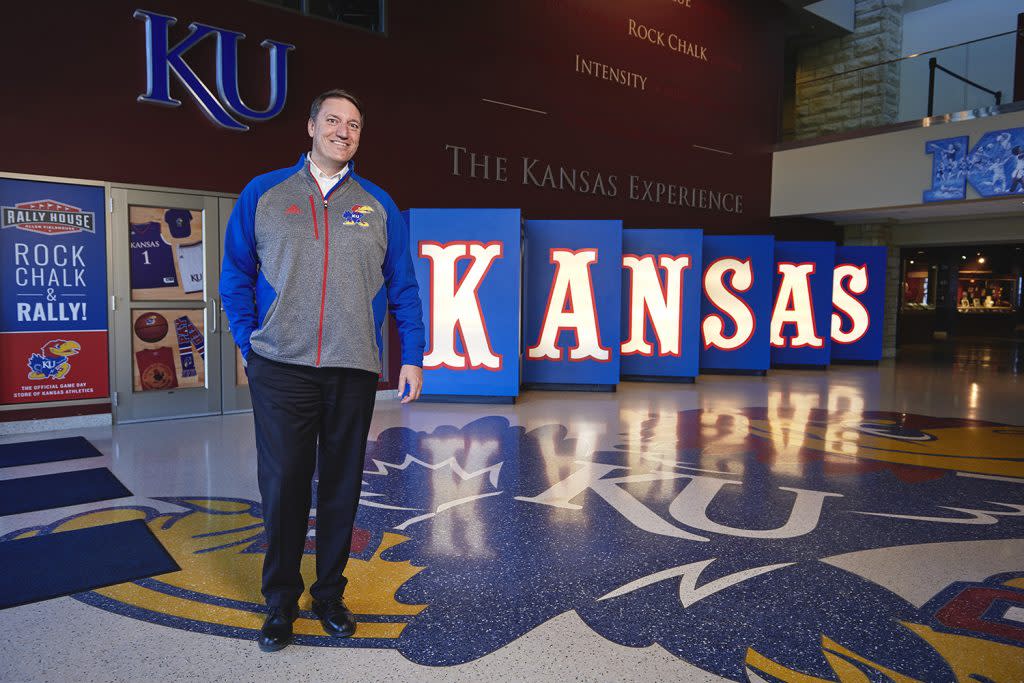 It's that time of year. The time of year that college basketball fans throughout the country have been waiting for since basketball season tipped off. College basketball teams are battling for the top spot in their conferences, gearing up to try and take the crown in their conference tournaments, and then giving their best effort to win "The Big Dance." It's March Madness!
In Lawrence, we take March Madness rather seriously. I mean, who can blame us? The University of Kansas' first basketball coach, Dr. James Naismith was the inventor of the game. Today the Jayhawks are one of the winningest teams in college basketball, have played in 15 Final Fours, and have won three NCAA National Championships.
To help you get ready for what some would call the most wonderful time of the year in Lawrence, we've interviewed local sports and University of Kansas expert, Curtis Marsh. See what he has to say about his favorite Kansas basketball memories, traditions, and trivia…
When and how did you become a Kansas basketball fan?
My freshman year at KU was the year Danny and the Miracles won it all.  So yeah, THAT is when I became a KU basketball fan!
What is your favorite Kansas basketball memory?
I viewed the 2008 championship in Allen Fieldhouse, and when Mario hit the Shot Heard Round the World, the place erupted.  A runner up would be the night Wilt returned to see his jersey retired.
What is your favorite Kansas basketball tradition in Allen Fieldhouse?
Wow, there are so many.  You have to say doing the Alma Mater arm-in-arm, you have to say the newspapers and the pep band, but getting to do the Rock Chalk with 1:30 left in a sure win, do you realize that has only been a tradition since the mid 90s??
Who is your favorite Kansas basketball player of all time?
Not a fair question.  Don't ask me which of my children I love more, and don't ask me my favorite player.  Having said that…remember that for one year, Phog Allen played for Coach Naismith.
Do you have any March Madness superstitions?
I have plenty.  For over 30 years, I have only filled out one bracket, and KU has won every single time.
Where in Lawrence do you get your Jayhawk gear?
I am always looking for unique or retro Jayhawk gear.  I have found some very cool stuff at antique malls and estate sales.
Besides Allen Fieldhouse, where is your favorite place to watch a game in Lawrence?
Again, so many great places.  I love the Sandbar.  Ask Super Dave about the time in '97 when our sacred KU basketball candle burned out.
Where is your favorite place to celebrate a Jayhawk win in Lawrence?
Obviously in the Fieldhouse.  But the tournament games?  Jayhawk Blvd was the place in the '80s and '90s but it is clearly Mass Street now!
Any other sports or teams that you are excited about right now?
Go Chiefs!!!!  But please keep in mind that Arrowhead is the "home of the Chiefs,"  not Allen Fieldhouse.
Any little-known Kansas basketball trivia that you wouldn't mind sharing?
Let me take you through DeBruce sometime!  KU has the biggest basketball story of them all.  Here is a fun stat for you:  63% of KU's head coaches for men's basketball are in the Hall of Fame.  The program with the 2nd highest percentage is North Carolina with—wait for it—25%! (credit the KU Info Superstars).