Start the day right
America's breakfasts are legendary. From eggs Benedict and pancakes to burritos, beignets, and rice bowls, the diversity of dishes on offer is so ginormous that you could live off breakfast for the rest of your days and never be bored. Whether you're looking for a quick coffee and croissant before work, feeling hungry after a long night shift, or rounding off an indulgent weekend, here's where to get the best breakfast near you.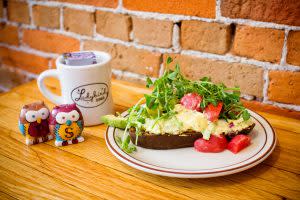 Kansas: Ladybird Diner, Lawrence
Customers love the tiny Ladybird Diner in student-centric Lawrence because its most basic dishes, such as avocado toast, are made exciting with high-quality ingredients. Local sourdough is topped with mashed avocado, two eggs how you like them, marinated heirloom tomatoes, pickled onions, olives, orange zest, and herbs. Need we say more?