Lawrence is known for its stellar foodie destinations. Fried chicken, farm-fresh entrees, homemade pies, charcuterie boards-we've got it all. This atypical college town has been heralded as one of Midwest Living Magazine's Greatest Midwest Food Towns (if you think that's a mouthful, just wait until you try to decide who makes the best doughnut in town). The restaurant scene gets a lot of press here, and most people can rattle off a long list of local cafes, brunch joints, and innovative bistros when asked for a recommendation. But what about those not-so-talked about spots? You know, the ones that are just a little bit off the beaten path and don't use white cloth napkins. They may not always be shiny new or located on the famous Mass St. downtown, but I'd say these five restaurants have earned their keep as Lawrence's hidden food gems.
Terrebonne Po'Boys - 
This teeny tiny Louisiana kitchen sits just a block off of Massachusetts Street, but the quirky decor and authentic cuisine make you feel like you just stepped in from the French Quarter. Tables are far and few between, but there is an overwhelming amount of decorative framed embroidery to make up for it. The menu is simple-classic creole dishes like jambalaya, gumbo, and of course, po-boys. You can't go wrong, but if I were you, I would bring somebody who likes to share so you get a taste of it all! My mouth is watering right now just thinking about their golden brown hush puppies. Is it lunch time yet?
---
Little Saigon - 
Little Saigon has been recommended to me countless times as the best place to get pho in Lawrence. Ask anyone who loves the Asian dish and chances are they will send you straight to this spot. Don't expect much in the way of what food articles might call "atmosphere"-just trust that once you try the noodle-y dish, you will be making all sorts of puns about how pho'nomenal it is.
---
Leeway Franks - 
Most people have heard the buzz about Leeway Franks, but I think it deserves a spot on this list because of the location alone. It can be hard to think outside of your normal eateries, or in this case, jump ship from the hub of downtown Massachusetts St. and out into the rest of Lawrence. Located off Iowa in an unsuspecting strip mall, Leeway Franks is charging into the specialized niche of handcrafted sausages. They serve their elevated hot dogs alongside other meaty creations, craft beer and some real tasty tots.
---
1900 Barker - 
This coffee shop and bakery makes the list because every time I mention it to someone, they look at me quizzically. I am continually shocked that so many people have not heard about 1900 Barker because quite frankly, they make some of the best pastries I have ever tasted. As a plus, I think this place embodies what Lawrence is all about. Two brothers with a passion for flaky treats transformed an old laundromat into a bustling and trendy shop. Their attention to detail is obvious in the goods they produce, and the people that have been hooked show up religiously on Wednesdays for the pizza-a weekly special that is not to be missed. Whether you choose a classic croissant, an experimental tart, or a hearty loaf of bread, you will not be disappointed.
---
The Levee - 
I am what you could call a shameless breakfast fanatic, so I had to choose at least one morning-time eatery. The Levee is fairly new to the breakfast scene but fills a void Lawrence didn't even know it had. This cozy cafe can be found across the bridge in North Lawrence, right off the river trail. They offer dinner now, too, and delight in serving up fresh and more health-conscious plates. It is the perfect spot to end your morning workout or evening stroll.
---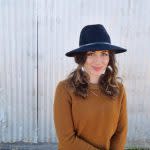 Kate Hartland
Kate is a recent KU graduate and perpetual lover of words, details, and Jayhawk basketball. She is using her English degree to write both creatively and strategically. You can find more of her work on her blog, A Story By Me.