Lawrence Restaurant Week returned yesterday, January 19, and runs through January 29. It's a full ten days of paradise for foodies. This is one of my favorite events every year, so I'm certainly excited, and I hope that excitement is shared. However, with 45 restaurants participating, each with its own specials and deals, you might feel like you need some guidance. Where should you go and when? 
Don't worry, I'll tell you.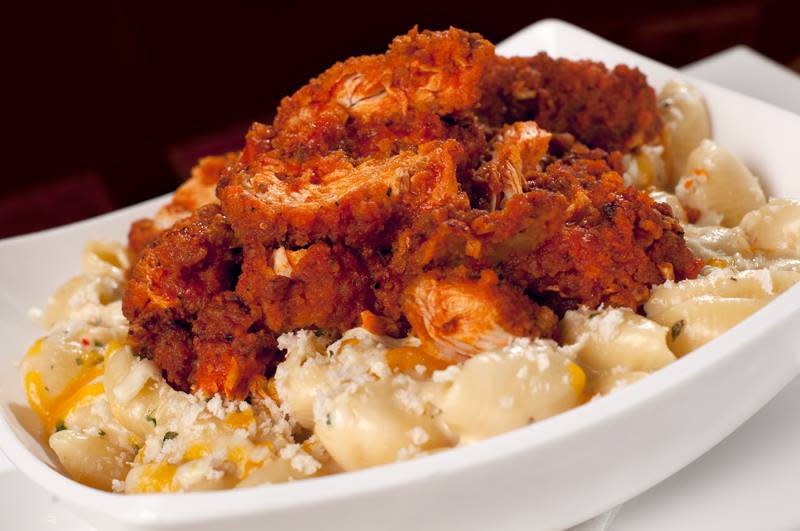 FOR THE BUSY FAMILY
Hello to the busy bees that are in charge of young kids - I appreciate you taking the time to read this blog! Here are my recommendations for how you can support local restaurants this week with the kiddos in tow. Click the links for menus!

23rd Street Brewery returns this year with a Curbside / To-Go family meal for only $40! Call in your order ahead of time (specifying that you want the Restaurant Week deal), and pick up an order of nachos, a large Caesar salad, a large Bill Self pasta, and a 1-topping pizza. Pictured above is a regular serving of their Bill Self Pasta.
Minsky's has some great meal options for differing budgets and family sizes - dine at the restaurant, or order online.
Cosmos Indian Cafe's menu is entirely curbside and carryout meals. The $20 meal gets you an appetizer, entree, and drink; the $30 meal gets you an appetizer, entree, naan, drink, and dessert; the $40 meal gets you an appetizer, soup, entree, naan, chutney, dessert, and drink.
Burger Stand is a low-stress option for dining out with kids. Kids will love their Restaurant Week "Apple of Our Eye" special milkshake. Adults will love their Restaurant Week "Apple of Our Eye" special milkshake *made boozy*. They'll also still have their regular menu to order from, which includes your basic (and, therefore, perfect) kids' menu.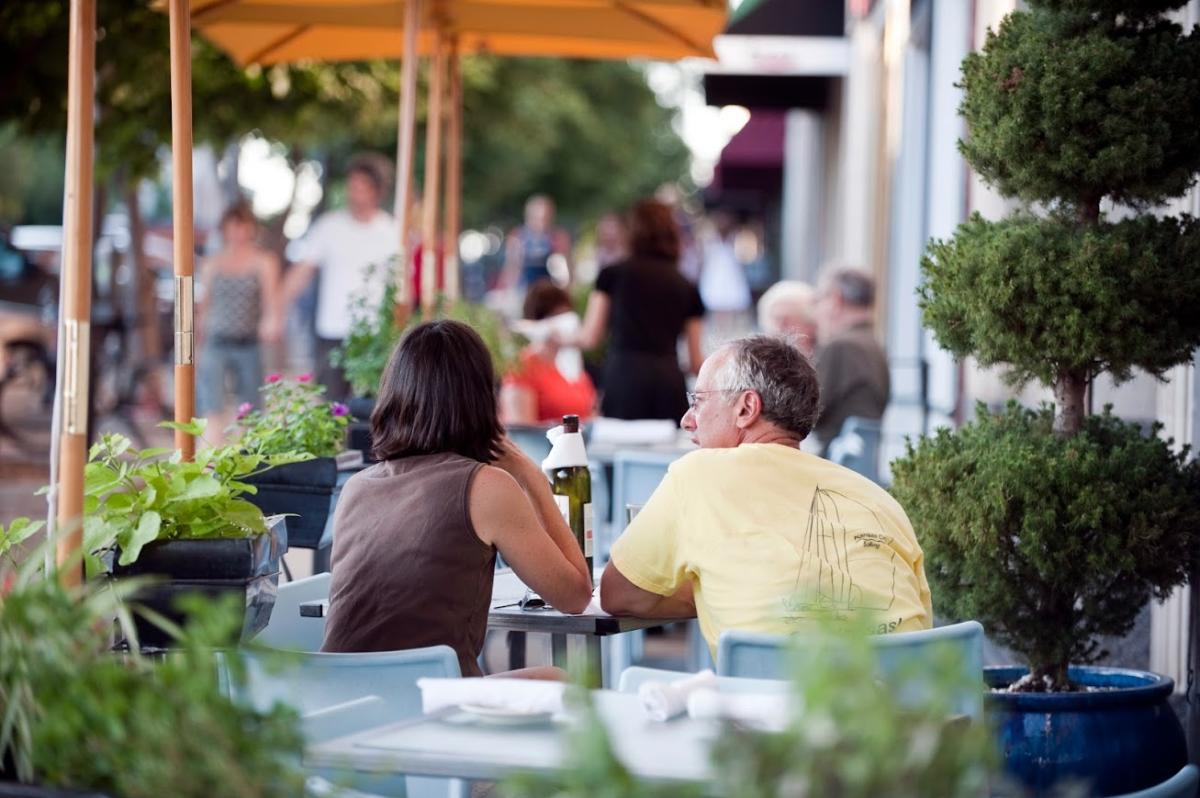 A DINNER FOR TWO
Whether you're looking to have a romantic date night or a special evening out with a friend, here are my recommendations for a dinner for two. Reservations are highly encouraged for most of these recommendations.
715 is fully embracing its Italian heritage this year. If you want to take a break from the January weather, this is the place to go - the menu looks akin to what you'd eat if you and a friend were taking a trip down the Italian coast, from Napoli to Sicilia. Want a stunning drink to complement your meal? Order the Negroni Sbagliato.
Culinaria's special course menu comes with the option to add wine pairings for each course, and there's a version for carnivores and vegetarians. The menus from both are similar enough for you to share the experience with your dinner partner, even if one of you doesn't eat meat.
J. Wilson's and Merchants have course menu options for both lunch and dinner, which is perfect for those who want a more casual lunch date and those who want a romantic dinner.
Nothing says romance quite like seafood, and Mass Street Fish House knows it. Their 3-course menu has options for those who aren't big on seafood as well.
A new addition this year, Pane e Vino Wine Bar & Academy does "experience nights"! This is a great way to step outside of the box and try something new with your partner or best friend. Owner and certified sommelier Michael Kirkendoll is an expert when it comes to wine. He also does excellent Bistro and Pasta nights, and basic cheese/charcuterie boards are always served, but the wine truly steals the show here.
For a fun night out together, head to Lawrence KS Wing Co (located inside Lucia) and order their Restaurant Week special, which comes with an order of their Crab Dip, 12 wings, and Buffalo Man N Cheese. If you time it right, you might be able to catch a show at Lucia while you're there.
Get creative and order the Jalapeno-brined Frog Legs and Seafood Boil from 6 Mile Chophouse & Tavern.
Bigg's BBQ has a dynamite "Dinner for Two" option on their menu. They're also serving up their new Veggie Burger.
Want a night in? Henry T's has three great "Carryout for Two" specials on their menu this week.

VEGETARIAN OPTIONS
When you think about Greek food, gyro may come to mind, but The Mad Greek is one of the best in the business for providing delicious vegetarian options. Pictured above is their Vegetarian Orzo, one of many vegetarian options to choose from on their 4-course dinner menu. They also do a 3-course lunch menu.
Taco Zone has done a great job of always including delicious vegetarian fillings for their tacos. I eat meat, but every time I go, I get their classic Refried Black Bean Con Queso filling. During Restaurant Week, they're debuting a new vegetarian filling, the Veggie Chorizo. It's Central Soy smoked tofu and mushroom "chorizo" served on a red corn tortilla from Yoli Tortilleria. Yum.
JB's Cali Fusion is another newbie to the Restaurant Week scene. You may know the JB's Tacos food truck from around town, and now they've got a brick-and-mortar location at 805 Vermont Street. The owner, Jordan, is cooking up some seriously interesting (and delicious) burritos for Restaurant Week - a pho-inspired burrito called the Phorrito, and a Pad Thai Burrito. Both burritos have a vegetarian option that comes with seasoned and fried tofu instead of meat.
Zen Zero has a really fun menu this year, and they've made sure to include vegetarian options for every course!
Free State Brewery makes it simple - a vegetarian appetizer, the choice between a vegetarian and non-vegetarian entree, and (of course) a vegetarian dessert.
I've already called attention to them in this blog, but the following restaurants deserve another shout-out for their vegetarian-friendly menus: Merchants, J. Wilson's, 715, Cosmos Indian Cafe, & Culinaria. Check them out!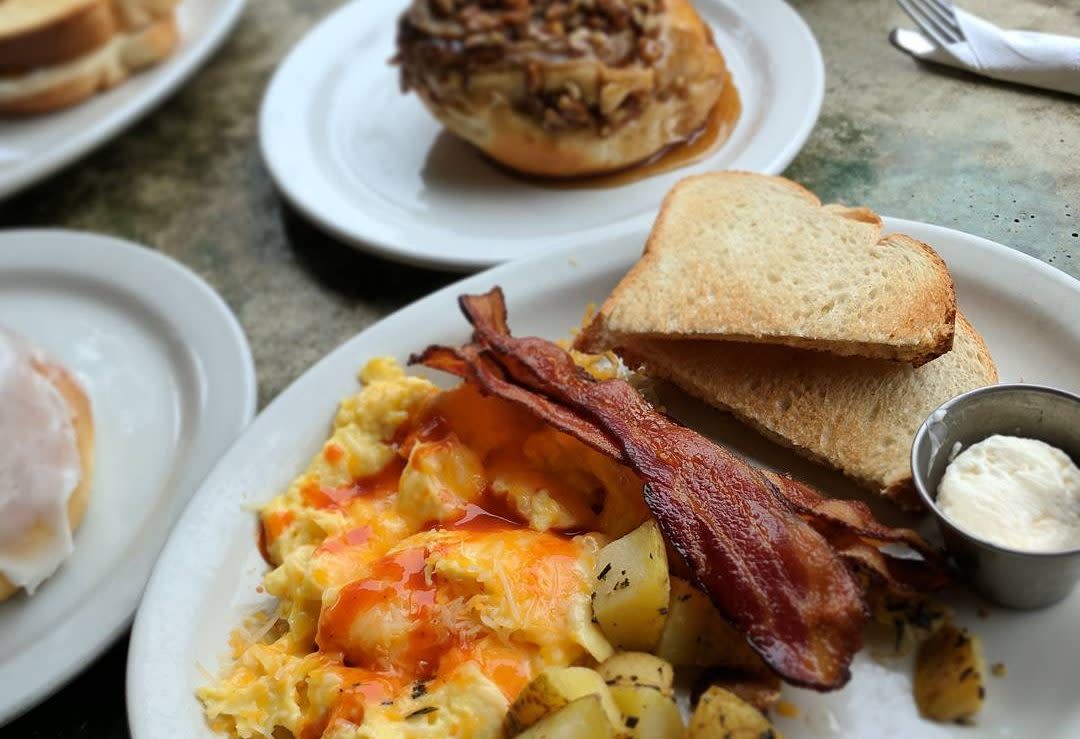 BREAKFAST AND LUNCH
It's not all about the fancy dinners! Here are some great places to pick up breakfast, lunch, or the all-encompassing brunch.
Global Cafe's Restaurant Week specials this year include some classic breakfasts with a twist (Stuffed French Toast, Corned Beef Hash & eggs) as well as some great lunch offerings (Chicken Pot Pie Soup, Spicy Grilled Pimento Cheese & Ham Sandwich).
On Saturday and Sunday, check out the Breakfast Pizza from Johnny's Tavern West. They have great lunch offerings as well.
Wheatfields Bakery & Cafe has several delicious-sounding options this week: pick up a full-sized or mini loaf of their Rise and Shine bread. Pistachio enthusiasts (I know you're out there, and identify as such) will die for the Pistachio Tres Leches pastry. And a Pretzel Philly for lunch? Don't mind if I do.
Speaking of Phillys (Phillies?), take yourself on a Philly tour and head to Leeway Franks for their Chopped Cheese Philly. 
Two (and a half) Coffee Shops are participating in Restaurant Week this year - start your day and whet your appetite with an espresso brownie and small house coffee for only $5 at Uplift Coffee in North Lawrence or at their convenient drive-thru location in West Lawrence. If you're downtown, check out the special at Great Blue Heron Outdoors & Coffee Shop - a Brown Sugar Latte with Macadamia Nut Milk and a vegan chocolate chip cookie for only $6.50.
Feeling courageous? Head to Latchkey Deli for their monster of a Restaurant Week special: The Broodwich. It's so big they recommend splitting it between two people. They also say that if you can finish one by yourself in 30 minutes, you win a free t-shirt. The messaging may be a little mixed, but I'm here for it.
Johnny's Tavern North has some seriously tasty specials this year. Try Rick's Reuben, their three-cheese Mac N Cheese, or their Teriyaki Stir Fry.
Lucky Seb's Dumpling Bar & Grill has three Restaurant Week exclusives on the menu. I've got my eye on the Ramen Soup Dumplings.
You know the famous fried pickles from Jefferson's? What if we put them on a sandwich with fried chicken and dill pickle aioli? Yes. Please.
Don't forget to stop by Fuzzy's Taco Shop for their Shrimp Chimichurri Quesadilla. They're also running a pretty sweet deal on Stella Artois.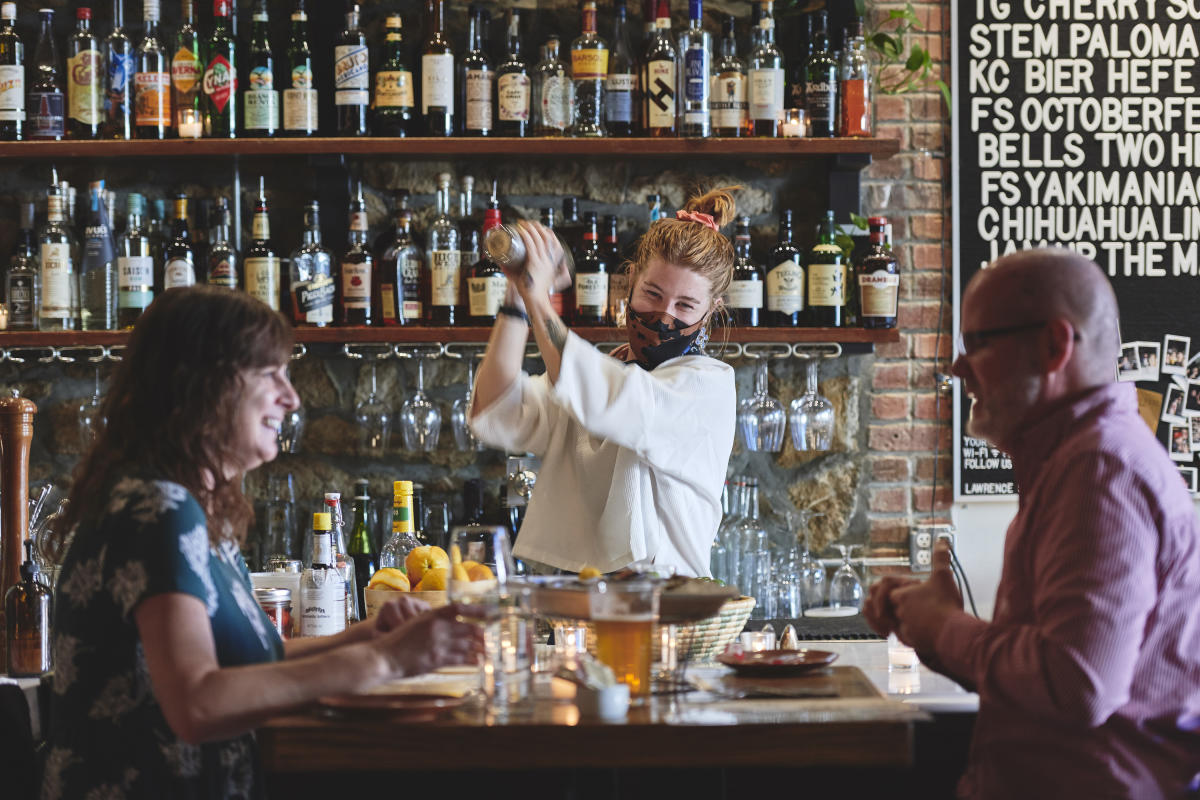 GRAB A DRINK WITH YOUR MEAL
The style of this section is going to look a little different.
BEER
First, let's talk about our local breweries! Here are the ones around town running great Restaurant Week specials alongside their always-great beer.
Lawrence Beer Co is serving up Crispy Pork Belly Tacos.
Lawrence Beer Co West has a Chili Con Queso Appetizer on the menu this week.
Black Stag Brewery is offering the ultimate comfort food menu to warm you up - Bangers & Mash, Poutine, Beef Stew, & more.
Fields & Ivy Brewery is serving a Tikka Masala Pizza, The 785 Sandwich, and chocolate cheesecake.
Free State Brewery has Arancini, Mushroom Bolognese, a Korean Pulled Pork Sandwich, and a Chai Pear Bavarian Pretzel for dessert.
Tip: Before you go to any of these wonderful local breweries, be sure to sign up for the Kaw Valley Craft Pass, so you can earn points and win prizes!
WINE
Next, I'm going to list the restaurants that have suggested wine pairings with their menu.
LiMESTONE PKB has wine pairings for each of their dishes that you can order either as a 6 oz glass, or a wine flight trio.
Merchants Pub & Plate has beer and wine pairings available for each course.
The Eldridge has an amazing 3-course menu with wine pairings that you can order by the glass or bottle.
I can't forget Pane e Vino, as it's a business all about wine.
Culinaria has the option to order the 3 courses with or without wine pairings, which makes it super easy.
COCKTAILS
Last, I want to highlight the restaurants I've seen with special cocktails on the menu just for Restaurant Week.
The Basil Leaf Cafe is coming in hot with 3 special cocktails, one of which is non-alcoholic! They look like they'll go great with the food menu, too. They're serving up an Herbed Cheese Spread appetizer, an Italian chopped salad, and Lobster Fettuccine. 
RPG is serving a couple of really cool dishes (Tiger-Skin Eggs, Pajeon) and has a special cocktail called Platonic Solids to go with.
Don't miss the Caipiroska at La Parilla. They also have a great food menu for Restaurant Week. I am ready for Baja Fish Tacos now.
Big Mill is debuting a new pizza called The Cubano, and they will also have a Meatball Sub and their Delfino cocktail on special.
Dempsey's Burger Pub has an amazing menu, from creative burgers and sliders (Mahomies Smash Burger has a great ring to it) to a seriously tasty-looking salmon salad. They're also running three special cocktails - the House Moscow Mule, the Cranberry Cinnamon Smash, and the KC Ice Water.
Zen Zero is bringing back their classic Saketini for the week! It's a creative twist on a martini with sake and plum wine.
If the Negroni Sbagliato isn't to your taste, perhaps the Aperol Spritz or Espresso Martini from 715 will be!
-
I think that about covers it! I hope this guide helped you narrow it down. Have a great Restaurant Week - eat, drink, and be merry!