[metaslider id=5870]
---
Apples so delicious and red, you would swear they're from a fairytale.
Asparagus poking out of the ground like an alien plant.
Lavender so intoxicating that you'll have a relaxed aromatherapy buzz for days after smelling it.
Lawrence's local farms have all of that, plus some of the nicest farmers you'll ever meet.
Here are a few of our family's seasonal favorite farms that regularly welcome visitors. For most, their hours (and picking availability, where applicable) vary by season, so be sure to give them a call before you head out. No matter what season you're here, there's almost always something wonderful growing at these local farms!
Spring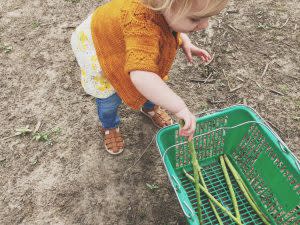 The Pendletons' farm has so much activity going on year-round that it's hard to pigeonhole it into a season, but, if you've never picked your own asparagus before, you simply must head out in the Spring.
Early in the season—their average first picking date is April 15th—the asparagus stalks emerge from the ground, fully formed, just as you see them at the grocery store. It's like something from an episode of Star Trek.
Despite its otherworldly appearance, though, asparagus is easy and quick to pick, even for little hands. And the taste? Well, that is truly out of this world!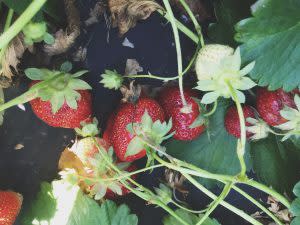 Their is nothing that says "spring" to me more than a fresh-picked, sun-warmed strawberry, and Wohletz is the most reliable pick-your-own spot we've found. Depending on the weather, picking typically starts sometime in May, and you can sign up for their email list to get a heads up about when to head out. (Strawberry season in Kansas can be a "blink and you'll miss it" affair, and, trust me, you don't want to miss it!)
Summer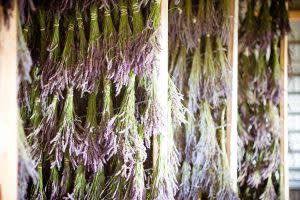 I think heaven must be a little bit like Washington Creek's lavender drying barn. The sunlight gently beams through the windows; purple lavender buds are artfully scattered across the floor. But the thing you'll never forget is the smell—it's heady, ethereal, inebriating.
While you can't pick lavender from the fields, visitors are welcome to walk about and take pictures. If you simply must take some lavender home with you—and you should—you can buy some from their store, which is generally open Wednesday through Sunday in the Summer.
While the Lawrence Farmers' Market runs every Saturday morning from April to November, it is especially vibrant in Summer. Grab a breakfast burrito or a muffin, and listen to local musicians play as you stroll from booth to booth. Pick up a rainbow basket of peppers. Enjoy a tomato tasting and take home a few of your favorites. Buy a bottle of local honey to sample the local terroir. Really, there's no way to do this one wrong.
Fall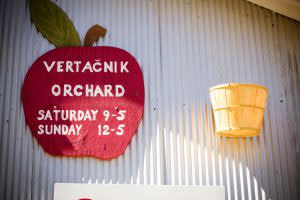 Dave and Wendy Vertacnik's apples always feel a bit like something out of a story to me. Juicy, rosy, sweet—they're the kind of apple you want to present to your favorite teacher in early September, or what you picture a wicked witch conjuring up to tempt a princess.
Vertacnik Orchard is small and simple, so it's perfect for a quick stop or—as we are wont to do—many repeat visits over the course of a season.
Schaake's (pronounced shock-E's) began as a children's roadside pumpkin stand, and has grown into a whole family affair. From the last weekend in September to Halloween, the entire Schaake family can be found driving tractors for hay rack rides, helping snap pictures in their photo area, and selling cider slushies.
Unlike many local pumpkin patches, all of the activities at Schaake's—other than concessions and the pumpkins you take home—are free, making it fun for grown-ups and children alike.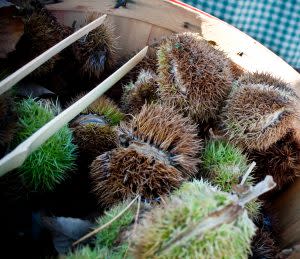 While you may have seen hulled chestnuts in the store, chestnuts in the wild are a much more interesting nut. Covered with a porcupine-like husk, they're a beautiful—if somewhat prickly—Autumn jewel.
Chestnut Charlie's is a regular at the Saturday Lawrence Farmers' Market in the Fall—go try a cone of hot, freshly roasted chestnuts—but they also offer limited pick-your-own opportunities at their farm, usually in early October. They have so many folks who want to come out that they require reservations, so be sure to call ahead (and bring some sturdy gloves) if you want to try your hand at gathering your own chestnuts.
Winter
If you're a knitter—or even if you just like knitted hats and scarves—winter is a good time to visit Coal Creek Farm Alpacas. At their on-farm "Simple Living Country Store" (open Saturdays 10-4 all year; Sundays from 1-4 between Thanksgiving and Christmas) you can get all stocked up on yarn, roving, hats, gloves, scarves, and mittens, all made from alpaca fleece.
Visitors are also welcome to visit and feed the alpacas even when the store isn't open (they have an honor box donation system), or join them for a fiber arts class (email for the current schedule).
If you have a free day and a designated driver, you should go on a Douglas County wine tasting tour. Four vineyards (Davenport, Bluejacket Crossing, Crescent Moon, and Haven Pointe) call Lawrence home, and they're all charming.
However, if you can just go to one, it has to be Davenport.
Davenport does a wonderful job with the local Norton and Seyval grapes, but where they really shine is their fruit wines. The website description of their rhubarb wine says, "You haven't lived....", and I think that might be an understatement. A bottle of their crisp apple wine will get you a permanent invite to any Thanksgiving dinner you bring it to.
Go have a taste, but be prepared to buy a case—you're going to want to take some of this wine home.
---
Meryl Carver-Allmond
A proud Lawrence transplant, Meryl Carver-Allmond lives in a hundred-year-old house with her sweet husband, two darling kiddos, one puppy, one gecko, and an ever rotating flock of poultry. By day, she's a public defender.  By night, she writes, takes photos, knits, and cooks up a storm.  She chronicles her adventures on her personal blog, My Bit of Earth.