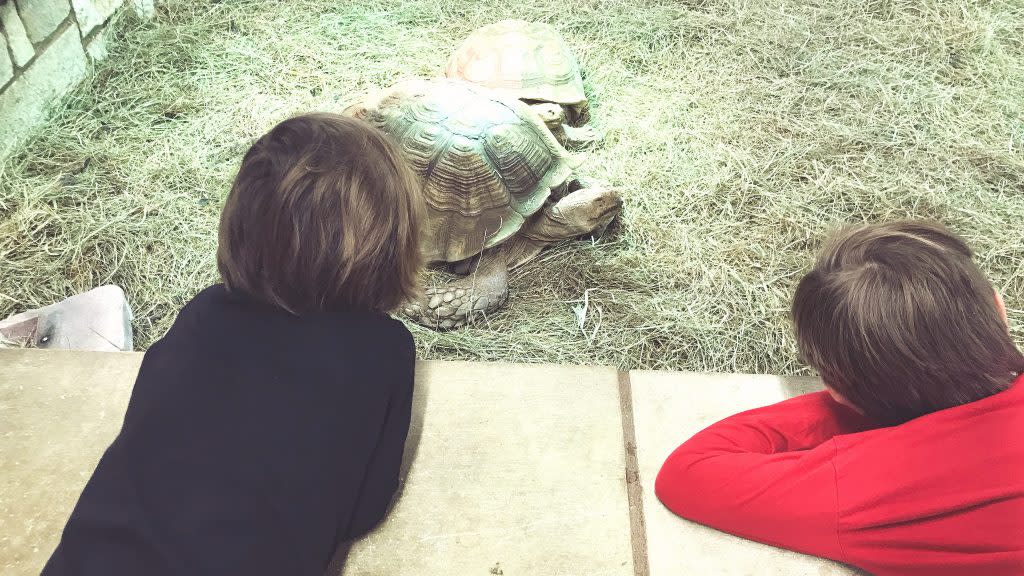 If it were up to my children, we would have a full food chain worth of animals living in our house. One wants a kitten and a rabbit. The other wants a snake and a tarantula. Combined with the sixty pounds of goldendoodle we already have....I mean, what could possibly go wrong?
Here in Lawrence, though, we're incredibly lucky because we have so many great spots for animal lovers of all ages to get their fix—without bringing home a new family member! Here are a few of our favorites.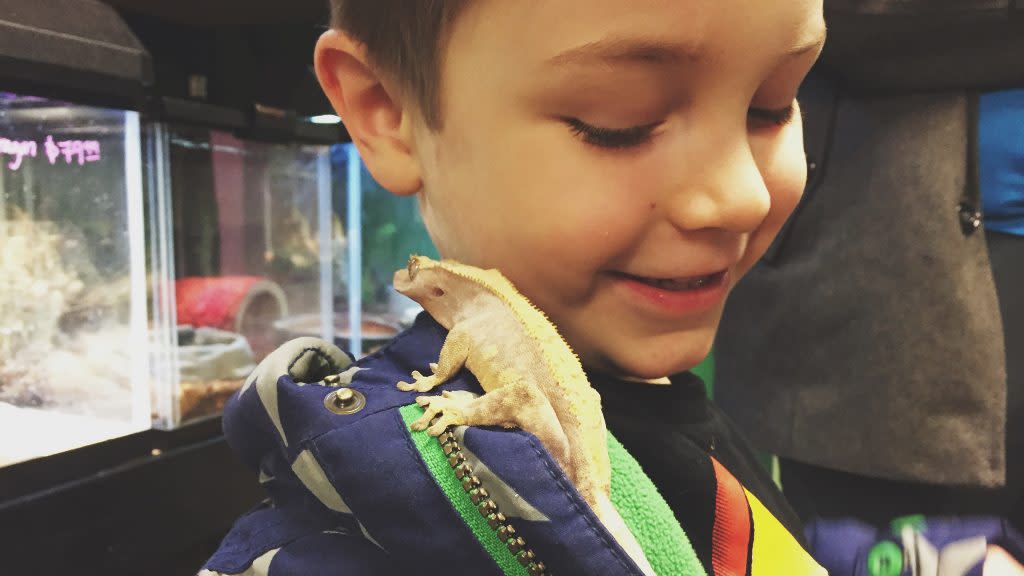 Pet World (711 W. 23rd St.; open Mon-Fri 10-8, Sat 10-7, Sun 11-6)
Pet World is, basically, the best pet store ever. It's not just a place to get some dog food or buy a pet hamster—it's an interactive experience that's all about giving humans and animals opportunities to become friends. 
Do you want to gently pet that soft bunny rabbit? Their low-to-the ground enclosures are set up to allow even little ones to do just that. Want to hold a crested gecko? One of Pet World's friendly staff will be happy to perch one on your shoulder for a test run. Or are you adventurous enough to want to feed the piranhas? Yup, that's a thing you can do, too.
And the crown jewel of it all is the giant tortoise enclosure at the center of the store. During the winter, Pet World houses a herd of rescued Sulcatta Tortoises, and they are magnificent to watch. If you happen to be there around four in the afternoon you can even help feed them their daily snack.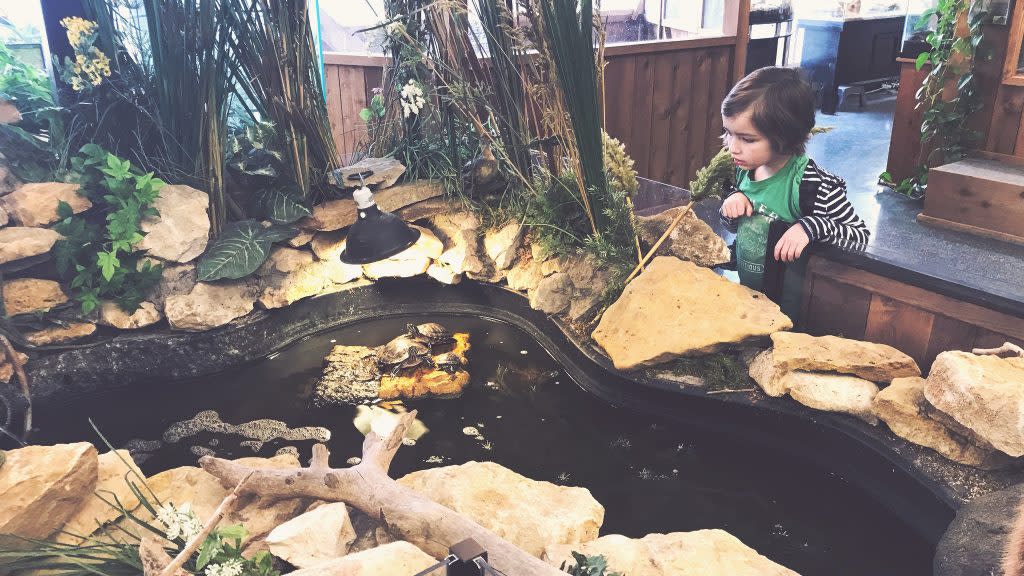 Prairie Park Nature Center (2730 Harper St.; open Tues-Sat 9-5, Sun 1-4)
Specializing in Kansas critters and wildlife rehabilitation, Prairie Park is a great stop for both its nature center and its beautiful outdoor trails.
The nature center boasts a handful of turtles and snakes, but our favorite animals are the black-tailed prairie dogs and black-footed ferrets. As most fledgling naturalists could tell you, those two animals are prey and predator, respectively, in the wild, but at Prairie Park you can see them side-by-side. (Don't worry, they're separated by barriers for the prairie dogs' safety!) 
Prairie Park also has a neat outdoor birds of prey enclosure, which includes a pair of lovely owls, a bald and a golden eagle, and a very knowing crow.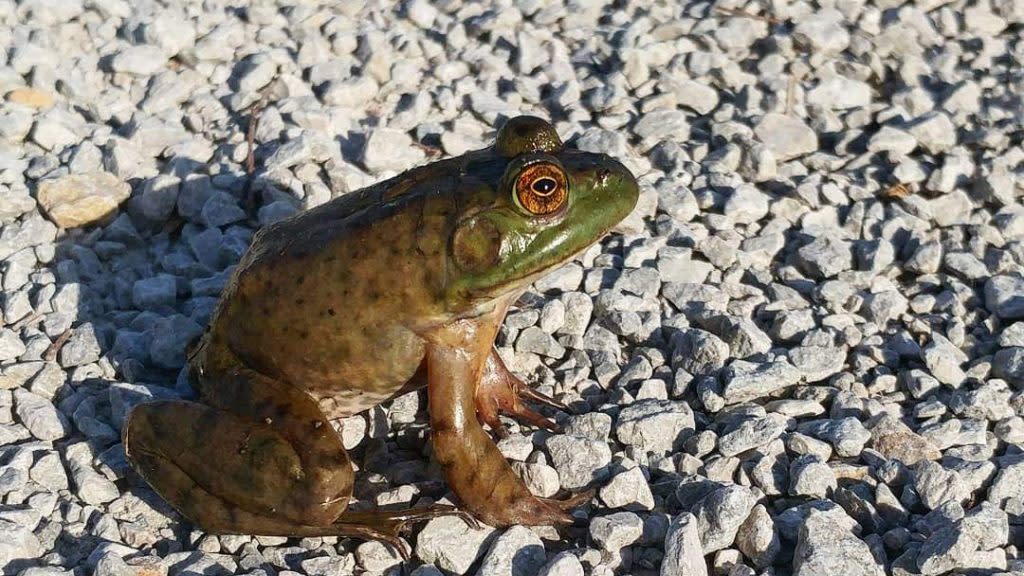 Baker Wetlands (1365 N. 1250 Rd.; open Sept-May Mon-Sat 9-12 and 1-3, Sun 1-3; open June-Aug Mon-Sat 9-4, Sun 1-4)
Baker Wetlands is one of the most species-rich wildlife locations in Eastern Kansas. With a little luck and a good pair of walking shoes, you can see ducks, whooping cranes, beavers, frogs, snakes, and even deer, all from Baker's easy-to-navigate trails.
Baker also has some wonderful programming for families, including "Wee Walks" (for kids under 5), stargazing nights, and special events like Monarch butterfly tagging in the fall. (Give their Facebook page a "like" to get all the details.) The animals at Baker Wetlands require a little more patience to see than they do at some of the other places on this list, but the excitement of spotting an animal in the wild is totally worth it.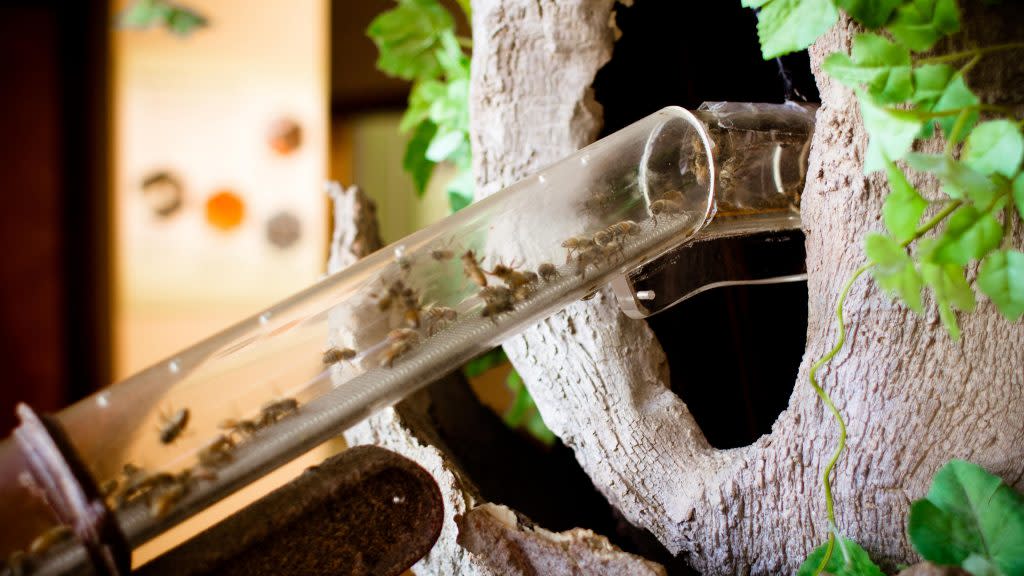 KU Natural History Museum (1345 Jayhawk Blvd.; open Tues-Sat 9-5; Sun 12-4; suggested donation $7 for adults, $4 for kids) 
Does your kiddo know the difference between a brachiosaurus and a diplodocus? Or that a pteranodon wasn't actually a dinosaur at all, but, rather, a flying reptile? 
If so, you might want to start at the last place on our list—the KU Natural History Museum. 
In addition to a historic panorama, a gallery of live snakes, and hands-on exhibits about microbes and bugs, the KU Natural History Museum is also home to an entire floor of fossilized animals. From the ceiling-mounted mosasaur that swims over your head as you enter, to a triceratops skull that's bigger than most kindergarteners, this local treasure will leave your junior paleontologists excited to visit again and again. 
---
Meryl Carver-Allmond
A proud Lawrence transplant, Meryl Carver-Allmond lives in a hundred-year-old house with her sweet husband, two darling kiddos, one puppy, one gecko, and an ever rotating flock of poultry. By day, she's a public defender.  By night, she writes, takes photos, knits, and cooks up a storm.  She chronicles her adventures on her personal blog, My Bit of Earth.