The KU Center for Russian, East European, and Eurasian Studies Welcomes Esteemed Ukrainian Poet Lyuba Yakimchuk. 

The KU Center for Russian, East European, and Eurasian Studies (CREES) presents this year's annual Palij Lecture, titled "Ball and Chain: Russian Culture Invasion of Ukraine," by esteemed Ukrainian poet, Lyuba Yakimchuk. The event will take place at the Cider Gallery on Sunday, November 6, 2022, from 2:00 pm to 3:00 pm. The Cider Gallery, located in East Lawrence's Warehouse Arts District, is a former cider distillery turned fine arts gallery. Lyuba's talk is free and open to the public. It is made possible by the Palij Family Fund, which brings the world's leading experts in Ukrainian studies to Lawrence.
Lyuba's talk is about culture as a part of war and politics. In her presentation, she will examine Russian and Ukrainian relations in terms of culture. She will discuss how the current crisis is not just a war, but the spread of archaic Russian culture all over Ukraine. She will look at how the Russian cultural tradition affects Ukrainian culture during the ongoing war.
Lyuba will also talk about language. Language is an important aspect of identity, both personal and national. In an interview with Pauline Holdsworth of CBC/Radio-Canada, Lyuba said of language, "Language is as beautiful as this world. So when someone destroys your world, language reflects that." In Ukraine, both Russian and Ukrainian are spoken throughout the country. Lyuba will look at how the Ukrainian and Russian languages are changing in Ukraine, why profanity is no longer taboo, and the ways language changes affect poetry.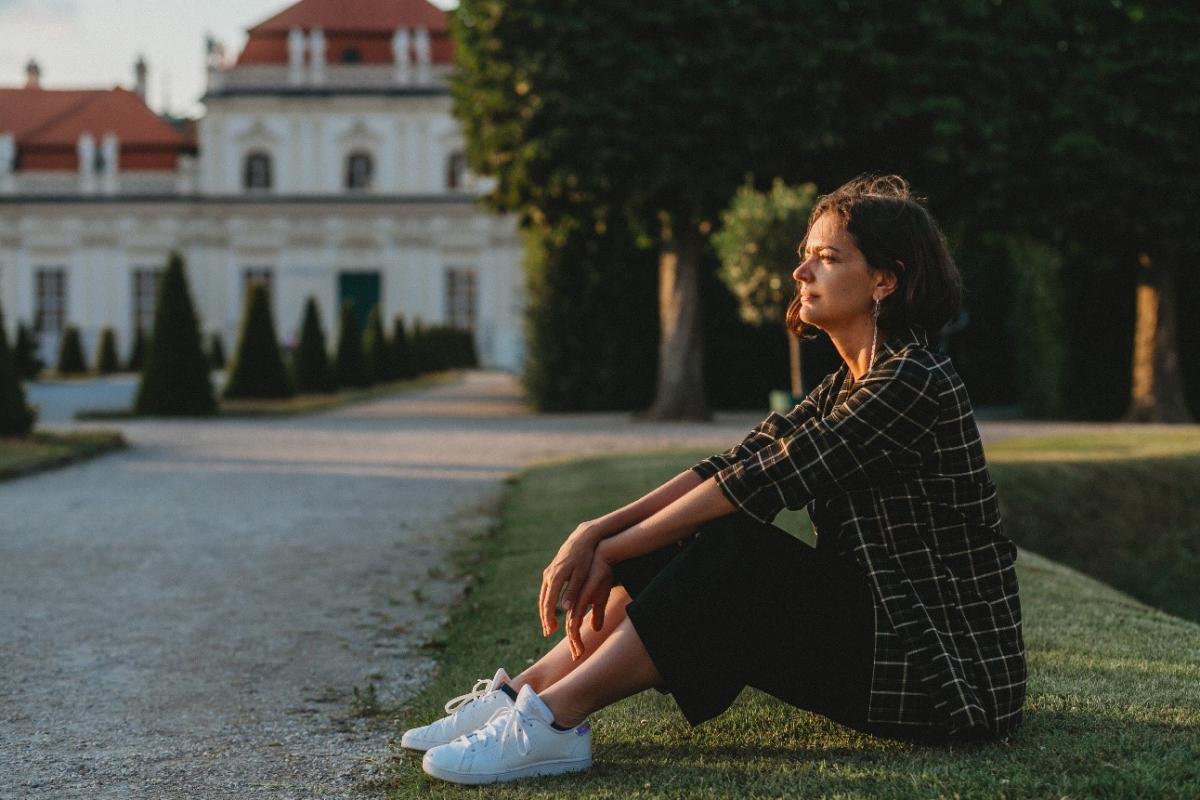 Lyuba Yakimchuk. Photo credit: The Ukrainians, Alina Ruda
Lyuba is not only a poet, but also a screenwriter, journalist, and playwright. She recently performed with John Legend at the 2022 Grammy's. She read her poem "Prayer" as part of Legend's performance of his song "Free." Lyuba is the author of several full-length poetry collections, including Like FASHION and Apricots of Donbas, and the film script for The Building of the Word.
Lyuba lives and works in Ukraine's capital, Kyiv, but was born and raised in Pervomaisk, a small town near Luhansk. Her parents and sister were displaced during the 2014 occupation by Russian forces. Lyuba's poetry collection Apricots of Donbas, focuses on this time in the area and the conflict there. Oksana Maksymchuk and Max Rosochinsky, who translated Apricots of Donbas, state in their introduction to the poetry collection that, after her family had to flee Pervomaisk, Yakimchuk became a "spokesperson for the plight of the civilian population in the region." 
Yakimchuk's work has received international acclaim. Her awards include the International Slavic Poetic Award and the international "Coronation of the Word" literary contest. Her writing has appeared in magazines in Ukraine, Sweden, Germany, Poland, and Israel, and has been translated into eleven languages.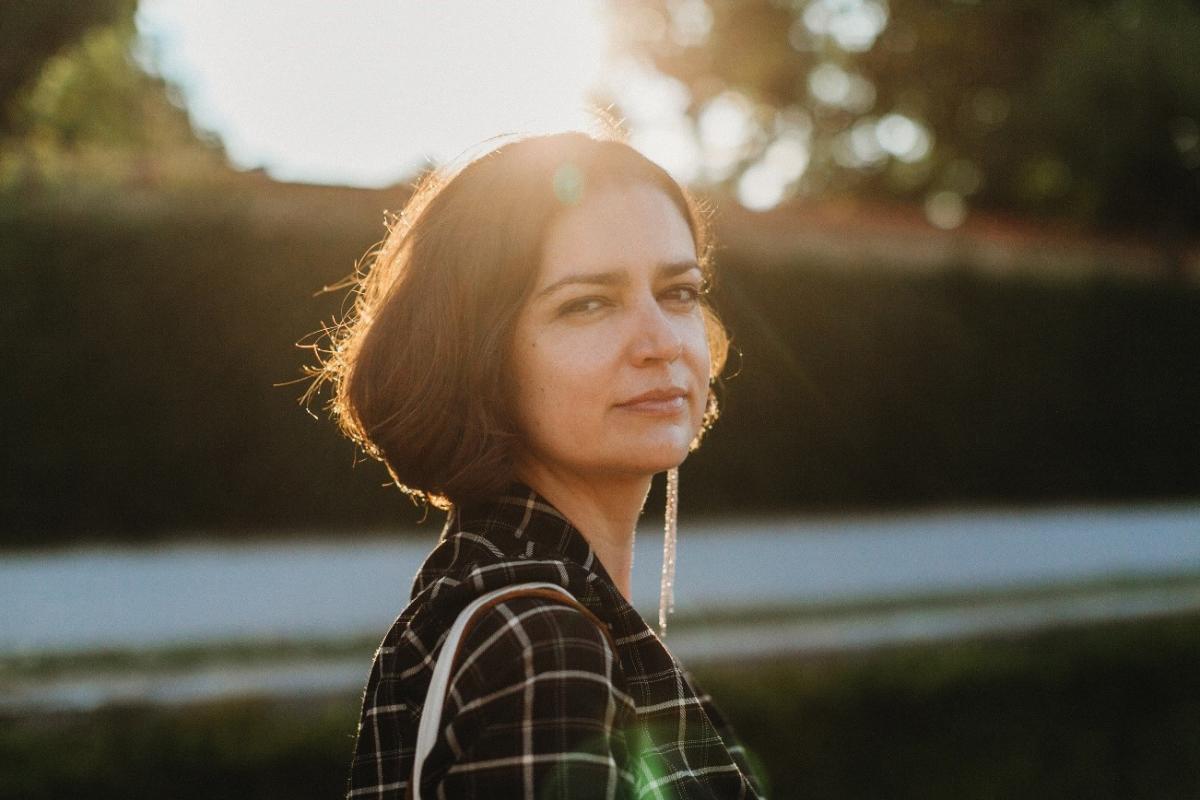 Lyuba Yakimchuk. Photo credit: The Ukrainians, Alina Ruda
Lyuba also performs in a musical and poetic duet with the Ukrainian double-bass player Mark Tokar; their projects include Apricots of Donbas and Women, Smoke, and Dangerous Things. Her poetry has been performed by Mariana Sadovska (Cologne) and improvised by vocalist Olesya Zdorovetska (Dublin).
Lyuba Yakimchuk also works as a cultural manager. In 2012 she organized the "Semenko Year" project dedicated to the Ukrainian futurists, and she curated the 2015 literary program Cultural Forum "Donkult" (2015). She was a scholar in the "Gaude Polonia" program of the Ministry of Culture and National Heritage (Poland). In 2015, Kyiv's New Time magazine listed Yakimchuk among the one hundred most influential people of culture in Ukraine.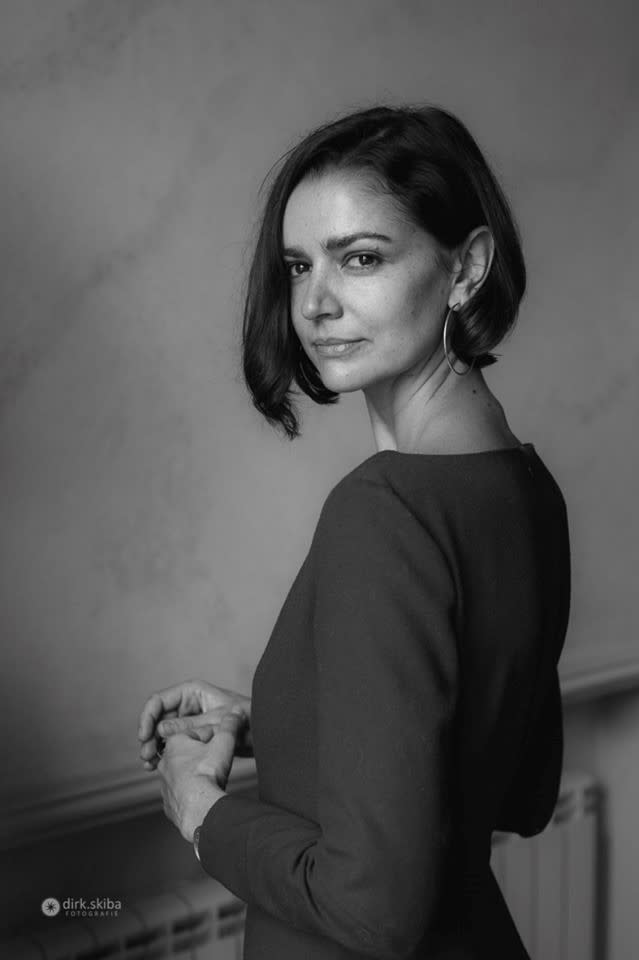 Lyuba Yakimchuk. Photo credit: Dirk Skiba
KU CREES is honored to host Lyuba and to be able to share her insights and talents with the Lawrence community.
Based at the University of Kansas, the Center for Russian, East European & Eurasian Studies (CREES) has been a national leader in the study of the former Soviet Union and Eastern Europe since 1959 and is the only federally-designated resources center on this crucial world area in the Great Plans. CREES, in collaboration with the Department of Slavic, German, and Eurasian Studies, oversees undergraduate and graduate degree programs. The center is an interdisciplinary hub that helps train K-12 teachers and post-secondary educators and shares its expertise with partners in business, media, the military, and government. 
Each year, CREES hosts numerous public events on campus and in the community, bringing leading experts on Russia, Eastern Europe, and Eurasia to Kansas and exploring the region's crucial significance for understanding the contemporary world. 
For more information about CREES or Lyuba's presentation please visit facebook.com/ku.crees or crees.ku.edu Contact the CREES Outreach Coordinator, Megan Luttrell, at megan.luttrell@ku.edu with any questions.