[metaslider id=5235]
Brunch - the best parts of breakfast and lunch, usually eaten late morning - helps you discover your bliss after sleeping in a bit. For those who brunch hard or have hardly brunched, the magic happens around 11 am so we chose eleven of Lawrence's finest eye-opening establishments. Whether you are a townie or a visitor, there are plenty of favorite spots – and Lawrence appreciates the opportunity to brunch hard. We are big on farm local and house made flavor in this creative river city. From the world traveler, the foodie fanatic to the party of 15, brunch is for everyone, and we suggest you try all of these options between 9 and noon or so – just not all at once.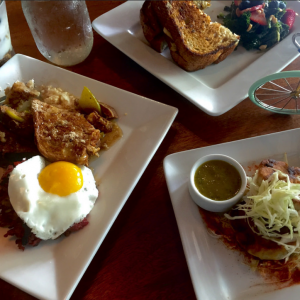 A little ride, run or walk just North of Downtown Lawrence to the Levee Cafeacross the mighty Kaw River provides a welcome respite and repast from your explorations at the locally owned charmingly chic indoor meets breezy outdoor patio space. Brunch entrees start at a reasonable $8, and you must try their house made chorizo Breakfast Tacos, nom, nom... with ready-for-bottling Verde Zesto Peno sauce. Perhaps you'd appreciate a cinnamon Apple Crisp French toast or the corned beef Breakfast Hash, flavored with roasted red peppers? Add an avocado to a Classic Levee Breakfast or a try a cheeky BS Sandwich (Brussel sprouts on grilled cheese) with a Kaw Kale side salad and wash it down with good coffee, juice, or a local beer. Ride out with their gluten free and vegetarian options like some power packed protein balls, while blowing kisses to Mary Catloth Holt and her staff. Bring a picnic blanket and enjoy your meal overlooking the scenic river, or eat while the Recyclery repairs your bicycle next door – all delectable options.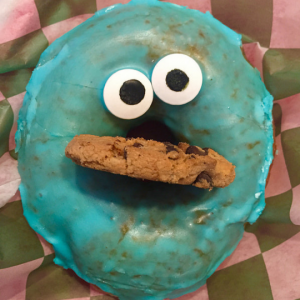 Speaking of love – Ladybird Diner on Massachusetts Street welcomes everyone for brunch with open hearts. There are a number of characters waiters and waitresses with their great little 50's style aprons, and it is a good possibility that Meg Herriford, proprietor, will be the one who takes good care of you. Choose a sparkly booth, four top table, outdoor patio, or sit up to the long diner bar in the fun kitschy chic atmosphere complete with a Kansas buffalo. Great diner classics such as our go-to homemade Straight-Up Biscuits and Gravy- are available with the added bonus of Pies to-die-for, seasonal, unique and made fresh each day (a peach basil pie pairs nicely). You'll want to try all of their delectable character doughnuts – the blue glazed Cookie Monster complete with a cookie, or Garden Party with topped with lemon and lavender... We have fond memories of brunch dates, clients and meeting friends for Huevos and Bravos, coffee and Mimosas. Try their Kimchi Avocado toast and tell us about it. You won't go home hungry and the prices are reasonable.
Wake the Dead, the new local kids above John Brown Underground with the skull saturated atmosphere, serves up themed breakfast all day with coffee til cocktails. Come one, come all as early as 7 a.m. Tuesday through Friday and 8 a.m. or later for a wakeful weekend brunch. Doughnuts are one of the top draws, old fashioned and leaven style. Watch out for the Death-doughs round doughnuts, Doughnut fries with inventive dipping sauces and the Cereal Killer cocktails, cereal included. The Messenger "Wake the Dead" coffee and the 7 East Seven (their address) Sunrise, a Tequila sunrise with jalapenos, lime and house-made cherry syrup will make you levitate. Celebrate the day with a Death Punch topped with 151-soaked lime & a sugar cube, lit on fire. If you're not awake yet add a Death Star sandwich (halved doughnut, egg, cheese, ham or bacon, lettuce, tomato) or a meaty Brinner Brinner Chicken Dinner with Chicken Tinders (like the dating app).
Wheatfields is our home-away-from-home, has earned a special place in our hearts for its amazing artisan breads and fresh bakery items and elevates our very experience on this Earth. Their finely crafted grab-and-go and sit-and-savor brunchy items beckon from food-selfie-ready bakery cases seven days a week. Their breads and European style pastries have people lining up out the door around their oven turret. Try one-a-day or twenty, just try a seasonal quiche, a fruit tart, a sweet or savory scone, a cinnamon roll as large as your head, decadent cake or a stuffed, flaky empanada at some point in your life. There are plated entrees or you can order a la carte. Order in, indulge on the patio or take an assortment to go. You should know that we went into labor with our third child while brunching here with friends from Colorado, we buy their bread every week, and we have often said that Wheatfields is one reason we love living in Lawrence. True story - our history goes deep. And they will be there to celebrate your finest moments, when you've been working on a project (or several) all night and when you only have a few dollars to buy a loaf of Everyday French bread, and it will be the best you've eaten. You will be brunch besties in no time!
Make a date and meet up at the hip and historic Merchants Pub and Plate on the corner of savory and sweet (8th and Mass) on Sundays between 10 and 2 for a locally farm-sourced, flavor-packed brunch buffet. Dress up or down for just $15 and eat in style -  grab a plate and be surprised by the elegantly developed and amped up flavors on your palate, soon to be imprinted on your souls. Start light with a Kale Caesar salad or an array of colorful crudites, crostini, and delightful herbed spreads. Revel and relax with Crab Cakes and a spicy remoulade, some serious Sausage bites, a helping of gooey Mac and Cheesemonger and their ever-famous Brussel Sprouts. Say "hello" to friends you see while dining on the patio. You'll gush over the hospitable Biscuits with sausage gravy and the freshest of raspberry preserves, and their Breakfast Taco Bar with pickled onions and peppers, or some other delectable gluten free and vegetarian versions. Create your sweet ending with a Strawberry Creme Anglais Bread Pudding or a freshly crafted Blueberry Donut. Cheers! Beers are half price, and Bloody Marys are $5 and the Mimosa variations will make you want to rename your pets after each one. Tell your friends, if they don't know already, Merchants is always on point.
715 Restaurant creates elegant food drama in the lives of culinary explorers with their exclusive brunch menu Saturdays and Sundays from 9-3. When Pachamama's shut its doors we cried inside  - enter stage right 715. We brunched on a salad of fresh local greens with rabbit and the genius chef's divine side of Donuts with Vanilla Creme Anglais on our anniversary and met a new colleague at the next table  - and our spirits were lifted. Last week, we started with the Hashbrown "Roesti" plated with smoked salmon from heaven layered with goat cheese and topped with a lovely poached egg and sprinkled with enough capers to please our caper-loving daughter. We shared the spotlight with a House-Smoked Trout Eggs Benedict on a halved English muffin, topped with a house-made hollandaise and a side salad with shaved fennel - pure enjoyment. The creamy New Orleans style Shrimp & Grits with pork belly, a sunny egg, and collard greens add Southern seafood charm. For gluten-free and vegetarian options, substitute tempe or polenta. Add coffee, tea or a timely cocktail for the brunchiest of brunches.
A clean and classy update to the historic location of the RND Corner Grille awaits you. As artists and designers we always note when a certain level of quality and detail is achieved, and Executive Chef, Simon Cass creates in 3D (delectable and delicious delights) on the southwest corner of 8th and Mass Street. Our very professional waiter tempted us with the Tater Tots stuffed with melted pepper-jack and house-made garlic aioli and ketchup dipping sauces. Following was a large tasty portion of Steak and Eggs featuring a tender grilled Hangar steak, topped with arugula, sweet tomato jam, fried eggs and crispy onions, with a side of Lyonnaise potatoes. Next on our course was the sumptuous Stuffed French Toast, ridiculously thick slices of perfectly grilled brioche with bourbon batter, stuffed with the amazing and flavorful Kahlua cream, overtop was poured just the right amount of butter pecans and maple syrup. Dine in or on the patio if weather permits. We didn't mention the sandwiches and many others, but taste testing these will be your job, so get back to us and let us know.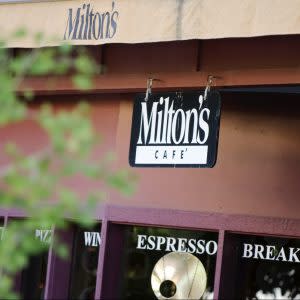 The code word at Milton's is "French Toast", but that's not the only brandy-spiked specialty at this wonderful bistro and cafe on 9th Street, nestled between New Hampshire and Massachusetts. Don't shy away from the fondness you will feel for Smoked Salmon with Eggs, delicately scrambled roasted potatoes or Smoked Salmon with Capers, complete with a bagel and cream cheese, their Chorizo Burrito or Breakfast Tacos. Sample from their variety inspired Hashes, inventive Omelets, several illustrious Eggs Benedicts, Breakfast sandwiches and wraps, and amazing pancakes and pastries in a sleek environment. Their menu is unparalleled and should be part of a novel plot. Someone, please write this amazing use of time and space into your next international best seller.
Sunday brunch buffet is a traditional affair only available from 10:30 a.m. – 2:00 p.m. at Ten Restaurant (temporarily closed for renovation) on the main floor of the historic and beautiful Eldridge Hotel. An entire elegant room is set aside for the brunch selections and friendly staff is ready to make a popular custom omelet, fresh-off-the-grill thick waffles or cut a nice selection of prime rib (with a fresh horseradish hollandaise or au jus), you won't go hungry. A fresh mimosa is included in the $18 buffet. The individual smoked salmon, fruit, cheese and charcuterie platters are a nice addition. If you can make room – and you certainly should – take a slice of cheesecake, but don't miss out on the extremely tasty wine glazed bread pudding. You can eat at the bar, or it is a good idea to call ahead for reservations in the dining room. Also consider the church crowds, which will surge during the various let out times.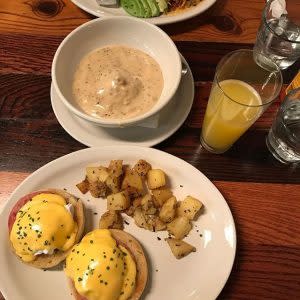 Have you seen folks flocking to The Roost, a popular brunch spot at 920 Mass Street, on any given day or out the door on weekends? Is it because of the hundreds of fresh golden-yolked eggs they turn into edifying eats each week from 7 a.m. to 3 p.m. daily, an extensive and reliable breakfast menu or, shhhhhh.... the chicken on a House Salad? Possibly. You don't have to tell the poultry. The farm culture is real, and it gets social and funky here without breaking the piggy bank. Not sure? Try The Rooster, your choice of French toast, pancakes, or potato pancakes with eggs and a choice of smoked bacon or sausage for $10, or The Kansan for a local take on the classics. They have a Benny for everyone, also Breakfast Sammys and Omelets made to order. Order bakery items a la carte and enjoy refillable coffee, juices, and beer or brunchy cocktails. Invite family, clients, dates to get casual and enjoy yourselves. Send someone ahead to scout out a table - good luck!
Are you a brunch – beginner? Has life lost its luster? Do you need another reason to start your day right? You'll be glad you ventured to one of the above establishments, met some family or friends and discovered your bliss together. Like our children, they are all our favorites. Brunch can get pretty personal, and that's okay. Sometimes we need some food prepared with great care and a break from cooking to remind each other of what and who is really good in this life. That's worth celebrating. And remember, you are invited to be part of the movement. Our mantra is "Lawrence brunches hard!"
---
Shannon and Darin White
Shannon and Darin are straight up townies from birth who are always indulging in and investing in local culture. These childhood friends and partners in business and life collaborate on art and design projects until they drop, and then they take naps to recharge. They write for arts and culture publications occasionally to lend their illustrious two cents to the promising future of Lawrence.