Happy August Final Fridays! For this last summer edition of Final Fridays in Lawrence, the city is pulling out all the stops with a wide range of art exhibits, live music, and fun to be found within galleries, storefronts, and even spilling out onto the street. I'm here to tell you a little bit about our city's celebration of art that occurs on the last Friday of every month, but it's also my (very fun) job to make sure you're informed about all the other great stuff happening all weekend. And boy, is there great stuff happening all weekend!
Come on, spend Friday, August 25, with us. You know you want to! And then, stay for the whole weekend. See what Lawrence, Kansas has to offer this summer. 
The Lawrence Final Fridays Art Walk returns Friday, August 25, from 5-9 PM. This is shaping up to be a fun one with a lot to offer. No matter your interest, you'll find it at one of these shows. Locals might be interested in seeing two recent LHS grads who already have awards for their photography under their belts set up a show at Edward Jones - the two are headed to art schools in Pasadena and Paris this fall. Cider Gallery is hosting three wonderful Native artists this Friday, each of whom uses their craft to tell their stories and those of their ancestors. The Lawrence Arts Center is featuring two unique artists this month: one whose paintings explore the artist's Black Identity, and another whose quirky exhibit uses several mediums to take you on a journey. The Phoenix Gallery is hosting members of the Lawrence Art Guild with a sneak peak of the upcoming annual event, Art in the Park.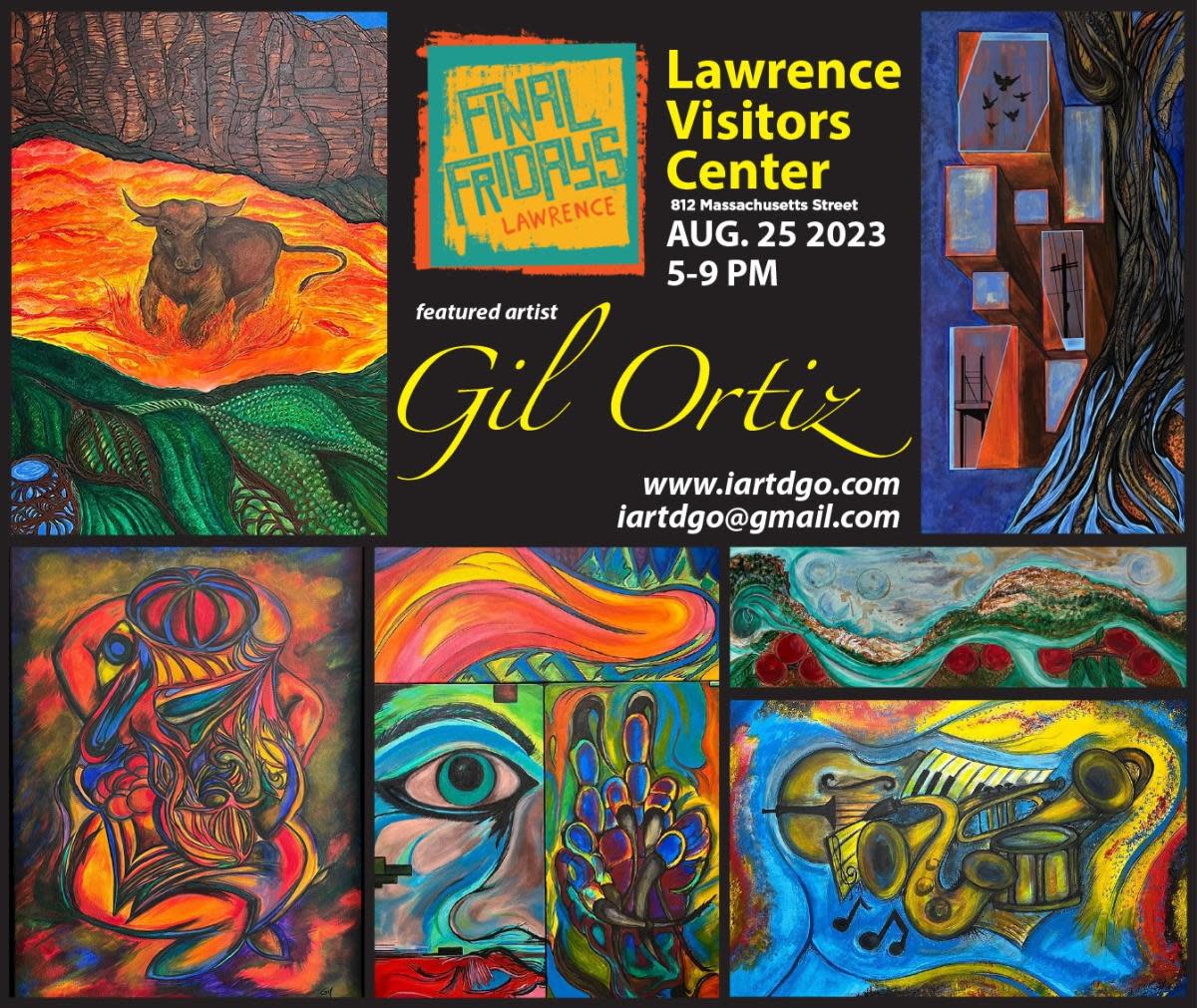 This month at the Lawrence Visitors Center, we're featuring the paintings of local artist and graphic designer Gil Ortiz. Here's a little about his work:
"Growing up in a small town in the mountains of 
Colorado was a big influence on my creative mind.
From the people I have met and the places I have lived 
these experiences are expressed in my work."
We're keeping the Visitors Center open from 5-9 PM for the Opening Reception. Stop by, say hi, and check out some really cool art!
Source: @mosscraftsbyallyse via Black:30
Another event I want to give a shout-out to is the Black Business Market, which is something of a block party, happening at The 409 Boutique Venue at 409 E 12th St. August is National Black Business Month, and last week, the Mayor of Lawrence, Lisa Larsen, proclaimed August 20th - August 26th as Black Business Awareness Week here in the city. This looks like a really fun event. There will be several Black artists of different mediums featured, as well as craft and pastry vendors, food trucks, live music from CURLZOFOZ, and a lot more. I've got my eye on an artist that uses dried moss and locally sourced dried flowers to create her dynamic pieces. The Black Business Market is being put on by Black:30, a new support organization in Lawrence designed to advance the landscape of opportunities for local Black and minority-owned business owners and entrepreneurs. Definitely come check this event out! It will be a great way to learn about and connect with Black artists, musicians, business owners, and entrepreneurs in the Lawrence community. Black:30 president Taylor Overton has personally assured me that Venue 409 will be open with the AC on if you need a break from the heat, and there'll be plenty of water onsite. Plus, you can get a frozen daiquiri from Brainfreeze to cool down.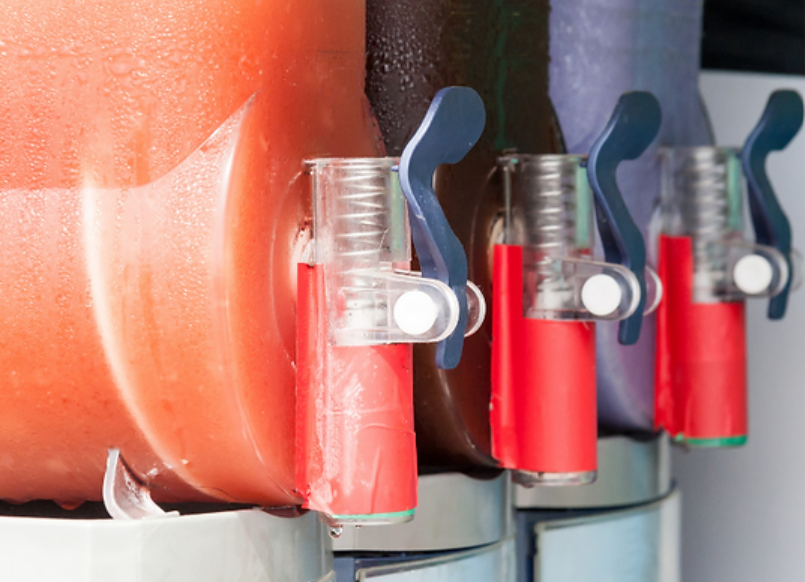 I can't possibly cover everything happening this Final Friday while keeping this blog a readable length, so here's the full lineup for you to peruse:
Bluegrass Weekend 2023!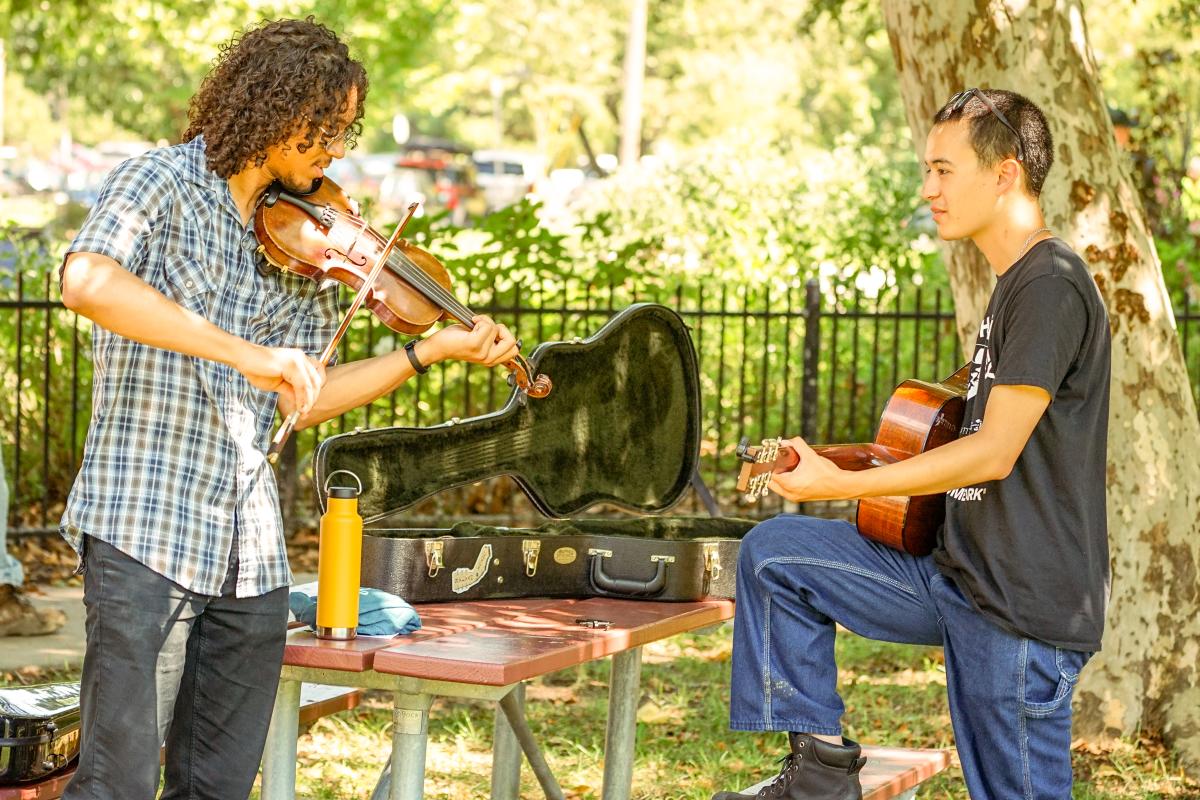 If I had a nickel for every bluegrass music festival happening in Lawrence this weekend, I'd have two nickels. Which isn't a lot, but it's weird that it happened twice, right? If you're a bluegrass lover, this weekend was made for you. The Kaw River Roots Festival spans Friday and Saturday. The festival is a celebration of Roots music, food, and drink in America's heartland. There are so many awesome acts scheduled for the festival across multiple stages at Abe & Jake's Landing, The Granada, and Lucia. That's right - this will be the biggest the festival has ever been. 
There are well-loved local acts performing, as well as visitors. The headliner, Molly Tuttle & Golden Highway, is a recent Grammy award-winner. Check her out here:
The second big event this weekend is the Kansas State Fiddling & Picking Championships, which is free to attend and goes from 12-5 PM on Sunday, August 27.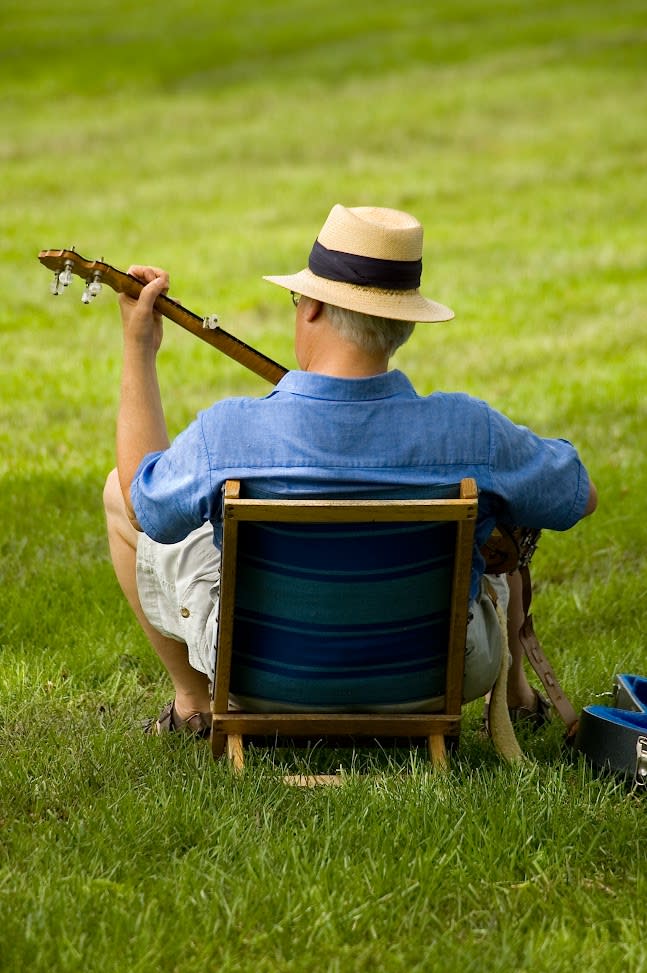 The sounds of bluegrass will fill South Park with competitions in fiddle, flatpick guitar, fingerpick guitar, mandolin, banjo, and many more! In addition to the music, enjoy food vendors, art, and other vendors.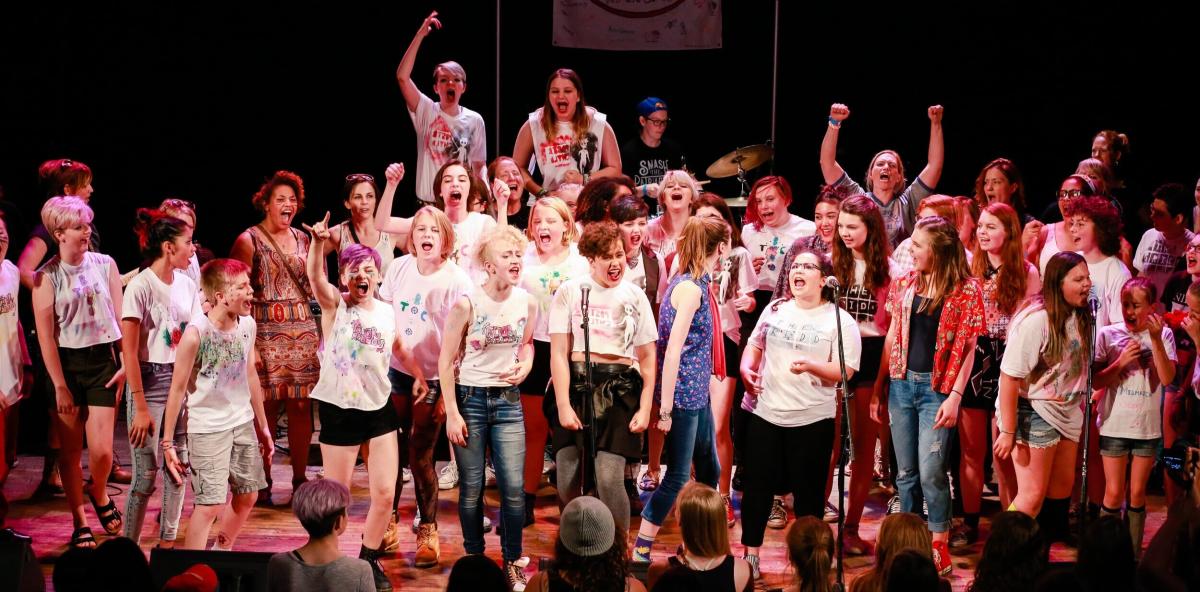 via Amplify Lawrence
Bluegrass not your thing? Why not check out the Rock & Roll Drag Show on Saturday at The Bottleneck? It's a fundraiser for Amplify Lawrence, a summer camp for femmes and others with marginalized gender identities, ages 12-18, to form bands, write an original song, and play it live at the end of the week of camp. The drag show will feature musical performances from The Creepy Jingles, Lyxe, Mellowphobia, and DJ Chance Romance, and drag performances from Kansas Campbell-Mykals, Ms Amanda Love, and Jeni Tonic. It looks like it will be a genuinely fun event that also happens to support a good cause. You don't have to limit your PRIDE to the month of June!
Sweets, Eats, & Treats

Need something to eat? Hit up the Lawrence Farmers Market on Saturday and do a little shopping! There are breakfast sandwiches, coffee bars, and lots of sweet treats available. Adorable golden retriever puppies in baby slings are occasionally present, but they're not for eating. I just really wanted to include this picture. The Farmers Market is a really fun way to start a Saturday.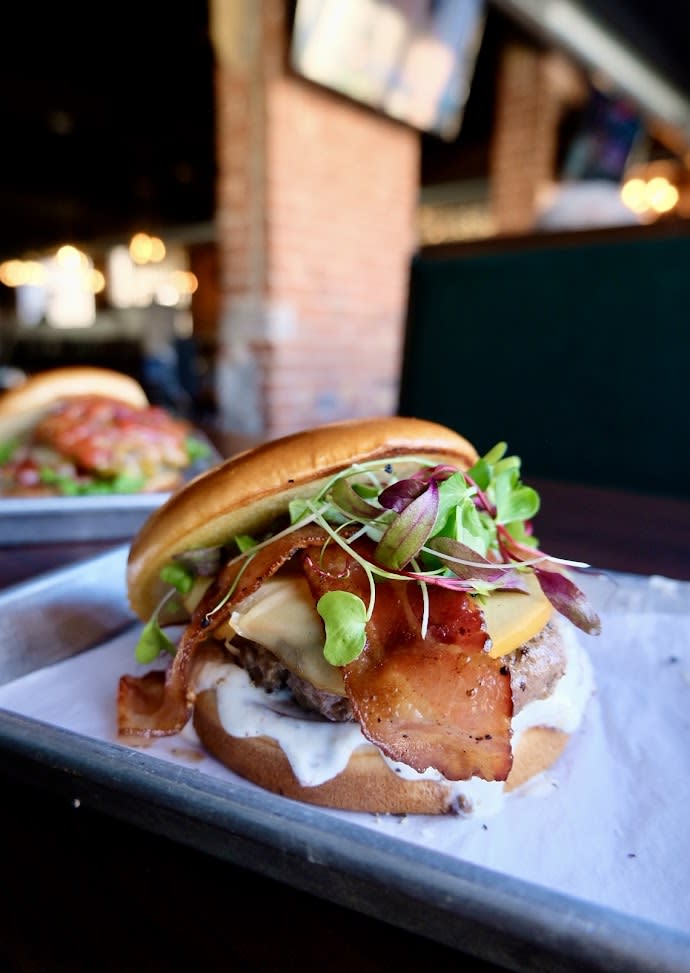 If you get hungry on Sunday, the clear choice is to celebrate National Burger Day with a trip to one of Lawrence's awesome burger restaurants. Pictured above is a fancy burger on special from Dempsey's, but there are so many great burgers around town that you really can't go wrong. 
Got a sweet tooth? Eat your sweets, and be sure to check in with the Summer of Fun pass. It's a free gamified pass that runs until the end of August (that's SOON) that lets you earn points to exchange for cool prizes. You can also exchange your points for entries into the Summer of Fun sweepstakes, which includes gift cards/passes to all of the following locations and is valued at $600:
Definitely worth participating in this last week of the pass, if you ask us! You can learn more here.

Another great way to explore the surrounding area this weekend is by signing up for our other gamified pass, the Kaw Valley Craft Pass. This one's more geared toward adults, for obvious reasons. Visit Lawrence's breweries and wineries, drink craft beverages, win prizes. All good stuff. Plus, the wineries are headed into that time of year when the weather cools a bit (uh. check back soon), and they come alive with events pretty much every weekend. Here are three neat events going on this weekend:
That's all I got for this particular edition of Final Fridays: The Blog. I hope to see a bunch of you out and about this weekend, and if you see me (I am often recognizable by the Unmistakably Lawrence t-shirt and giant camera around my neck), be sure to say hi. Otherwise, I'll see you here in this space around this time next month, then the month after that, and so on. I have a pretty great job, huh?  
Cover photo: Unfit Wives at Kaw River Roots Festival by Fally Afani of I Heart Local Music. 
Have a blast with the fam without breaking the bank with the Lawrence Summer of Fun Pass! This free pass grants you access to exclusive discounts and prizes by exploring family-friendly activities, attractions, treats, and shopping! Sign up...
We're proud of our craft beers and local-grown wines! Enjoy sampling some of the region's best offerings through the Kaw Valley Craft Pass. Our local and industry experts have ensured we're pouring out...