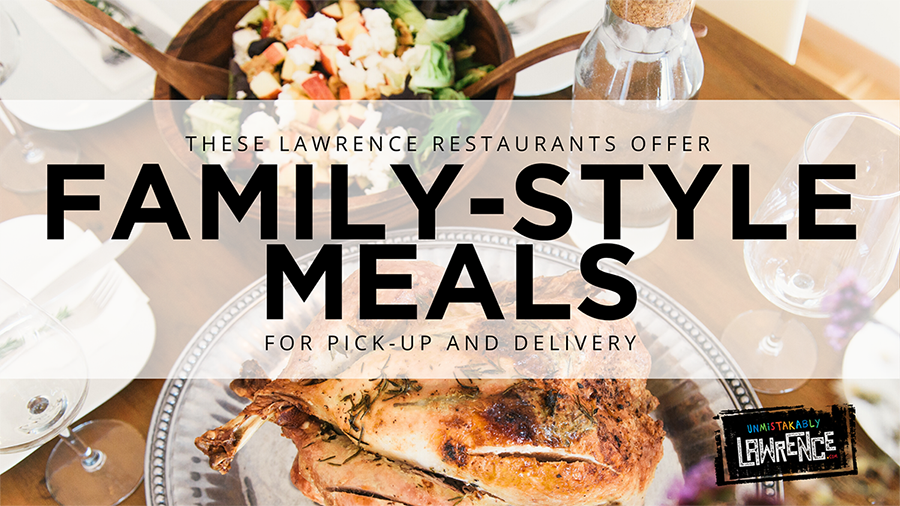 Are you in need of a break from the kitchen but still need to feed the whole crew? Several local restaurants can give you the break that you need while still providing a family-style meal that will leave everyone satisfied. These local restaurants have come up with creative ways for you to take home a meal to enjoy immediately or in the near future. These family meals are more economical than a la carte options, make life easier for you, and each order supports local restaurants in their time of need. So, go ahead and give yourself a break and order a family-style meal from these Lawrence restaurants.

View this post on Instagram
Global's motto is  "everything tastes better with green chile" so you can count on some green chile goodness in these family meals available for pick-up. Scroll down to the "Family and Provisions" section of Global's online menu to order New Mexico Layered Enchiladas for 2 or 4 people. You choose your meat and chile sauce. Rice and beans are included as sides. Also available to order is a Green Chile Cheeseburger Grill Pack, packaged up for you to prepare at home. They also have a couple of curbside cocktail choices including a DIY Mimosa Kit. And while you're placing an order, you can even throw in a dozen farm fresh eggs from a farm in Baldwin City. 
On a side note, Global provides free community lunches to those who need it every Saturday and Sunday right from their patio. Visit their website to donate to their feed the community fund. 
Global Cafe is open Thursday - Sunday from 8 AM - 1:30 PM.

View this post on Instagram
Take home some of J. Wilson's innovative New American cuisine and don't forget a bottle of wine. J. Wilson's have several hot family-style meals and a couple finish-at-home choices that serve four to eight people. The hot meals include everything from the "Smokey Whole Bird" (a whole chicken, roasted potatoes, salad, and bread) to the Shepherd's Pie complete with salad and bread. The "A Little Bit of Work" menu includes a Grill-At-Home Steak option. This option serves four and you can choose your cut of steaks. It comes with loaded baked potatoes, Caesar salad, and bread. The other finish at home option is everything you need for a fabulous brunch including biscuits and gravy, fresh fruit, bacon, eggs, pancake batter with pancake fixins, and more. Order by 2 PM for same day pick-up after 4 PM. Call 785-312-9057 to order. 

View this post on Instagram
Ordering a family-style meal from this Greek and Italian Lawrence institution will make your family very happy. Choose your meats and/or sauces to customize these meals just the way your family likes them. Choose between these family style meals: Gyros, Souvlaki, Kotopoulo, Pasta, or Lasagna. All of these meals are served with appropriate breads and salad. There are also family-sized side orders of Rice Pilaf, Greek Baked Potatoes, and Greek Green Beans that you may add on. These meals can be ordered online and are available for carryout and curbside pick-up. 

View this post on Instagram
Merchants has an extensive menu online that you can order from. Look no further than the "Merchants Market" section of their online menu to see what family-style offering they currently have. Right now you can order the "Taco Party" which serves four and comes with simple heat and serve instructions. The Taco Party comes with chicken carnitas, rice and beans, flour tortillas, blue corn chips, green chile queso, pickled jalapenos, and pico de gallo. Sounds like a great party! Other family-style options includes sides of their famous brussel sprouts and mac and cheese, each serve 8-10 as a side. You can also order market items including green goddess dressing, pickles, hummus, and more. 

View this post on Instagram
This catering and event venue business has stepped into a whole new way of serving their delicious food. They have dove into the world of heat and eat meals that can be picked up curbside. The menu changes each week on Thursday's and meals can be ordered for pick up on the following Tuesday and Thursday. They have individual items and always a family option. This week's family meal option is Shishito Pepper and Smoked Beef Casserole. Desserts and drinks are also available. 
On a side note: Maceli's is feeding up providing meals to up to 100 Shelter guests every week. You may donate to those meals when ordering your own. 

View this post on Instagram
Turn your home into a taco zone with the Taco Zone Party Pack! Taco Zone Party Packs are designed for you to heat and serve when you want. The Party Pack serves up to 8 people and is offered through no-contact free delivery. Each pack comes with your choice of taco filling (meat and vegetarian options available), 30 corn tortillas, pickled red onion, cilantro, cheddar cheese, toasted sesame & pumpkin seeds, pickled carrots, house-made chips, and fresh pico de gallo. You may add on extras like roasted garlic queso and Lightning hot sauce. Order online for delivery on Tuesday, Wednesday, or Thursday between 2 and 6 PM. 

View this post on Instagram
Biggs BBQ's family meals are nothing new. They've been offering their smokey meats and delicious sides in carryout packs since before the pandemic. These carryout packs serve anywhere from 3 to 16 people. Choose from packs featuring ribs, meat combos. The hardest part... choosing which of their 19 sides you want to accompany your order. They have everything from BBQ Beans and Coleslaw to Broccoli Salad and Jalapeno Cornbread. Needing to feed a crowd? Look no further than the tailgater featuring chicken wings, ribs, pulled pork, and 3 quarts of sides. 

Stay tuned to La Tropicana's Facebook page where they post daily specials. Often times the daily special is a family meal. Taco Tuesday is always a winner! They've also done Enchilada and Burrito family meals.