[metaslider id=5368]
If you're looking for a Lawrence spot to tuck into a locally grown meal, it's almost easier to talk about restaurants that don't have local produce on the menu, rather than trying to rattle off the long list of places that do.  In addition to a handful of restaurants that have—literally, in at least one case—gone whole-hog for local meat and veggies, you can't swing a garden rake on Mass Street in the summer without hitting a restaurant that's at least dabbling in farm-to-table practices.
Take for instance, Ladybird Diner.  Decked out in retro kitsch, Ladybird is a great place for an open-faced, egg salad sandwich or a slice of pie.  But proprietress Meg Heriford—"Mama Meg" to the regulars—tries to source at least some of that comfort food locally.
"I hoard as many local berries, cherries, and apples as I can for pies," Heriford said, "Obviously we have to supplement those quite a bit with the volume of pies we crank out," but the diner also uses locally grown micro greens (Backyard Produce) and mushrooms (Alan Terry) year-round, and even more produce, from farmers like Steve Bogler and the Pendleton's, in the summer.
Just a few blocks off of Mass Street, newbie restaurant Bon Bon is working towards being as local and DIY as possible.  Currently, Bon Bon's regular menu stays consistent, but their specials are built around what local farms can provide.  For example, chock full of seasonal veggies, local greens, and grains, their vegan "Bon Buddha" bowl will keep you fueled up for a whole day of exploring.
In addition to one of the best patios in Lawrence, BonBon also has its own garden.  They're just getting started this season, but Bon Bon's eventual goal is to grow a some of their own produce as well as garnishes for their amazing cocktails.  When you can see the rosemary plant that the sprig in your gin and tonic came from as you sip it, well, my friends, you can't get much more local than that.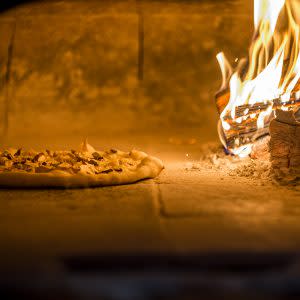 Unless, perhaps, you stop by Limestone.  Limestone Chef Rick Martin's entire inspiration for opening his wood-fired pizza restaurant was because he thought pizza would make the best vessel for serving local food.  Limestone pizza dough begins with 100% Kansas-grown, organic wheat, which in large part is what allows the restaurant to proudly boast that 54% of the food and drinks it serves are locally sourced.
Limestone's menu follows the progression of the seasons—from asparagus pizza in the spring to sweet corn in the summer—and, as such, their most popular pizza, the sweet corn, is only on the menu for a month.  "We know you love this," Martin says of the pizzas that make up his yearly rotation, "But we think you love it because it's really seasonal."
Karl Zensen, who will be taking over as executive chef at 715 Restaurant later this summer, agreed that the area farmers he works with are key.
"Right now we have Juniper Hill arugula on our smoked duck pizza, and it just adds an incredible element, being able to get it locally.  It gives it a phenomenal flavor versus anything we could have shipped in," Zensen said.  "And we get these beautiful yellow wax beans every year from Moon on the Meadow, with such incredible texture and the freshness of summertime.  Those ladies just put a ton of care into their stuff."
T.K. Peterson, who, along with his wife Emily, owns Merchant's Pub and Plate, told me, "They're not just farmers, they're friends."
Peterson—who sources some of his produce from the Southwest Junior High school garden, amongst a host of other places—says he learned early on in his career that local food is just better.  "At one of the first restaurants I worked at, we had a French chef who was used to buying from small producers.  We had a milk guy.  We had a cheese guy," Peterson said.
Amidst eating my way through all this local bounty, though, I had to ask a few of the chefs, "With all of this seasonality, what happens when everyone needs the same thing at the same time?"
Both Martin and Peterson were excited to tell me about a new tool that helps with just that problem.  The Douglas County Food Policy Council, a group of farmers, grocers, restaurant owners, and other local food stakeholders, is now publishing a yearly Local Food Wholesale Directory.  It lists all the farms in Douglas County, what they grow, when they grow it, and all their delivery and contact information—everything a chef might need to get in touch.
It's like a dating service for farms and restaurants, and the fact that it exists is as good of evidence as any about the amazing spirit of collaboration that comes with your food at any of Lawrence's farm-to-table restaurants.
"We [chefs] call each other all the time.  'Do you know anybody who has sweet peas right now?  I see you have sweet peas on your menu, where did you get those?'"  Peterson said.  "In general, as chefs in our community, we're really excited about the collaboration between chefs and farms, and the communication that is happening.  We're all feeling inspired and creative at the same time, and we're all really excited about where the Lawrence food scene is going."
---
Meryl Carver-Allmond
A proud Lawrence transplant, Meryl Carver-Allmond lives in a hundred-year-old house with her sweet husband, two darling kiddos, one puppy, one gecko, and an ever rotating flock of poultry. By day, she's a public defender.  By night, she writes, takes photos, knits, and cooks up a storm.  She chronicles her adventures on her personal blog, My Bit of Earth.