RPG, short for Restaurant, Pub, and Games, in Downtown Lawrence offers more then 1,000 board games, delicious food with locally sourced ingredients, and a fully-stocked bar where creative cocktails are stirred up and a variety of beers are on tap. Their website touts it as a community within a community – a place where all feel welcomed, accepted, and comfortable. Our kind of place!
The vision of two couples, Betsy and Matt, and Nate and Meghan was brought to reality in 2019. Less than a year in, they creatively adapted to continue serving and bringing joy to the community throughout the pandemic. We had the opportunity to catch up with the women behind RPG: Betsy Pool (Co-Owner and VP of Board Games), Meghan Morsches (Co-Owner and VP of Aesthetics), and Birdie Albrecht (General Manager). Read on to learn how they've adapted, what it's like being a woman in the industry, and the ways in which RPG serves the community beyond good food and fun.  
Q1: What have you done to adapt to COVID-19?
Meghan – We wanted to make sure our staff was taken care of during these uncertain times, so we made the decision to pay our staff a minimum of $15 an hour and implement a 15% hospitality fee. That means that our staff could trust in a reliable income without being reliant on tips. I also built an outdoor dining space that provided 30 additional seats while maintaining distancing and providing a unique dining experience. 
Betsy – As the months went by, we began to think about how we could shift and still utilize our massive board game library. We created an interface on our website which allows people to check out games and bring them home. We added a subscription service so those who wanted to keep multiple games at home for longer than just a night or two had that option. Finally, early on we worked with our chef and made a pivot to create a locally-sourced menu for carry-out and delivery so that we were supporting other local small businesses that were struggling at the same time as ourselves.
Birdie – Understandably, a much deeper bond was forged among staff throughout the pandemic. As their general manager, a certain ferocity came to the forefront out of the desire to protect my staff as well as the folks that came through our doors. We felt deeply responsible not only for our customer's dining experience but also for their safety.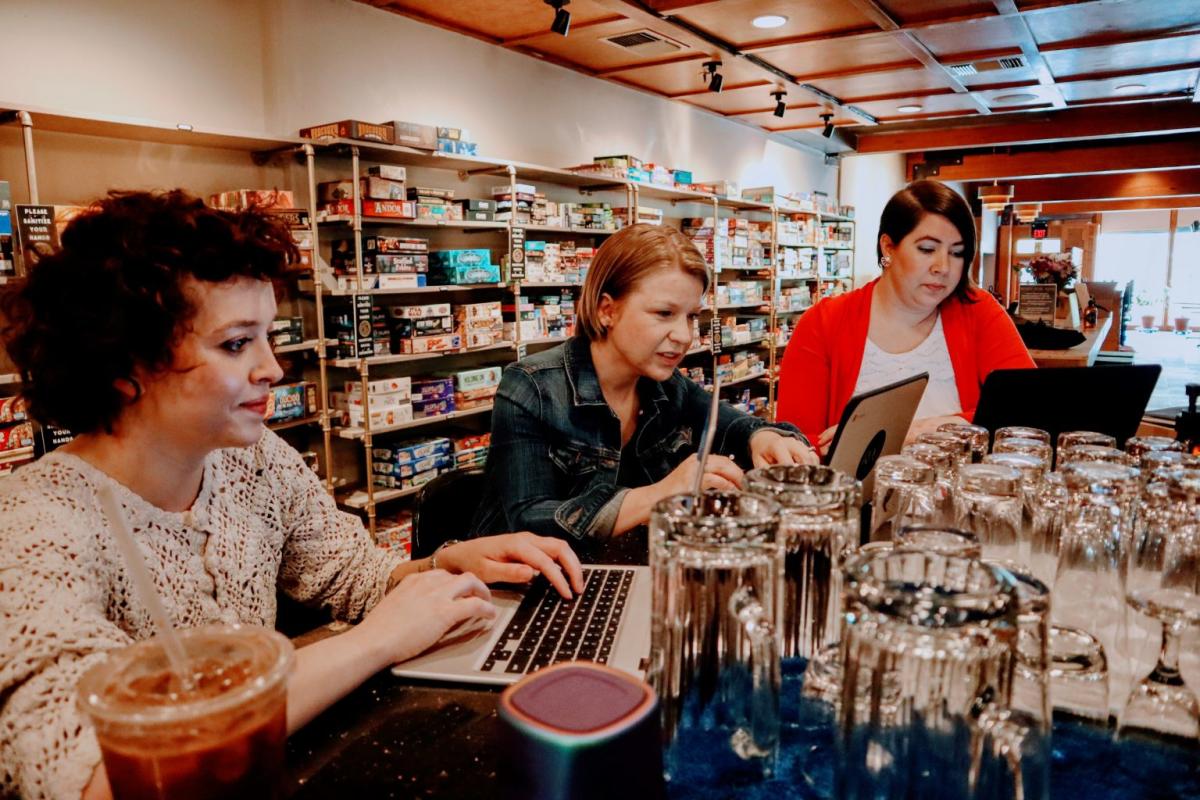 Q2: What's it like being a woman in your specific industry?
Betsy – Board Games – There are so many women that love and play board games, because they facilitate face to interaction and critical thinking. Yet, the industry definitely perpetuates the stigma that it's men who are the nerds and gamers. It's been a challenge to break that perception at RPG but I believe that that stigma, at least at RPG, has been broken.
Meghan – Woodworking – Being a woman in the woodworking industry has been challenging and rewarding. Women often face preconceived ideas of their capabilities or even open ridicule for being in a historically male dominated industry. I think that can be discouraging to women wanting to develop their skills in woodworking. I'm always excited to see women being recognized for innovation and creativity. I have benefited greatly from the support of other female woodworkers as well as the other women in our management team and am excited for how we can continue to bolster this women-led model moving forward.. 
Birdie – General Management – I'm fortunate to work in a community with many women in leadership. On RPG's block alone, I'm surrounded by three other woman-owned/led restaurants, and their experience and knowledge has been invaluable to me. It's equally valuable to me having Betsy and Meghan as owners. Their ability to juggle all the plates as well as be instrumental in RPG's success encourages me to stay focused on the future without getting bogged down in the details.
Q3: A business' role is to help the local economy and provide jobs, but are there other ways in which RPG is benefiting the community and how is RPG moving forward?
Meghan – Integrated into our business model is a desire to promote face-to-face community and positively impact mental health. Since COVID has limited our abilities to facilitate as much in-person interaction, we were very excited to pursue a partnership with Bert Nash. We have provided discounts for Bert Nash staff as well as a twelve-month membership to Bring RPG Home. We have also partnered with the Boys and Girls Club to give the students enrolled in their programs access to our board game library and are continuing to look for more opportunities to be able to partner with others in our community. 
Birdie – Whenever I think of RPG and community, I look back to when we were safely able to have our weekly events. Whether it was trivia night, witnessing teams forming out of strangers and those teams developing into sustained friendships, or our Adventurers League for folks wanting to play D&D but without a team of their own, RPG has always been about bringing people together. That is truly what I miss most from pre-Covid times: 60 total strangers gathered around our gaming tables and forming relationships from a tabletop game that commonly alienated others from their peers. To see everyone from ages fifteen to fifty building a world together and learning how to navigate that world as a team. It's a privilege to be able to serve our community, and I can't wait to get back to it full force. 
Betsy – We all have been home more, so it has created a need for providing more entertainment opportunities at home. Board games are especially beneficial as they facilitate face-to-face interaction and meaningful engagement. We have a wide selection of family games (to help the parents at home with their kids) as well as cooperative board games (games that unite players to try and win against the game). We were so excited to start our subscription model for this very reason – we wanted to help support groups and families and Covid-19 actually showed us more ways that we could do this than we had previously known.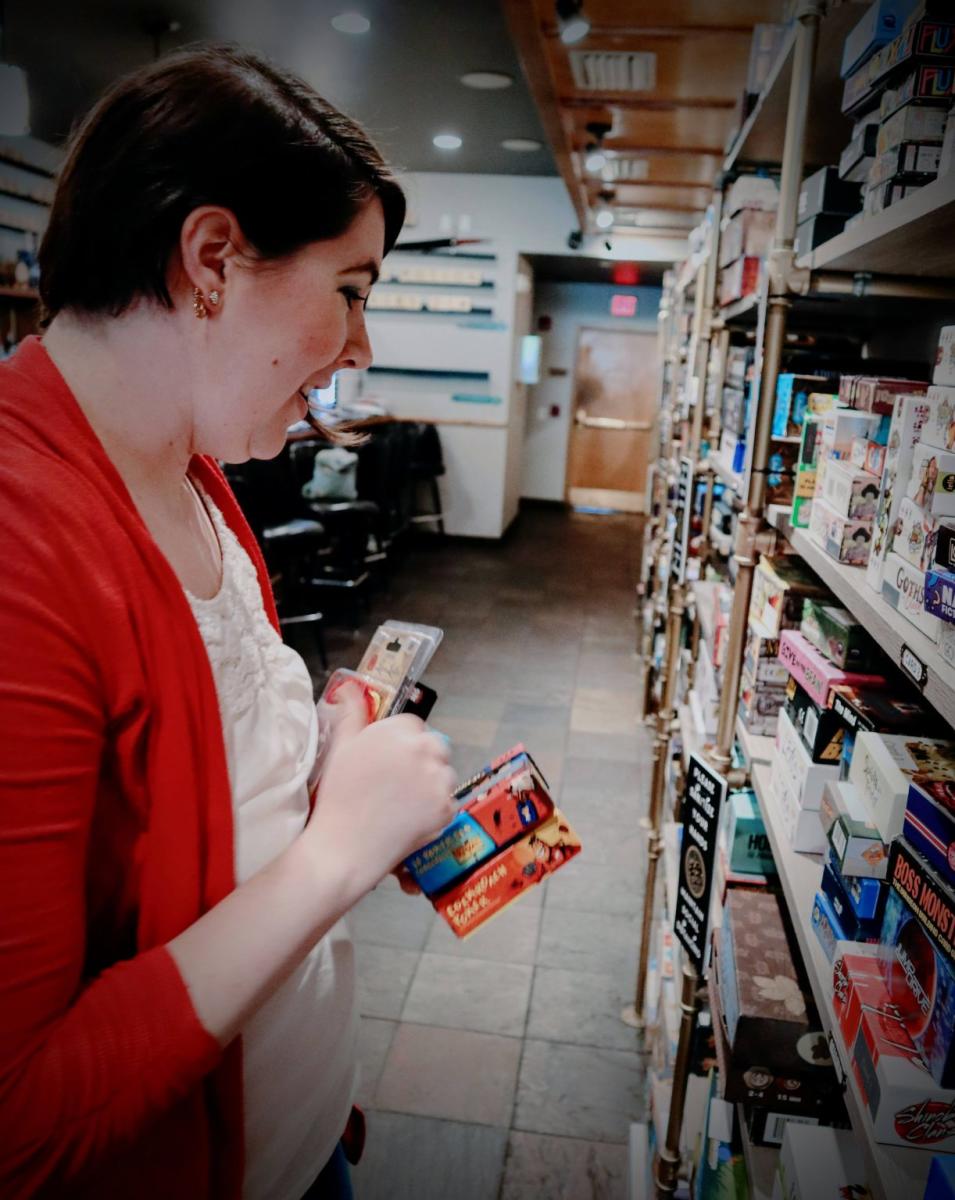 Q4: What is your process for selecting new games to go on the shelf?
Betsy – There are tens of thousands of board games coming out each year, so what I tend to rely on is seeing the trends in what people are playing at RPG, or bringing home to play. We also post regularly about the board games we have on our shelves and analyze what social media posts are getting the most engagement. When I see people enjoying themselves playing certain types of games I tend to purchase more games like those.
Q5: How do you keep the board games organized?
Betsy – When I designed the set up for the board game library I first created general categories that would be understood by a non-gamer. For example, the first category of games you will come across at RPG are the Party games – built for more players and foster player interaction. I also created a category just for the Light & Easy games which take 5-10 minutes to learn and less than an hour to play. I want to have game shelves that are accessible for those that just wanted to come in and grab a quick party game, 2-player game, or find a classic game they recognized.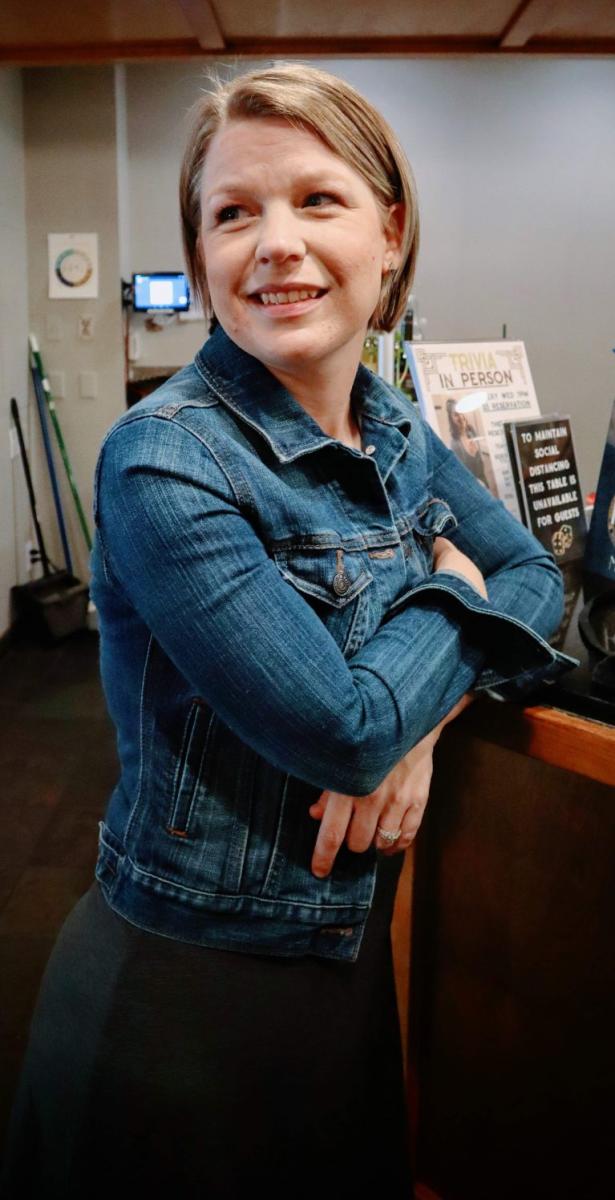 Q6: What was the process for designing the aesthetics of RPG?
Meghan – I started the design of the space by imagining what feelings we would like to create for customers when they come in. Mostly we wanted the space to be comfortable, warm and inviting. We chose a design aesthetic that had Art Deco and industrial elements and would encourage people to relax and be able to fully engage with one another without feeling like they were entering a "nerd haven." My goal at RPG has always been to make people feel welcome no matter what their own personal background may be. 
Q7: How have your woodworking skills helped you realize this design vision?
Meghan – Many of the games we offer in our library require a lot of space for setup and play. We wanted to create seating that would allow groups to gather and play, while still having space for food and drinks. My woodworking skills were first utilized to create large tables that could make this possible. Making large tables to accommodate groups while also being able to provide those that just want a quick bite out on the town.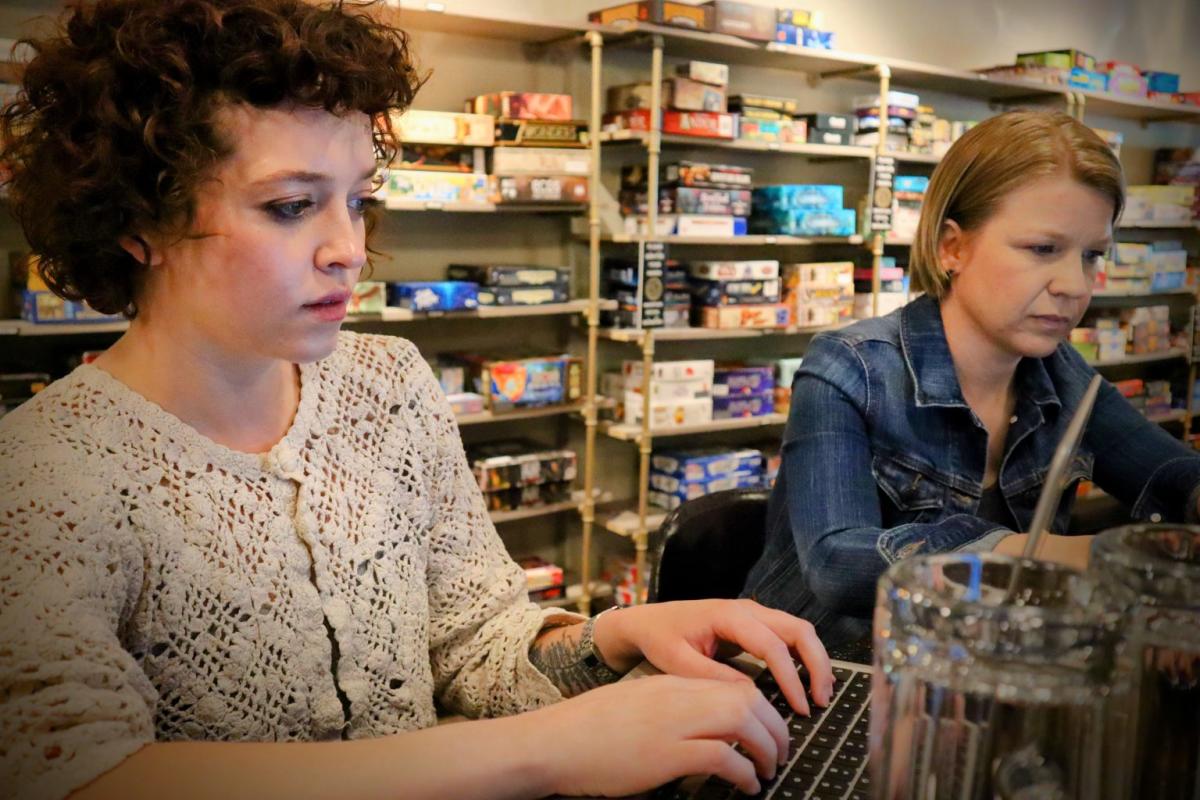 Q8: What is the experience like walking in the door at RPG compared to other restaurants and bars?
Birdie – Undoubtedly, the first thing someone notices is our board games, but what the customer soon realizes is our service model is quite unique. The high standards of service are the same, but our methods of getting there are distinct from other places. Optimized according to the needs of our guests, we're able to offer a level of service adaptable to each party whether it be a mother-daughter luncheon, a bachelorette party, or a devoted group of tabletop gamers. And nowhere else is a customer going to receive the kind of knowledgeable service that our staff provides, from cocktails to locally sourced food to game recommendations. 
Q9: How has paying people a living wage changed how you train your team?
Birdie – The anthem to getting through the pandemic was "Adapt, adapt, adapt,", and I'm incredibly proud to say my team has consistently done just that. Being able to pay our staff a living wage quickly evolved into a team-driven bonus structure: they devise their own goals and bust their butts to meet them.  Naturally, with wages being raised, expectations were raised as well, and we now have a team that can truly do it all.