Normally at this time, we'd be telling you about all the fun events planned for April and recommending some of the can't-miss shows. But since we're in a time of uncertainty during the COVID-19 lockdown, the entire world is practicing social distancing. To better keep this virus under control, social gatherings and live events are being rescheduled for a later date. In the meantime, there are steps you can take to keep musicians afloat. In lieu of an events list, here are those recommendations for financially supporting musicians when they can't tour.
Buy their music and merch
This one is obvious and simple. If you like their music, buy it. Try to purchase it directly, rather than on iTunes. Some bands prefer you hit up their Bandcamp page. You can also email them directly, purchase a physical copy, and ask them to mail it to you directly (whenever they're comfortable with going outside).
The same goes for their merch. Some sell T-shirts and apparel, others get a little more creative with items you may need anyway (Unfit Wives sell pretty sturdy dishtowels with their logo embroidered onto it). It's easy to contact musicians directly through their website or social media pages and inquire about what merch they have.
Pay for a future performance
We're all bunkering down now, but when this blows over, there's a possibility that it'll be really nice outside and you'll be in the mood to socialize. You may even throw a party. I'm a fan of hiring live music for garden parties, no matter how small. Hit up your favorite local musicians and schedule a future performance. You can give them a down payment now, or pay them in full. It'll provide the perfect background music to your "Lockdown is Lifted" parties.
Pro tip: Venues are hurting too, right now. Ask one if you can rent the room for a party to celebrate the lockdown being lifted (when the time comes). Again, you can give them a down payment now (or pay in full).  
Finance a live stream
By now you've seen musicians hop online and perform for whoever will listen. It's a good way they're dealing with anxious feelings during the lockdown. You could help sponsor a live stream. Throw a little money their way, and ask them to live stream performance for everyone on social media. This is especially easy with acoustic acts. If you're feeling really generous, ask if you can purchase a webcam or a mic as an official sponsor.
Stream their music
Musicians would always rather you purchase their music over stream it, but streaming it does throw some support their way. Make Quarantine playlists, and throw them on there. Post it on your blog. Send it to your influencers. All those streams amount to support. I tend to make local music playlists, leave it on loop, and go about my day cleaning the house or running errands.
Buy them a promo photo session
Since I run a photography business on the side, I get a steady amount of inquiries from musicians for promo photos. They're pretty essential in a time of social media and visual representation. Please consider purchasing a promo photo session for local musicians. This doesn't just support the musicians, but it also supports the photographers whose income is restricted during this time (don't contact me, I'm doing ok, hit up other photographers in town). Again, you can send a down payment now, and the rest at the time of the shoot.
Be vocal with your encouragement
If you're also financially strapped during the lockdown, this is a big one you can do without spending money. We're all in online meetings, messaging each other links, etc. My friends and I constantly send each other new music. Be vocal with your love for a local act. The best-case scenario: you get others to purchase their music during the lockdown, or even see them live when the lockdown is lifted.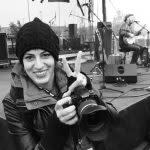 Fally Afani
Fally Afani is an award-winning journalist with a career spanning more than 15 years in media. She has worked extensively in radio, television, newspapers, magazines, and more. Currently, she resides in Lawrence, Kansas, where she works as a music journalist and is the Editor of I Heart Local Music.