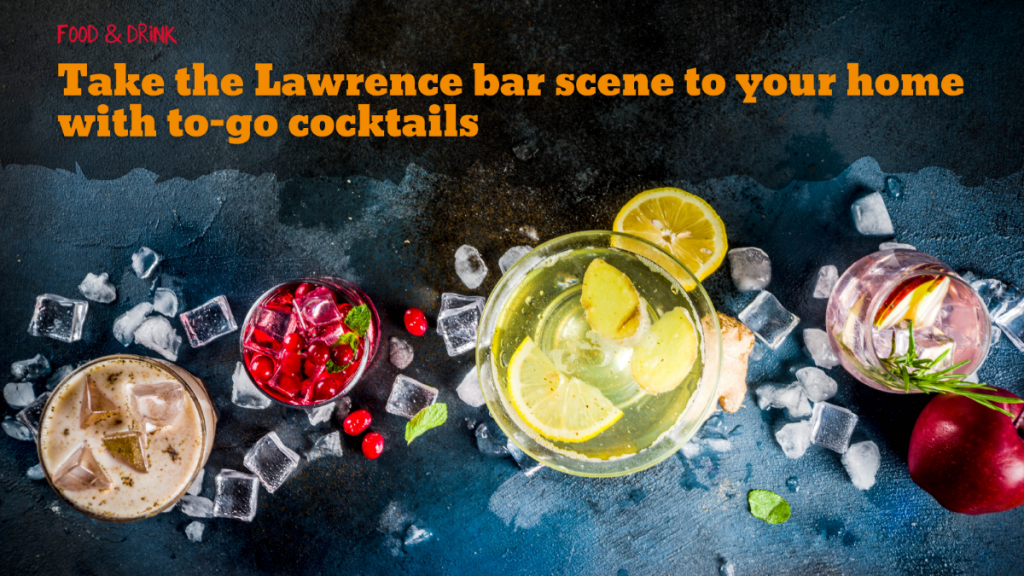 Make a weeknight meal at home or spring afternoon with friends on your deck more exciting with a cocktail from one of your favorite Lawrence establishments. It's been almost a year since curbside drinks were authorized by the state to help bars and restaurants during the initial pandemic shutdown. And fortunately, it doesn't look like that law is changing anytime soon.
Lawrence is not short on fun or tasty adult beverages and we reached out to a few places to get the details on their to-go drink menus.  The reps we talked to indicated they weren't selling as many cocktails to-go compared to last year but were happy to still have the avenue for sales. So if you're in the mood for something different, consider swinging by on your way home. And no matter which drink you pick up, make it extra special by putting in a glass with a fancy straw or at least a wedge of fruit. (Salt for your margarita is a given.)
Spice up Taco Tuesday or Tostada Thursday with margaritas from Ta Co. To-go options are on the rocks only but you have your choice of flavors: traditional lime, banana, mango, peach, raspberry, strawberry, and wild berry.
Kristy Lopez, Ta Co. General Manager, says that the fresh-squeezed fruit and quality tequila is what makes their margaritas the best in town.  You'll want a friend or two to split these with as they come in a 32 ounce container. And if you're ready to up your at-home bartending skills, Lopez isn't shy about sharing the recipe. "Honestly, I have no problem giving out the recipe… what we're offering is pretty basic and simple if you're using fresh and quality ingredients." But for $15, it's definitely worth a stop at Ta Co.
Lopez also teased some exciting new things for Ta Co. in the future including a daiquiri bar and possibly new location!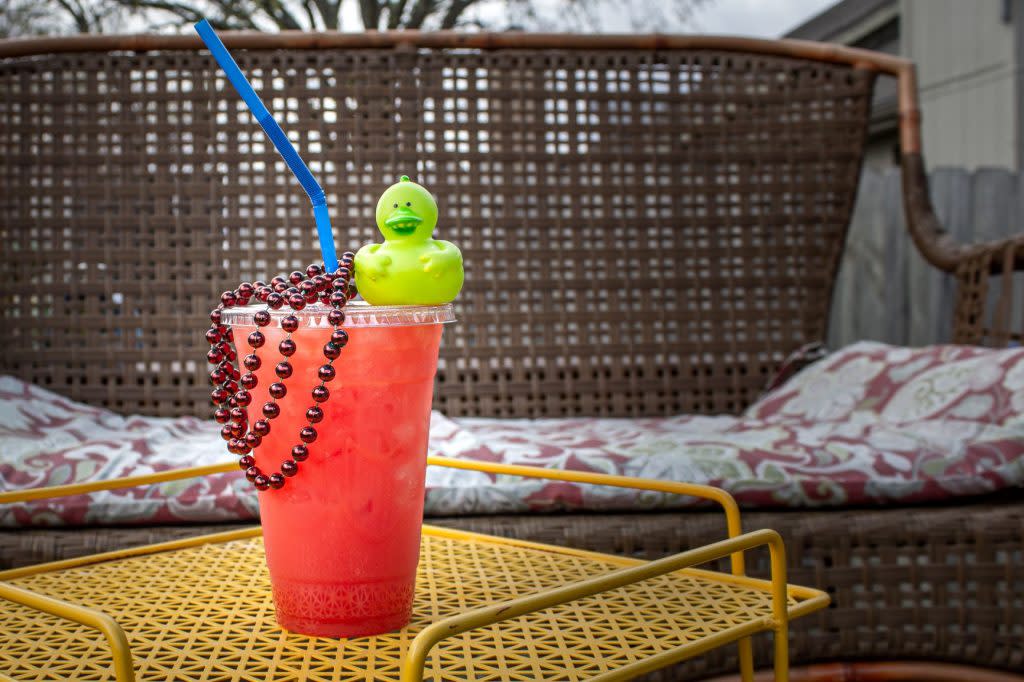 Get any of The Sandbar's specialty tropical drinks (even a Shark Attack!) to-go. For $6, get 20 ounces ready to drink (once you're at home!) with a rubber duck and beads. You can also get 32 ounces for sharing (all you need to add is ice) if you're still social distancing with a few friends.
Dave Johanning, Managing Partner, said they'll keep the option around for the foreseeable future.  To go drinks are "a nice option for when people can gather again". Johanning also said their "fromosas" (frozen mimosas) could soon be making a comeback as the weather warms up.

If you are celebrating with friends on the west side of town, choose from a variety of batch cocktail options at J. Wilson's, from sangria and margaritas to martinis and manhattans. Carry-out bulk drink options serve 4-6 people and range in price from $25-$40.
Evan Epperson, J. Wilson's manager, recommends the French 75 kit, "It is awesome for any occasion.  Gin, lemon juice, and simple syrup are combined in the perfect proportions in one bottle, and a chilled bottle of cava is served alongside, so it's ready when you are.  The sparkling wine goes into the mix at a 2:1 ratio, so it's easy!"
Wilson's also just released their spring and summer cocktail menu and Epperson said any of those can be ordered to-go (as an individual drink). See the J. Wilson's to-go drink menu here.
Brighter days are on the horizon so I think we all deserve to sip on something cold while enjoying the warmer weather. Cheers Lawrence!
Other bars and restaurants we've spotted with to-go cocktails: