You know we love to be the bearer of good news...
So we'll go ahead and announce that it's finally the most wonderful time of the year!
The next few weeks in Lawrence, KS are Festive with a capital F. We've got numerous holiday markets with locally made art, crafts, and artisanal goods. We have one of the most unique parades in the country. We've got a beautiful downtown district warmly lit up with bright lights to keep folks from feeling the chilly weather too acutely. We've got incredible local businesses that happily give back to this community even when times get tough. And we have an amazing fire department that continues to joyfully rescue Santa from the top of a building he crashes into with relentless precision year after year. 
To celebrate, we've put together this ultimate guide to all the festivities in Lawrence. We hope you find it helpful and inspiring. The holiday season this year is sure to be one for the record books, and we can't wait to see you around town.
As one of the most unique parades in the nation, the Lawrence Old-Fashioned Christmas Parade kicks off the holiday season with exclusively authentic horse-drawn carriages parading down Massachusetts Street. 
 Shop Small 
Did you know that for every $100 spent at a local business, approximately $68 is returned to the community? That seems like a pretty big deal to us. Or should I say, a good deal? It's been a challenging time for many of us in the last few years, and 2022 was no exception. For all of our triumphs this year, it's as important as ever to support our community where we can. 
Mark your calendars for November 26 -
Small Business Saturday!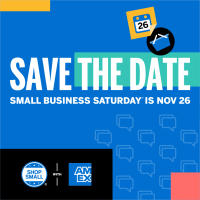 It's a great day to get a jump on your holiday shopping while also giving back. And remember, small business doesn't mean just retail and restaurants. We have so many small, local, and family-owned businesses in Lawrence that will always appreciate your support where you can give it. We hope to see you around town on Small Business Saturday!
But with that being said, don't feel the need to limit your local shopping to only one day - below are some seriously cool holiday markets that are happening this season.
 Festive Family Fun 
If there's one category of people that's sure to delight in the holiday season, it's children! Good thing there are ample opportunities in Lawrence to see the holiday lights reflected in those little wide, curious eyes. Embrace the wonder of the season with the following family-friendly events, and be sure not to miss Winter Wonder Weekend!
 Music, Art, & Performances 
Ready to get dressed up and go out on the town for a special evening? Check out all the holiday-themed performances coming to town this year!
 Festive Photo Ops 
Love to take photos? Here's a little list of some of the best places and events to snap a picture this holiday season! 
P.S. - we love to see Lawrence through your eyes. Tag us @explorelawrence on Instagram, and use the hashtag #lawrencefortheholidays to be shared on our Insta story!

Don't see your event? Go to our Submit Your Event page and make sure to check the "Holiday" category! I'll be sure to get it added to this guide. All holidays are welcome and appreciated!