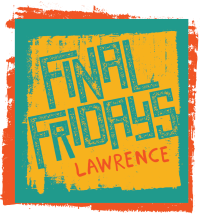 It's Finally Final Friday! This month's Final Fridays falls on the last day of the month, so it feels like a while since we've had one. No matter; it's bought us Lawrence locals a few extra days to cram as much fun as possible into June's final weekend. Between the art shows happening Friday, a full weekend of super cool Free State Festival events, and all the fun stuff Lawrence always has to offer during the summer, you won't want to miss out on this weekend. If you're from outside of Lawrence, pack your family or friends in the car and come for a weekend road trip. We promise you won't regret it! Keep reading to see my recommendations for how to make the most of this weekend of summer fun.
FRIDAY: MAY I INTEREST YOU IN SOME ART?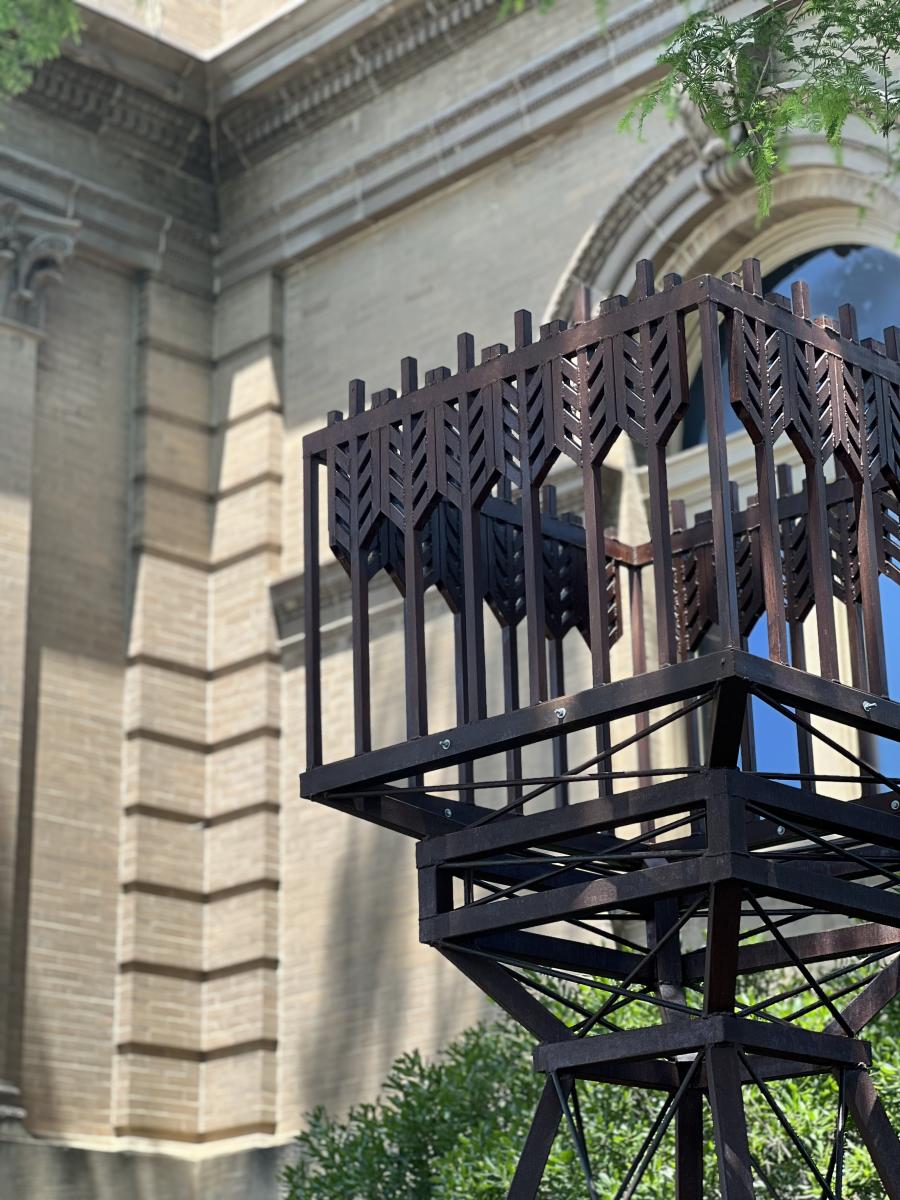 First up the Final Friday art menu is a special event. The City of Lawrence is hosting its 34th Annual Downtown Outdoor Sculpture Exhibition, and Friday is the official opening day! The Opening Reception and subsequent Downtown Lawrence walking tour kicks off at 5:30 PM at the Lawrence Visitors Center at 812 Massachusetts St. Nine new sculptures were selected this year by the Cultural Arts Commission. Pictured above is "Trophy Wheat" by Mara Strayer, currently located in front of the Carnegie Building at 200 W 9th St. I snapped this picture yesterday on my way back to the office from one of my far-too-frequent trips to Wheatfields Bakery for a coffee and a ham & cheese croissant. I should maybe make these trips less often, but you should make this trip more. Try one of those croissants this weekend. Do it. Anyway, if you can't make the Opening Reception, not to worry- you can conduct a self-guided tour anytime. Here's a link to a PDF that features a map, info on all the cool works of art, and instructions for how to get the free audio guide if that interests you.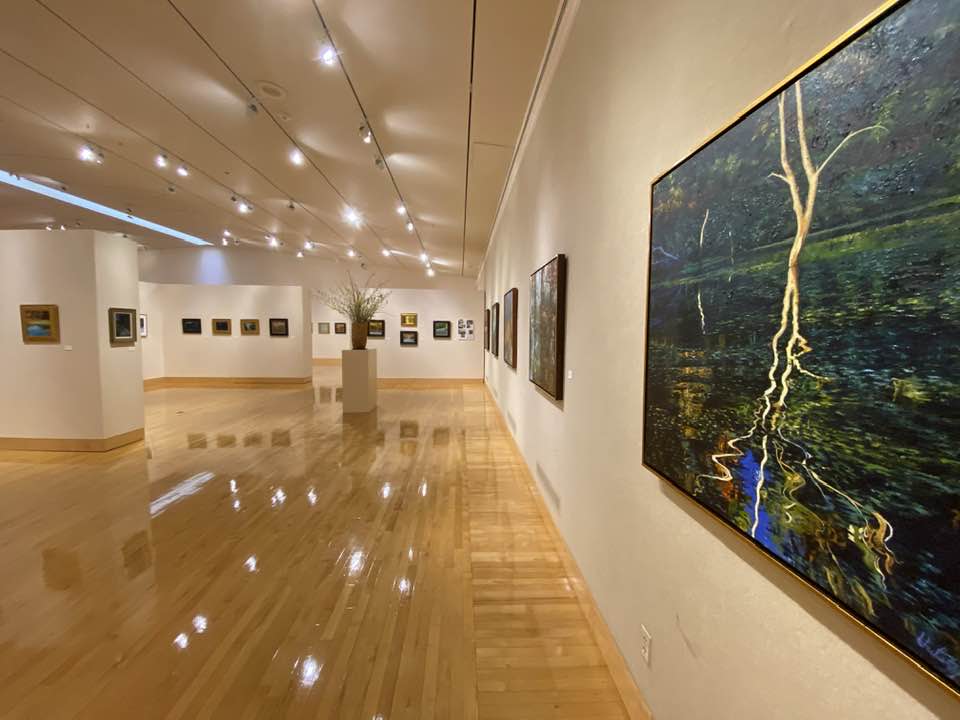 Now back to our regular programming. This month, we've got tons of amazing art shows happening all around Lawrence. I am genuinely excited about these. There is no theme to Final Fridays, but sometimes one kind of happens anyway, and this month feels like a celebration of the great outdoors, which is a really good way to wrap up June, the official Great Outdoors Month in Kansas. In the shows listed below, you'll see odes to Kansas skies & storms, prairies & rivers, and all things nature. I will use my privilege as this blog's author to give a special shout-out to longtime family friend John Hulsey, whose show Transcendence: Truth in Nature premiered in February of this year at the Albrecht-Kemper Museum of Art in St. Joseph, MO and now opens this Friday at the Lawrence Arts Center. I have been fortunate enough to dog-sit for John and his fellow-artist and wife, Ann, while they were on vacation, and to sit in their home studio in the countryside northeast of Lawrence is to briefly see the world through their eyes, and it's quite beautiful. You can get a similar glimpse by attending the show at the arts center, and I hope you will. But don't miss the other fabulous shows, too. I know I won't. Check out the June Final Fridays menu:
Let's Talk About #FreeStateFest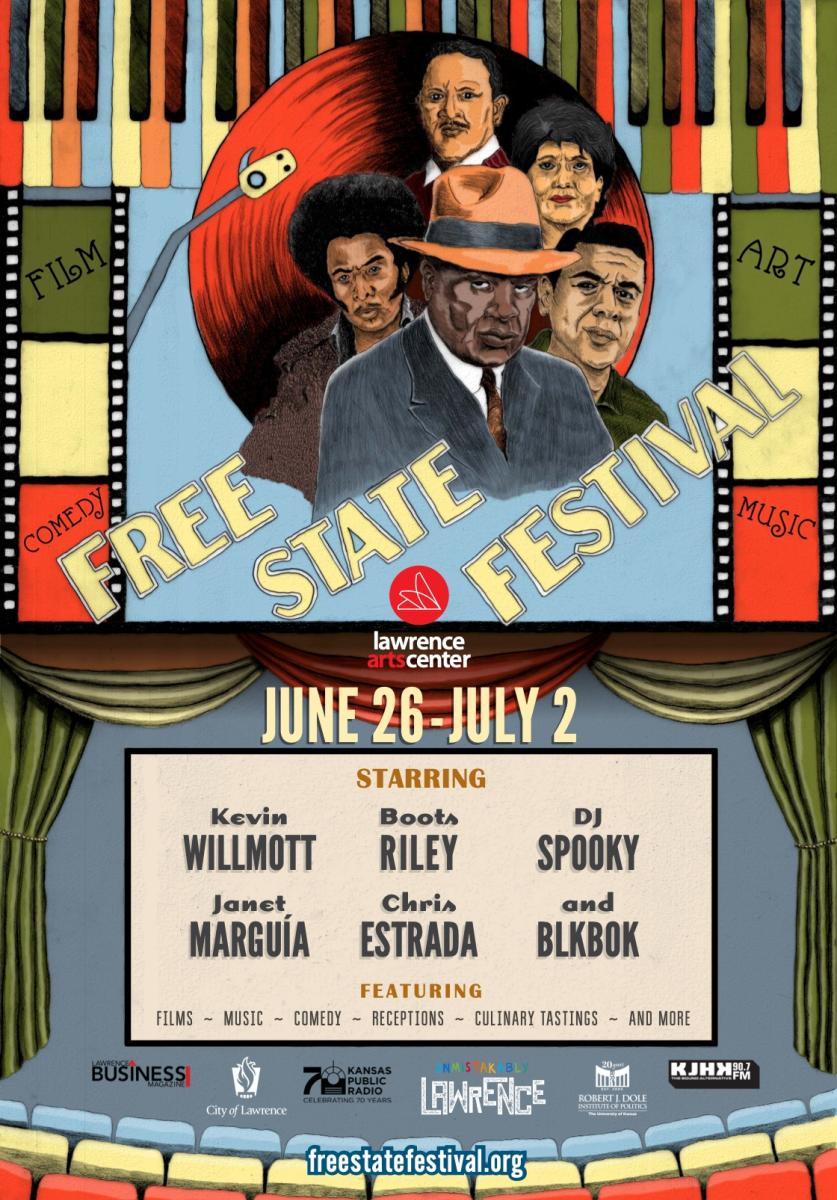 What is the Free State Festival? That's easy, it's a film festival! Okay, maybe that's not completely accurate anymore. They do show a lot of incredible, award-winning films. But they also host comedy shows, live music performances, art, tastings or drinks provided by local restaurants, and more. Free State Festival is going on all week, but there will be several really awesome events happening on Friday, Saturday, and Sunday. See the weekend schedule here:
Saturday: Cool Down with the Summer of Fun Pass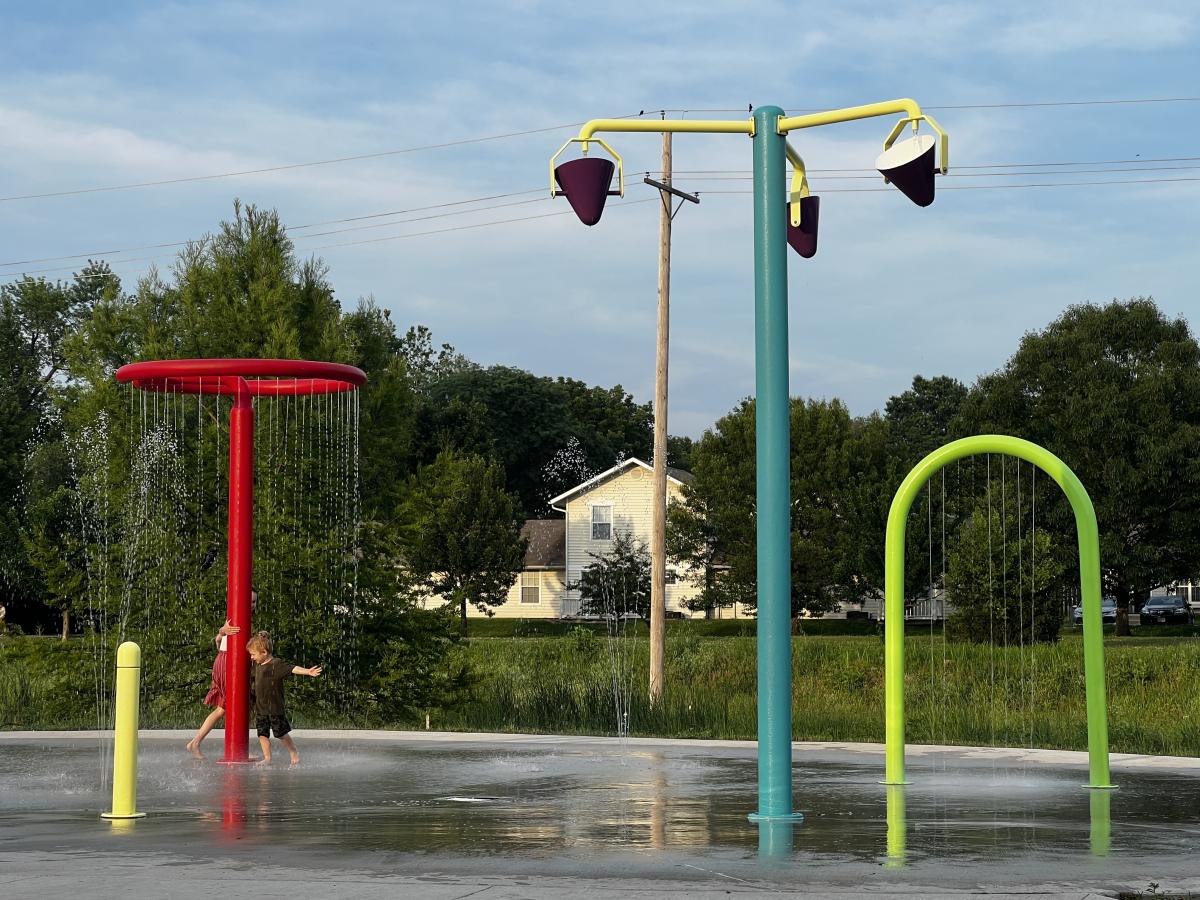 We're really excited about our newest free passport, the Lawrence Summer of Fun pass. It's family-focused, and features kid & teen friendly participating locations and businesses all around Lawrence, a lot of which are free to visit. It's a great way to bond with the whole family this summer (or else keep the kids occupied during their summer break while you continue to work). All you have to do is visit locations on the pass and "check-in" while you're there to earn points that win you cool prizes, like buttons, sticker sheets, coloring books, and the Unmistakably Lawrence bucket hat. We have brand new tie-dye hats in stock, which are proving to be very popular with the youth. You can sign up for your free pass here! You're going to want to do it, because I'm about to give you just one example of how I would fill a hot summer Saturday (or Sunday) in Lawrence using the pass.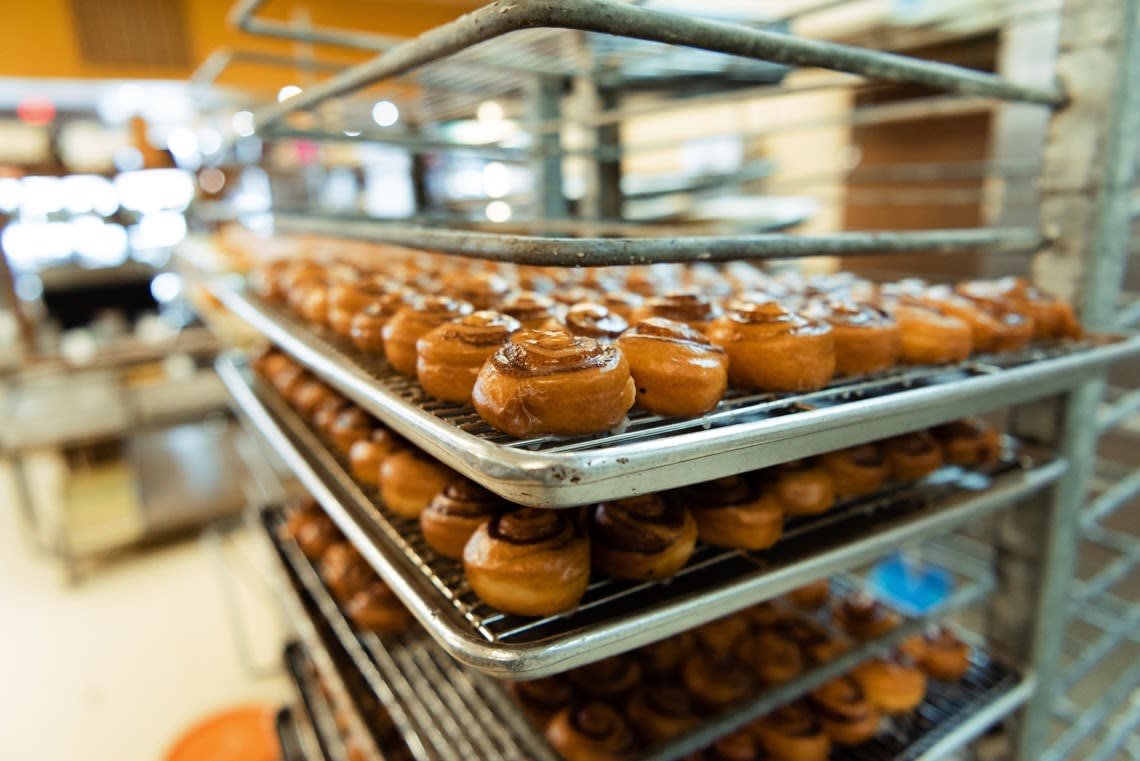 1. Wake up and head to Munchers Bakery for a delicious fresh-baked donut or cinnamon roll.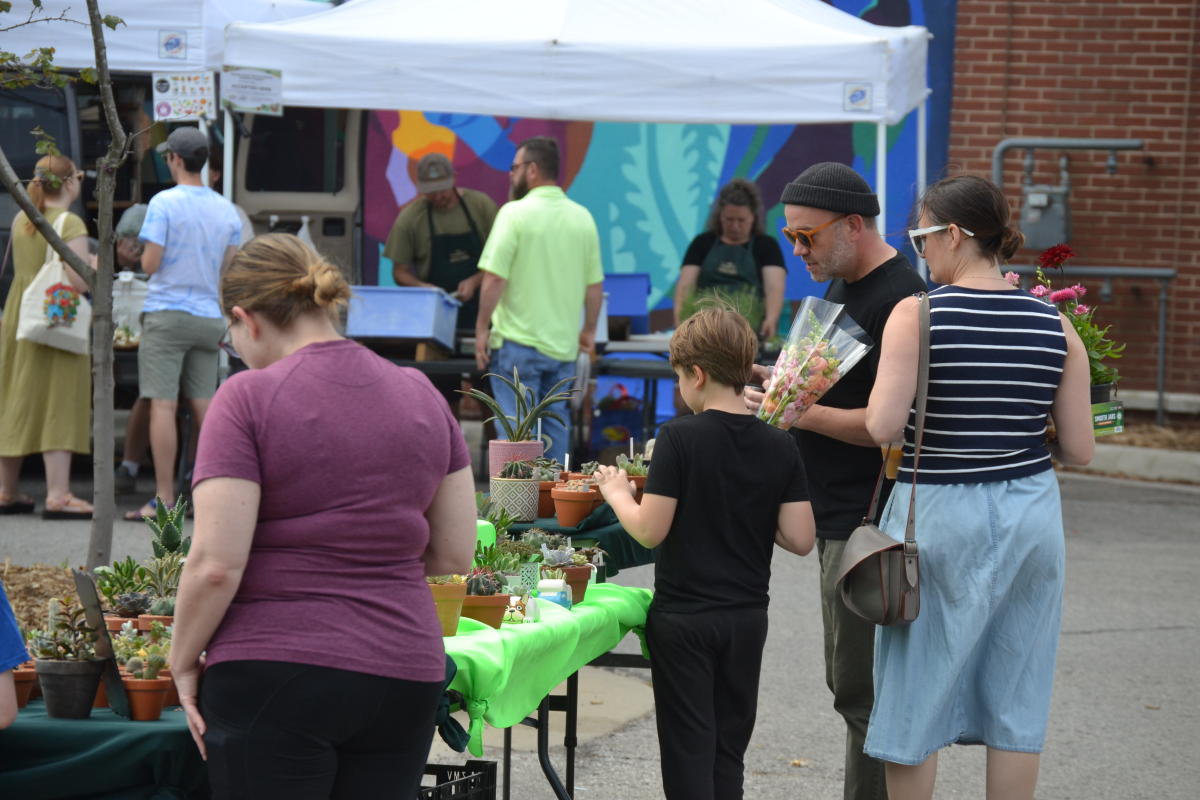 2. Visit the Lawrence Farmers Market at 824 New Hampshire St (Open Saturday mornings from 7:30 - 11:30 AM). Grab a coffee, juice, breakfast sandwich, or "Kanbucha", and do a little shopping! The Farmers Market always has a weekly scavenger hunt designed for kids.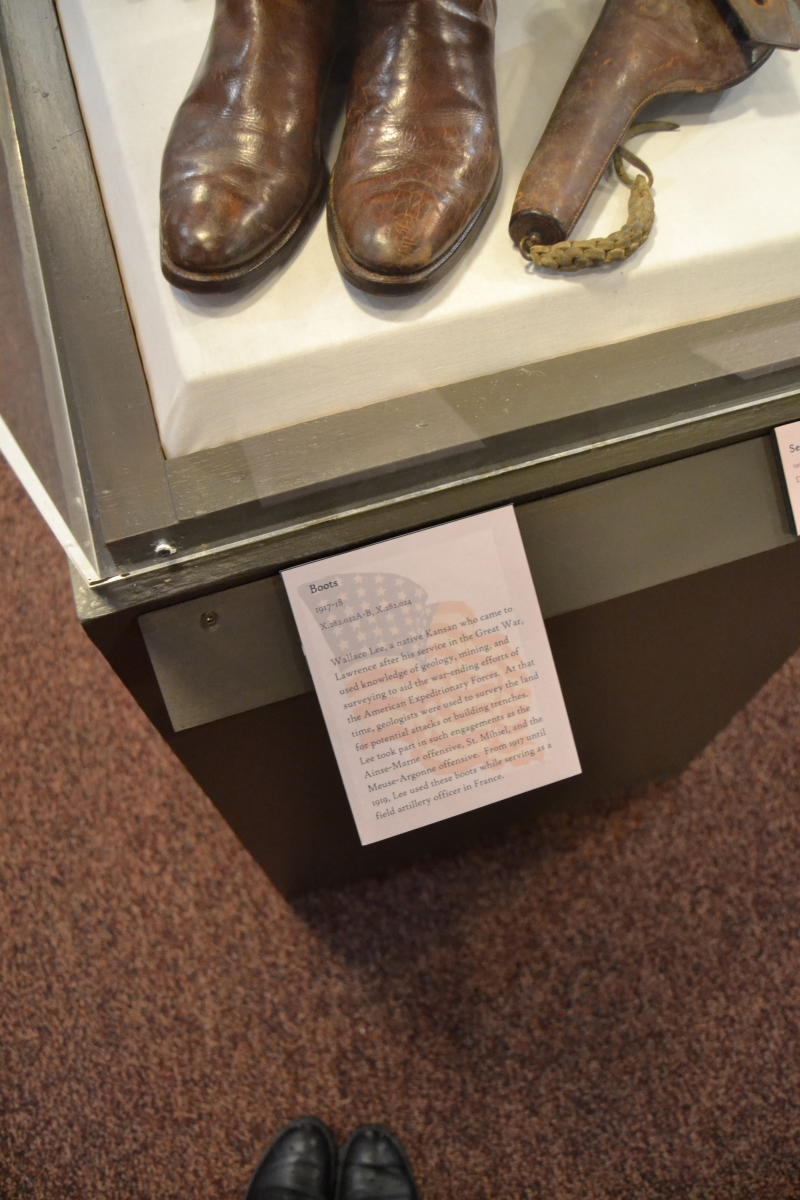 3. Cool down and do some learning at a museum! For adults and older kids, visit Watkins Museum of History. I had the opportunity to visit their special exhibit, On Two Fronts: Kansans Fighting the Great War, a few weeks ago, and it was well-designed, interactive, and informational. Tickets to this special exhibit are $10, but you can qualify for a $5 ticket when you take this fun quiz: Are You as Smart as a World War I Soldier? The rest of the museum is also fantastic and totally free, so be sure to check it out if you're on a budget! For younger kids, visit the dinosaurs at the KU Natural History Museum. If I know one thing about small children, it's that they're a fan of dinos.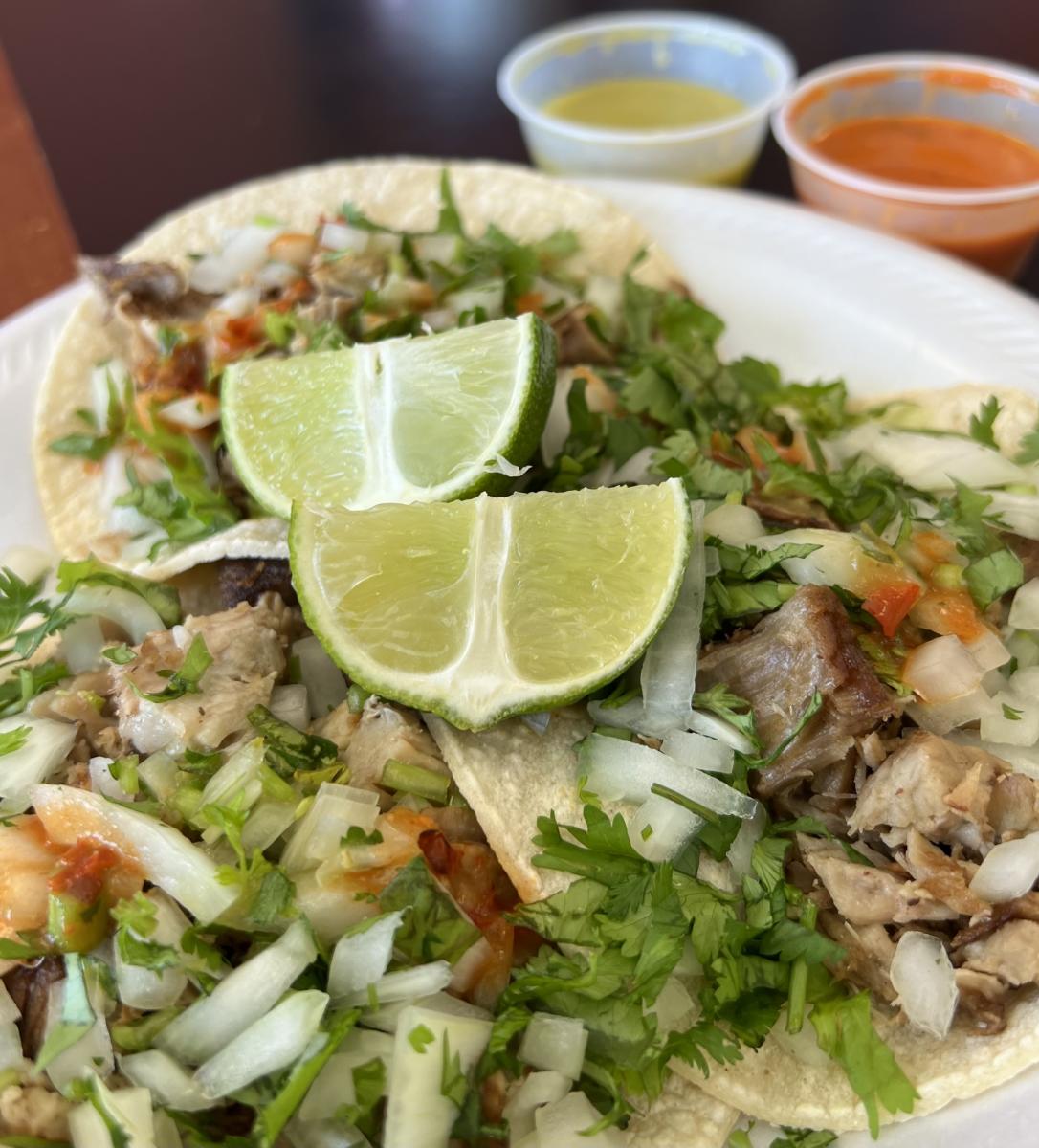 4. Lunch at Paleteria Chihuahua. The staff of eXplore Lawrence visited this hidden gem in South Lawrence in April, and we all loved it. The food is incredibly tasty, and they even have special Mexican desserts like Mangonada and Fresas Con Crema.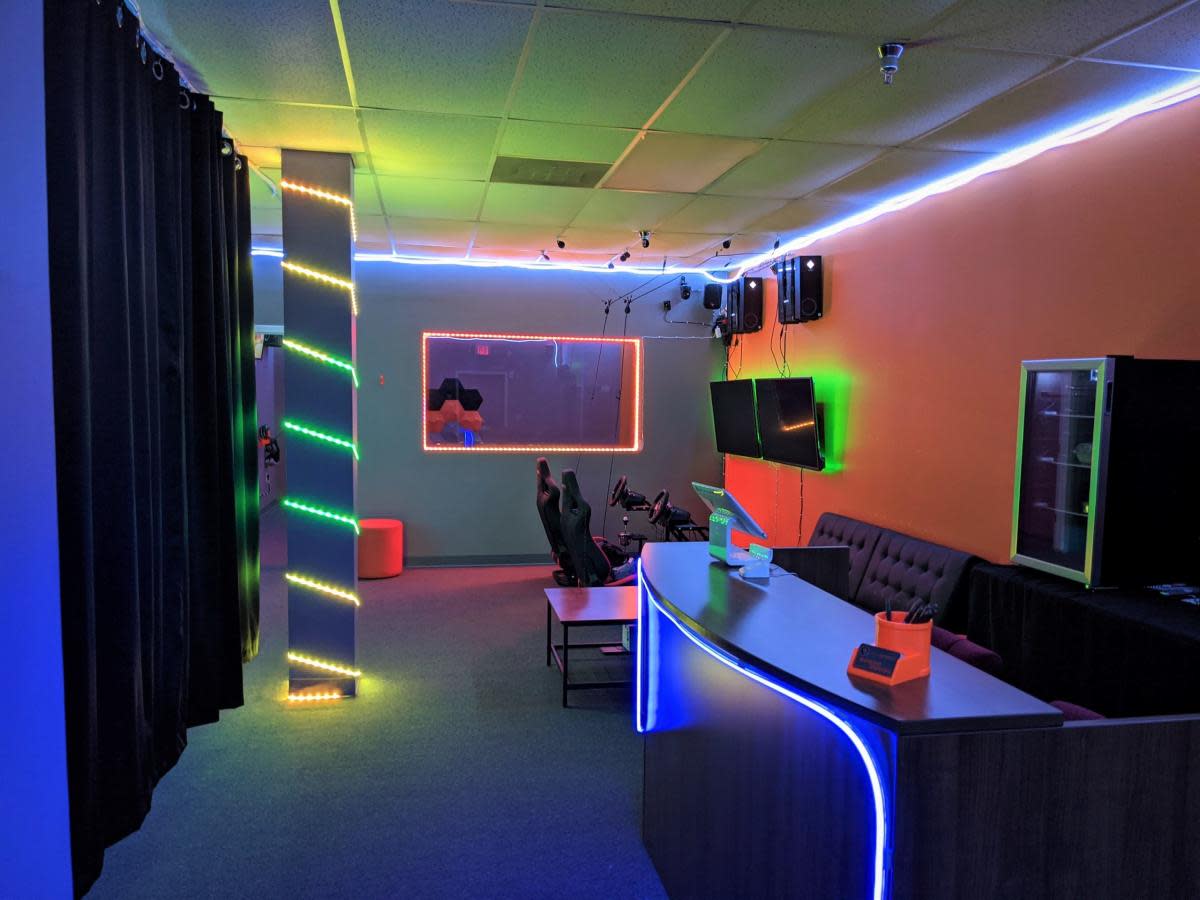 5. Escape the afternoon heat with a fun indoor activity like a session of VR gaming at VR Lawrence or bouldering at Climb Lawrence. If you prefer something artsy to go with the Final Fridays theme, head to Sunfire Ceramics to paint your own work of art. If you are a lizard and prefer to be outside during the summer, visit the Lawrence Outdoor Aquatic Center.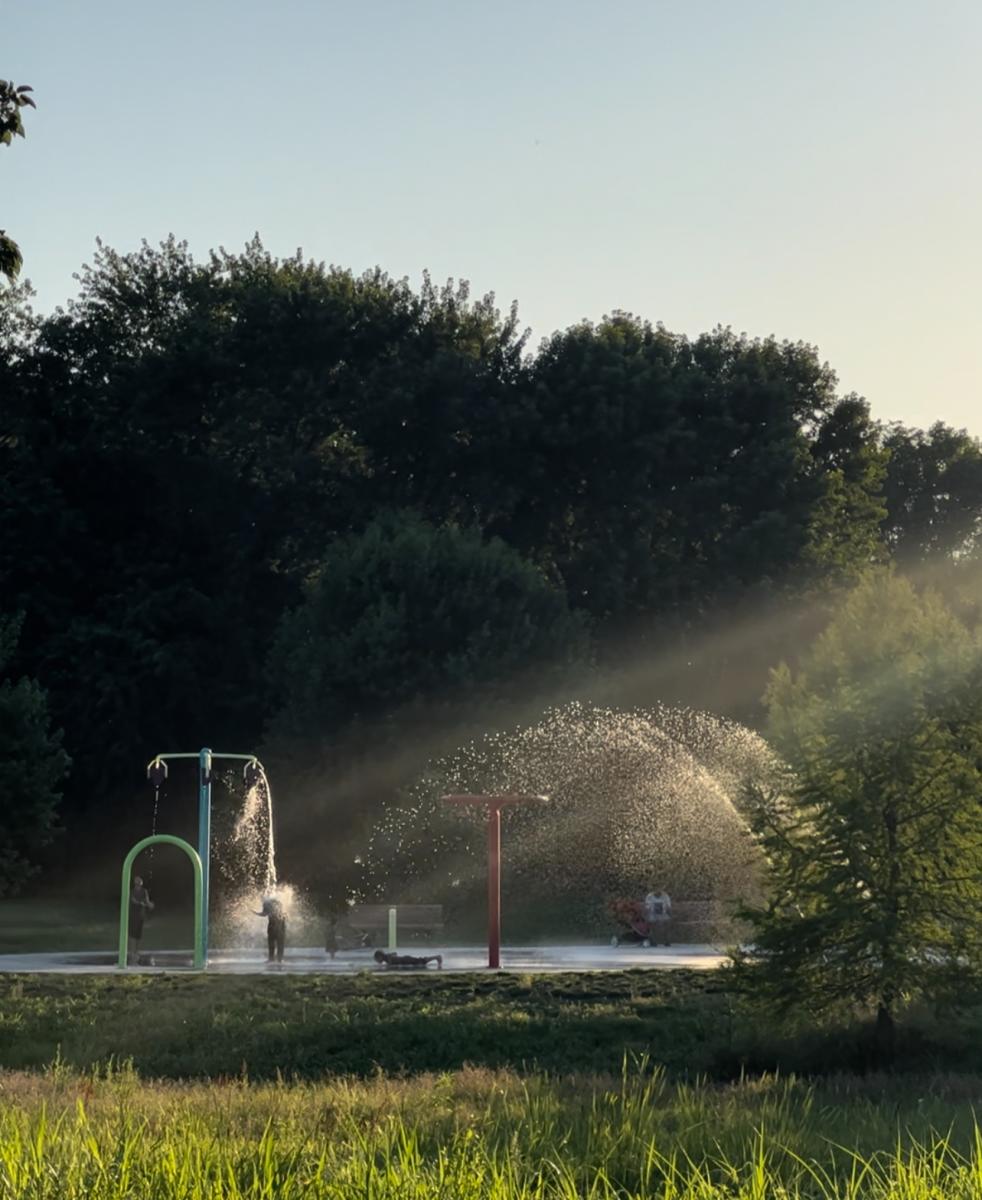 6. For a smaller crowd than the public pool, try the splash pad at Burroughs Creek Trail & Linear Park. It's also open later into the evening with a shut off time of 8:30 PM. I regularly walk my dog on the trail and near the park in the evenings, and it's always nice to see a few families enjoying themselves at this newer Lawrence attraction. There is also convenient parking, a full play park, and picnic tables, so you could even bring a picnic dinner with you.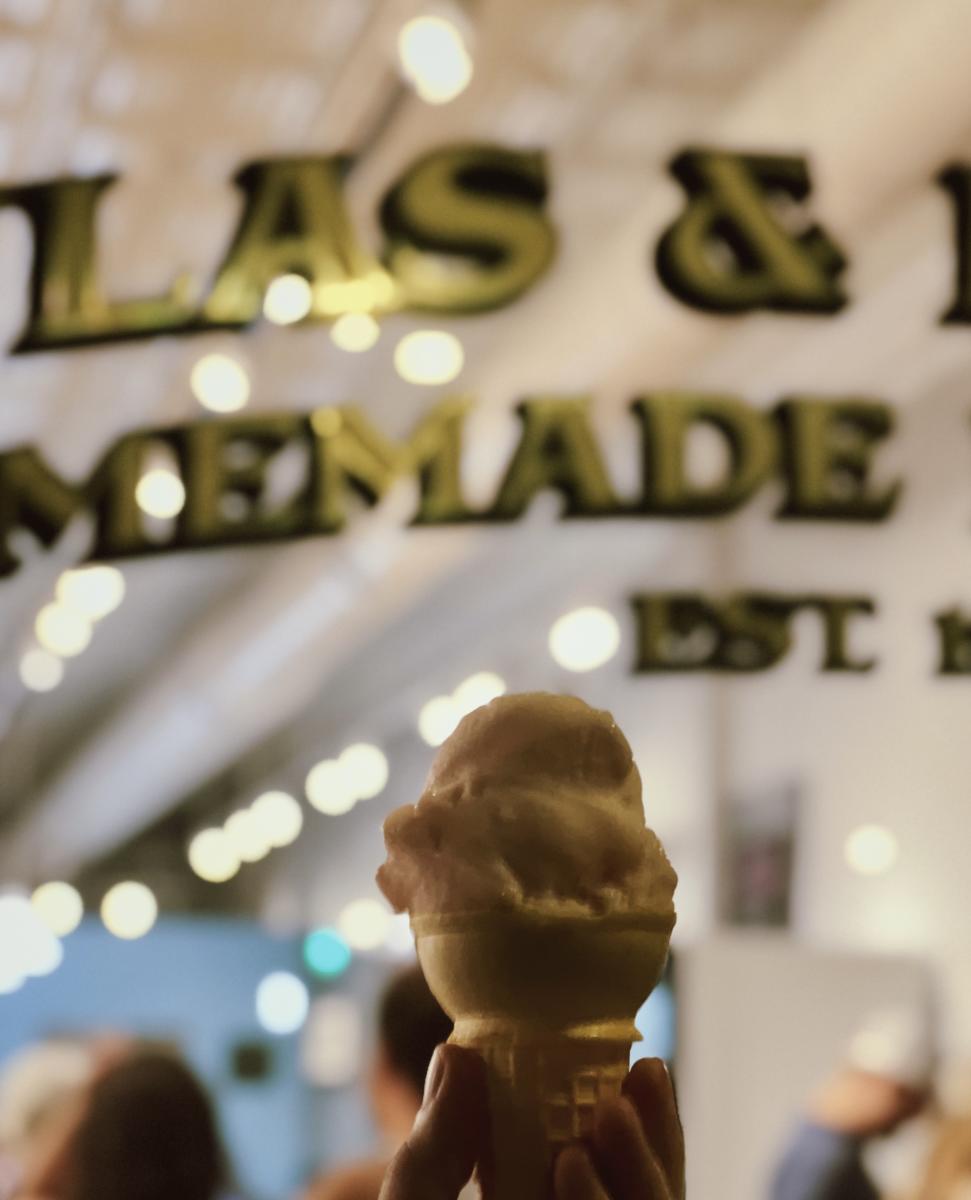 7. Cap the evening with a sweet treat from Sylas & Maddy's Homemade Ice Cream. They have so many tasty flavors to choose from, and it's always a top spot for locals and visitors alike on hot summer evenings. Got someone in the family who inexplicably doesn't like ice cream? No problem. My friends and I actually sorted through this issue last Friday. Half of us got ice cream at Sylas & Maddy's, and the other half walked next door to Mass Street Soda to pick out a crisp, refreshing, and unique soda.
Sunday Sports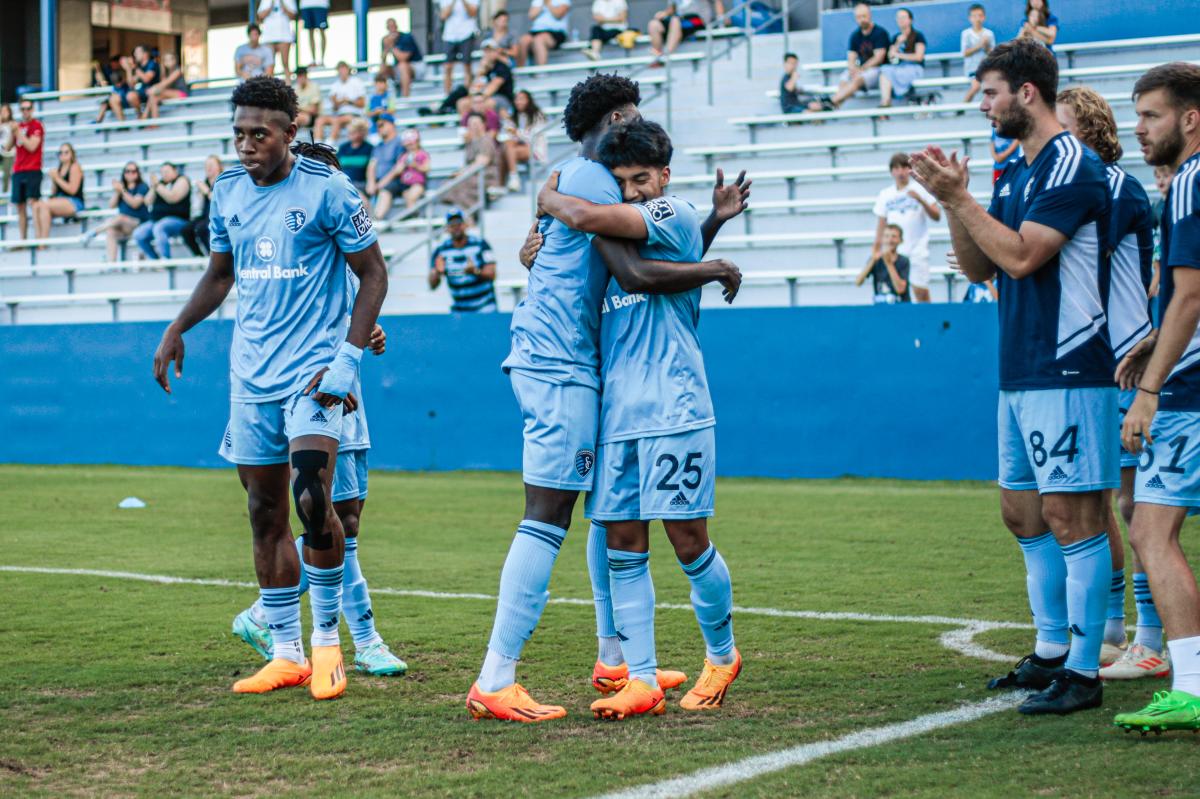 Now, don't forget that Free State Festival is going on all weekend - there are several really cool events on Sunday. However, if you're looking for a major change in pace, you could always go for a ball game on Sunday evening. Sporting KC II, Lawrence's professional soccer team, is taking on the Vancouver Whitecaps FC 2 at Rock Chalk Park (another Summer of Fun pass location!) at 6 PM. These games are really fun for soccer lovers and the soccer-curious. They're actually just fun in general, and a pretty low-stress outing for families with kids.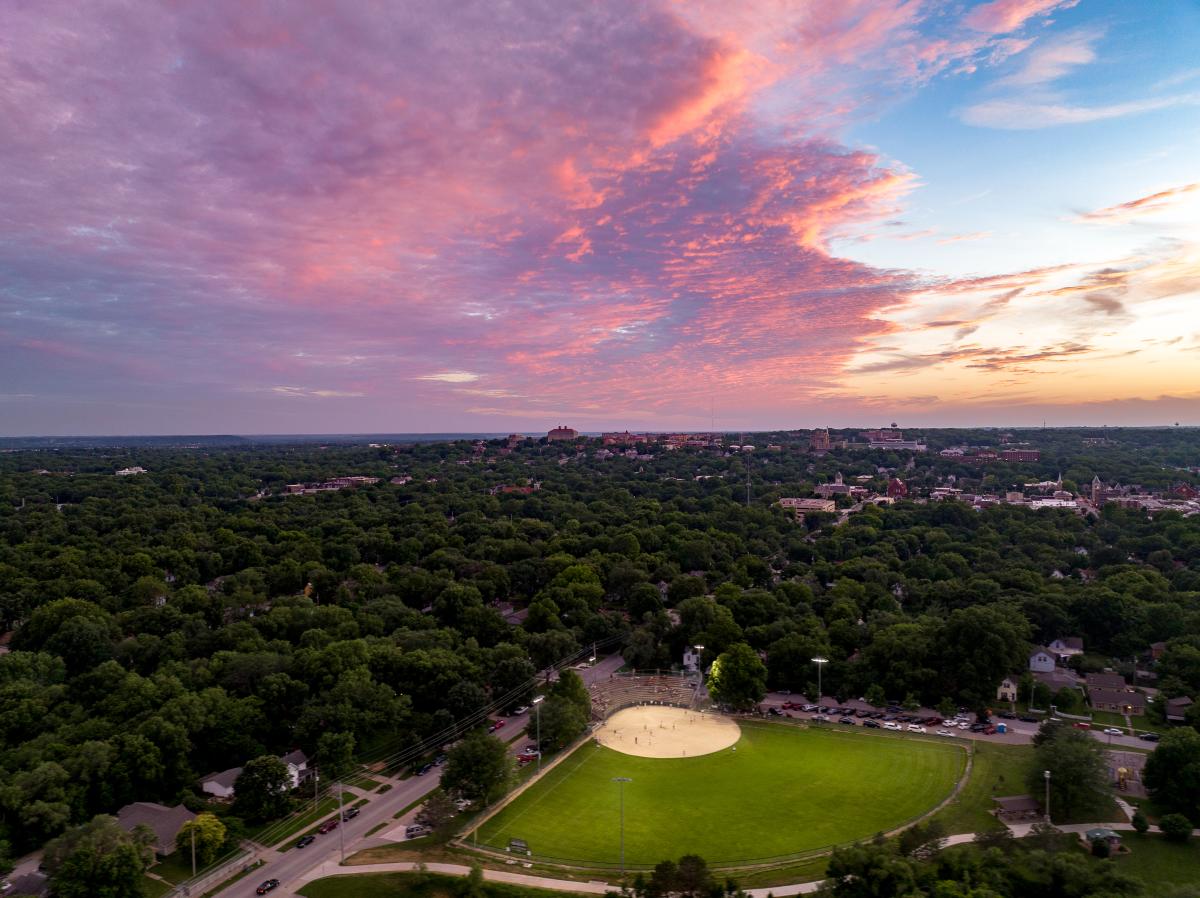 Photo: Hobbs Park Kickball by Drone Lawrence
If you're looking for something a little...rowdier, catch the Kaw Valley Kickball League's Game of the Week at Hobbs Park at 9:15 PM. Locals love this little summer tradition, and you might to. If nothing else, it's a top spot for townie-watching. You'll probably see me there.
Monday: One more day of Fun

Bet you weren't expecting the Final Fridays weekend to extend all the way to Monday, huh? The City of Lawrence's Independence Day celebration has a new look this year. Now located at the Douglas County Fairgrounds, there will be food trucks, live music, and of course, the annual fireworks display. Here are the details, courtesy of the City of Lawrence's website:
This unmistakable and exciting, FREE event is coming to the Douglas County Fairgrounds on Monday, July 3rd, and will feature the following:
Food Trucks (food sales begin at 4:00 p.m.)
Live music from 4:00 p.m. to 9:00 p.m.
A community fireworks display in the evening (around 9:45 p.m.)
SCHEDULE
4:00 p.m. Food Trucks begin sales
4:00 p.m. Free State Brewery beer sales begin
4:00 p.m. live music begins on Summerfest stage!
9:45 p.m.: Fireworks viewing at the "Derby Arena" inside the Fairgrounds
Sure looks like summer fun to me.