Hot dog! It's the holiday season! That gives us a double dose of festivities for the month, with some musical acts centering on seasonal favorites, while others are throwing down hard for New Year's Eve. You'll enjoy anything from a raging metal show to a showcase of our brightest hip-hop stars this month. But if you're in the holiday mood, your cup will definitely runneth over because the locals are pulling out all the stops. Here are our best bets for December in Lawrence's live music landscape.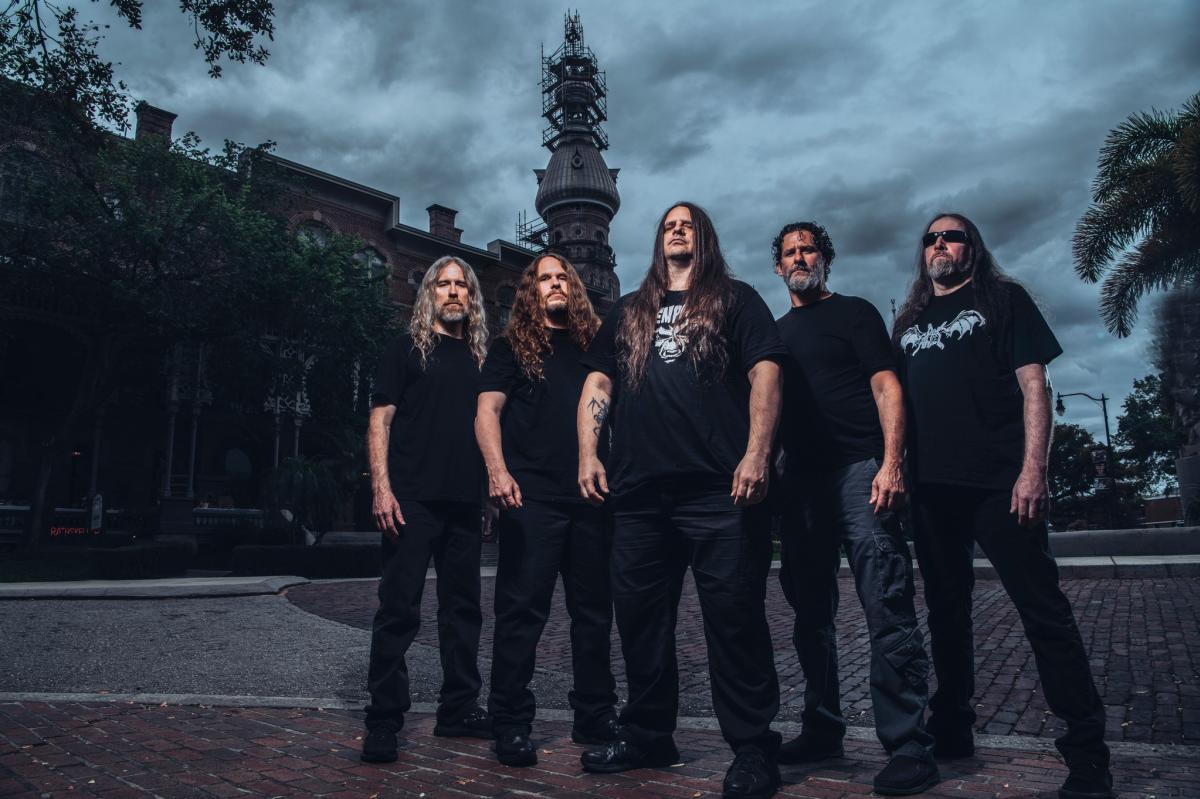 The Granada | December 3
This is a pretty big one for the metalheads. Cannibal Corpse is rolling through the Granada at the start of the month. They're touring in support of their latest release, Violence Unhinged. Word on the street is this carnage comes with some very interesting merch. They're selling severed-face masks on this tour (maybe they'll have some left by the time they hit the Granada). They'll be hitting the stage with Dark Funeral, Immolation, and Black Anvil.
RIYL: Dying Fetus, Decapitated, Drifter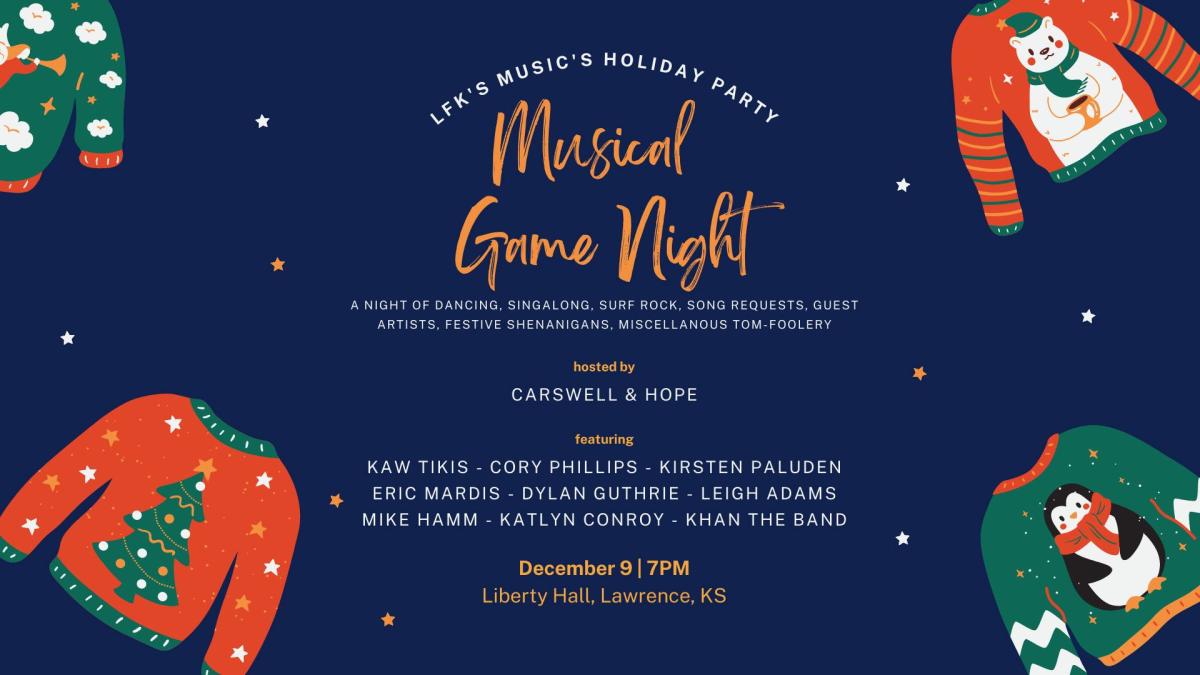 Liberty Hall | December 9
Don't let that mouthful of a title fool you, this is a pretty unique and special music event for Lawrence. If you're looking for something that's a little more than your average holiday show, it features two teams of Lawrence's best musicians battling it out on the stage. There will be unrehearsed, impromptu performances, along with an opening performance by the Kaw Tikis.
The night promises dancing, sing-a-longs, requests (are they battling it out by taking holiday requests on the spot?), and other "festive shenanigans." So dig out that Christmas sweater and see what chaos erupts onstage at Liberty Hall this month.
Here are the musicians set to battle it out: Carswell & Hope, Katlyn Conroy, Cory Phillips, Kirsten Paluden, Eric Mardis, Dylan Guthrie, Leigh Adams, Mike Hamm, and Khan the Band.
RIYL: Local music, festive shenanigans, a friendly competition that could potentially get out of hand and louder as the night goes on.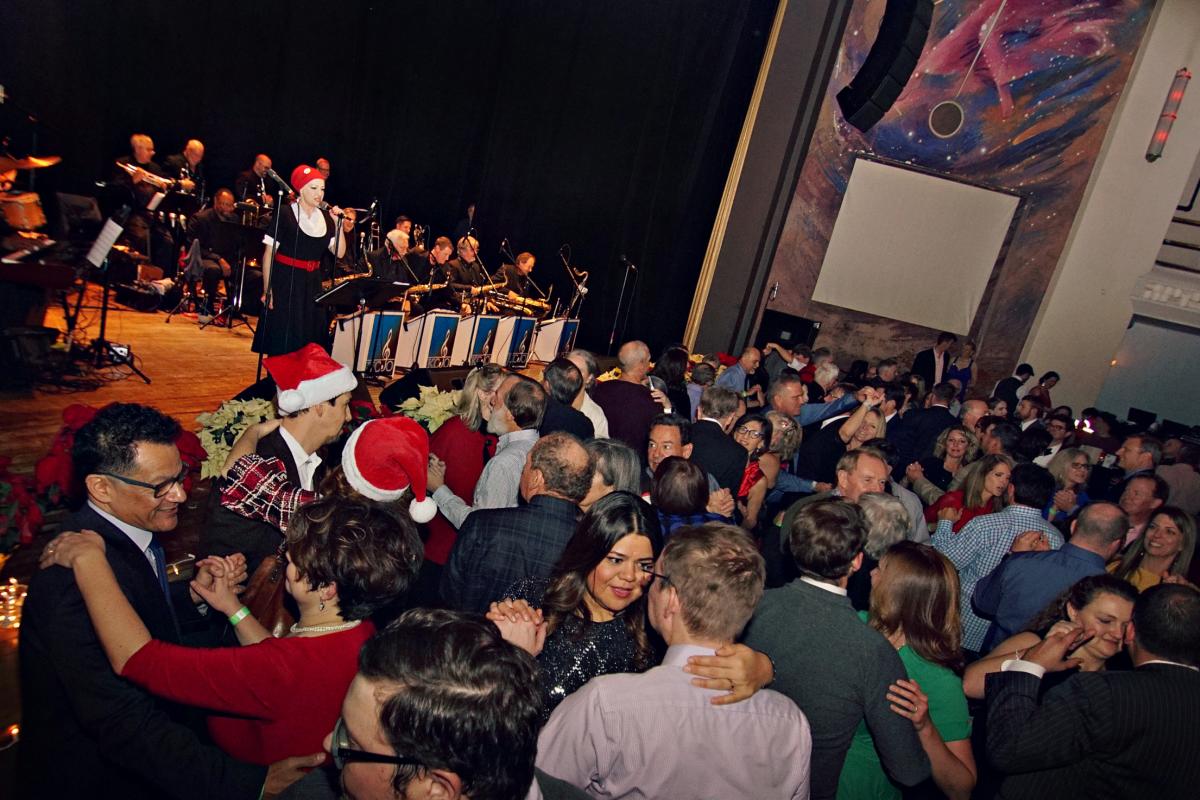 Liberty Hall | December 10
Oh boy! It's back! It's finally back! After a COVID hiatus, the KPR Big Band Christmas party is back. This is for those of you looking to dress up to the nines and hit up a classier holiday affair. Get ready for lots of jazz and dancing. Believe us when we say that everyone hits the dance floor at this event, from kids to those nearing the century-mark. Make sure you throw on something nice for this one.
RIYL: Timeless events in historic venues, jazz, dancing cheek-to-cheek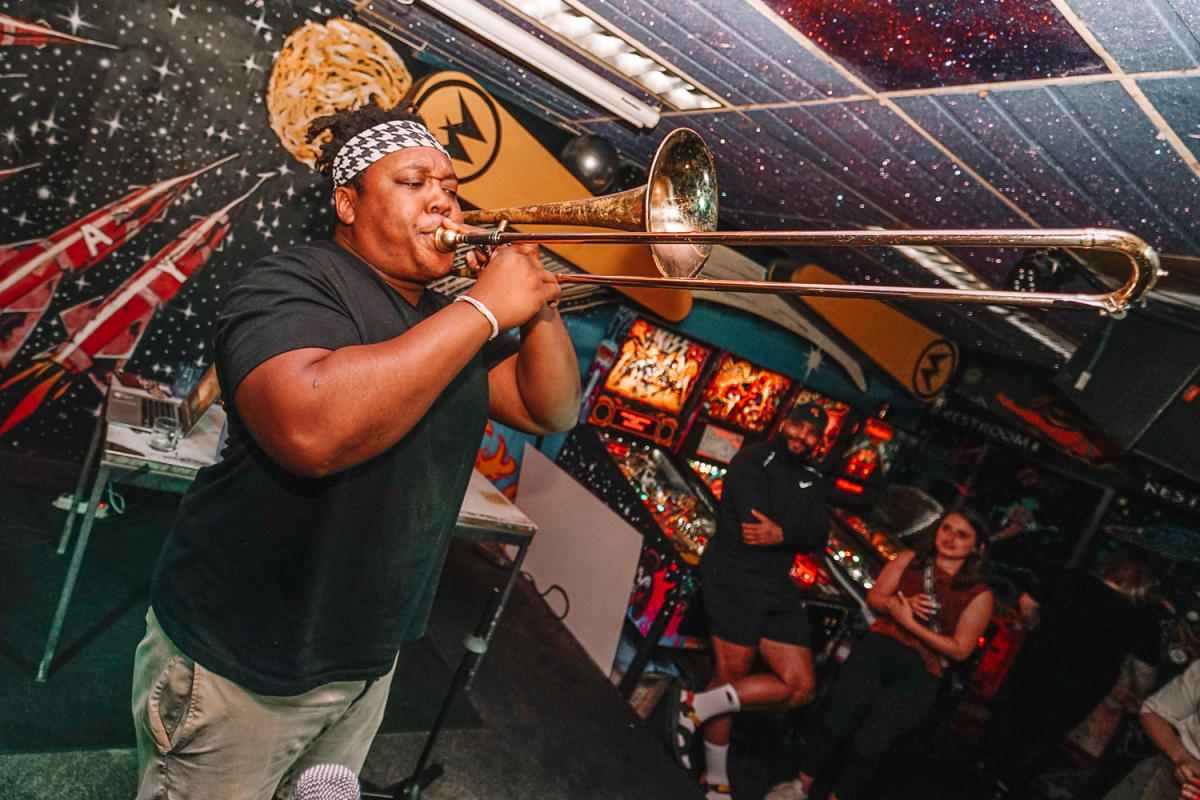 The Replay | December 24
Wow! Talk about a lineup of heavy hitters! Some of our favorite hip-hop performers are coming together for one extravagant night on New Year's Eve. While some of these acts are from Kansas City, they have long been fan favorites here in Lawrence. Kadesh Flow, in particular, has done what few rappers have—brought in audiences at venues from one end of Downtown to the other (in 2022, he wowed audiences with his nerdcore-style rapping at The Bottleneck, Venue 1235, and The Replay).
Royal Chief is another fan favorite bursting with charisma and onstage energy (and offstage energy, while we're at it). Rounding out the night is Underrated Society, Landon Wordswell, The 4th, and the up-and-coming Joel Leoj, who organized the evening of shining hip-hop stars. If you want to see our brightest stars in the hip-hop landscape, this is the show to be at.
RIYL: Cuee / Approach / Hometown Pride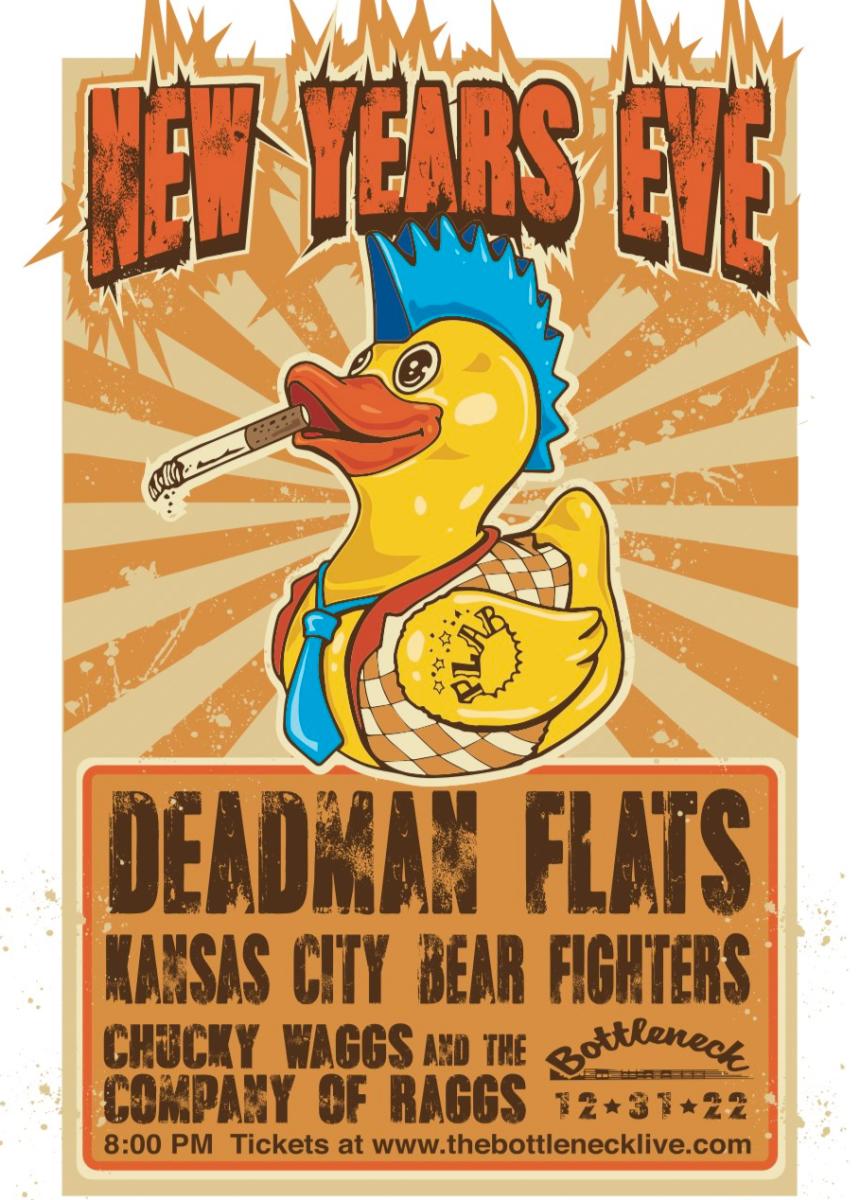 The Bottleneck | December 31
It's been a while since we've had a big old roots music NYE throwdown at the Bottleneck, but COVID kept their infamous yearly event at bay for a bit. We're thrilled to report, dear reader, that The Bottleneck's rowdy NYE party is back! This time, we'll see Deadman Flats, Kansas City Bear Fighters, and Chucky Waggs and the Company of Waggs all hit the stage. This is one of the absolute funnest communities to be surrounded by on NYE, and we expect plenty of tom-foolery.
RIYL: The Matchsellers, Truckstop Honeymoon, Split Lip Rayfield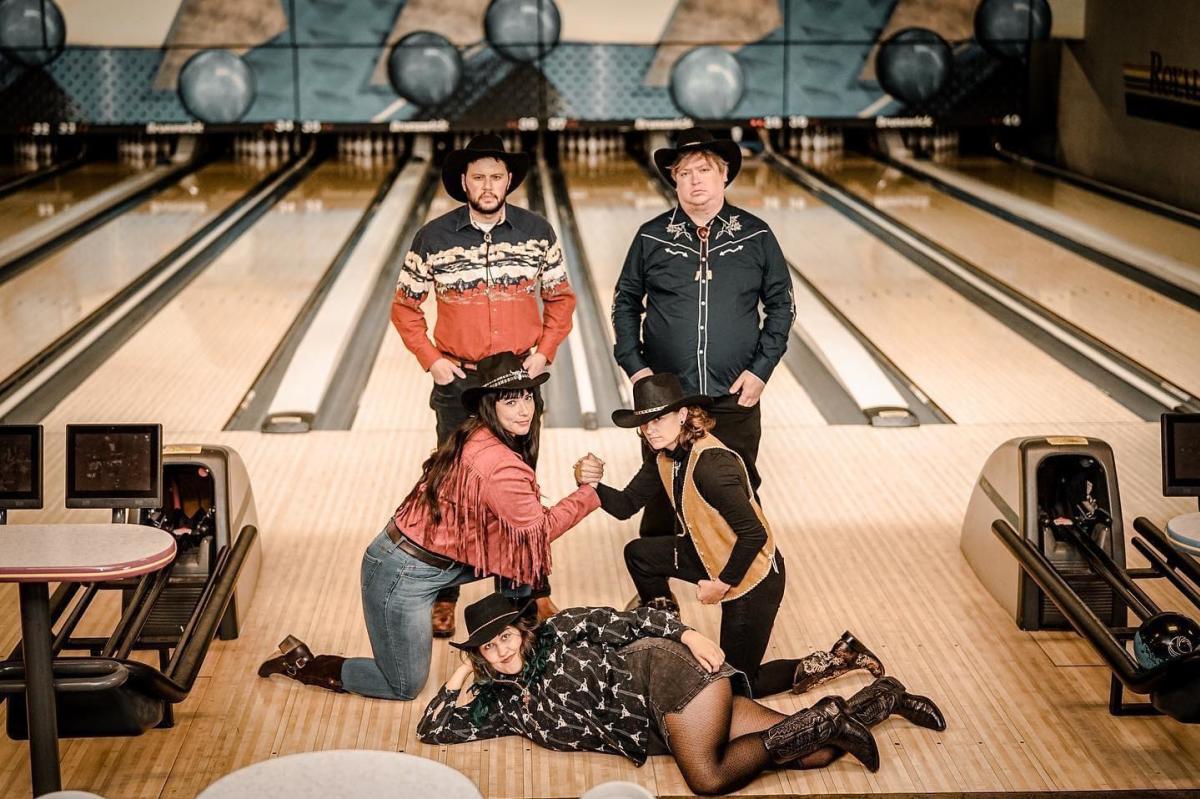 The Replay | December 31
Well, if you've come to know and love Replay for their ultra-hard rock-and-roll throwdowns, you'll appreciate this one. We'll be seeing lots of familiar faces from the past few years, including Thighmaster (and their new lineup!) and Arc Flash. Rounding out the night will be Greg Wheeler and the Polygamist Mall Cops, who we've long considered a Lawrence band despite not living in the state. We expect a very sticky floor with lots of spilled drinks, a scandalous dance party outside on the dance patio, and ringing ears the next morning.
Come for the chaos. Stay for the… chaos.
RIYL: Rock-and-roll, bands that get UP IN YOUR FACE during a show, merriment
Other events to keep on your radar:
The Granada | December 1
The Bottleneck | December 10
The Replay | December 9
Lucia | December 10
Kaw Valley Public House | December 15
The Replay | December 16
The Bottleneck | December 17
Lucia | December 21