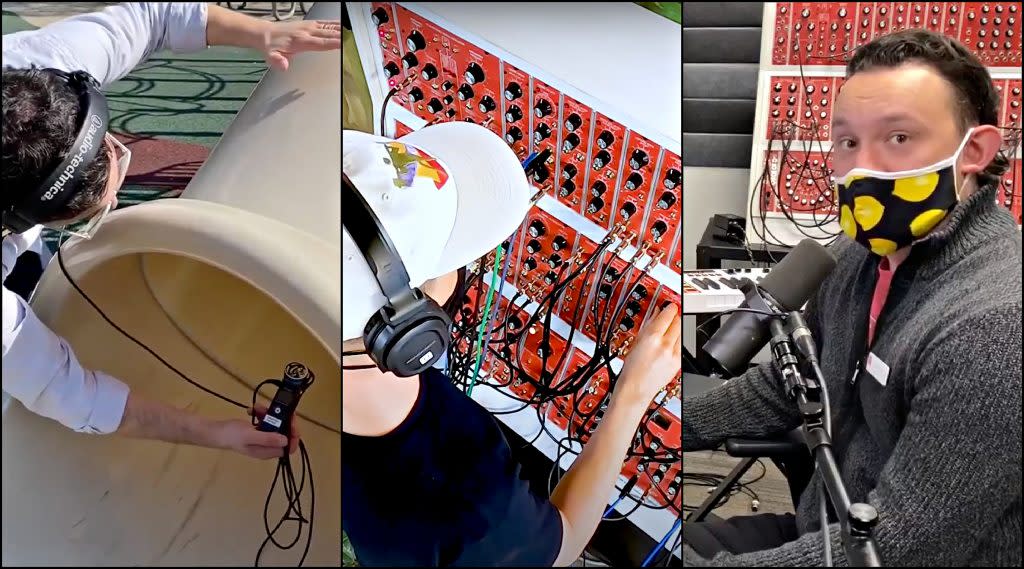 What's a recording studio to do when the pandemic closes their doors? Well, if you work at the Sound+Vision studio at the Lawrence Public Library, you've been dabbling in all sorts of unique and obscure approaches to music. On any given day, you may find the employees of the library's Sound+Vision studio recording "found sounds" or leading a guided meditation to a modular synth.
Here's a recent "Sound Bath" they conducted at Jungle House Goods:
During the pandemic, they've been posting a series of videos showing these new tactics. The goal is to encourage the audience to take part virtually, and even check out equipment to help make recordings at home. You may see local musicians Jim Barnes (who is also the Library's Public Technology Services Coordinator) and Technology Assistant Joel Bonner recording taps on shelves at the library, or pats on the slide on the playground next door (fun fact: Bonner is also the man behind local goth outfit Serene Fiend). Then, they take those sound recordings back to the studio, and show audiences how to turn them into music. They've even held online sessions to encourage musicians to collaborate with each other virtually.
The videos were a hit, wowing local audiences with something new and interesting during what would normally be a stagnant time. We caught up with the men behind the videos to show how they're connecting audiences to new music online.
What prompted you to start putting these videos together for the library?
Jim Barnes: "Unfortunately, due to health concerns related to the pandemic, the SOUND+VISION Studio is closed until further notice. Music-related programming doesn't always translate well using videoconferencing platforms like Zoom, so we decided to make a few videos instead. This allowed us to utilize some of the equipment in the studio, tailor our content a bit better, and it was a lot of fun to work on."
Joel Bonner: "Aside from the obvious restrictions the pandemic placed on programming, we wanted content that would be unique and interesting for viewers of any level of familiarity with music and production, as well as content that would be 'evergreen' and usable in the future to share with patrons and those interested."
What's something that has surprised you during this approach to music?
Jim Barnes: "It's been a pleasant surprise to hear from people we work with at the library and hear how they've appreciated getting to see and understand more about the SOUND+VISION Studio through watching these videos. Even though they work in the same building, they may not realize all of the cool things you can create here."
Joel Bonner: "Perhaps how widespread the positive reactions to them are. I've had folks who have no experience in music production emphatically respond with positivity and praise. Mission accomplished, I suppose, haha."
What's the best thing you've seen happen with people who've watched these videos orconnected with you online?
Jim Barnes: "Well I'm not sure about best, but it's been a great reminder of how much people appreciate our studio. Most people I interact with mention how much they're looking forward to our facilities reopening so they can return to creating in a free, community atmosphere like SOUND+VISION. In the meantime, we've made some basic audio-visual tools like recorders, small cameras, and digitization devices available for checkout with plans to expand to singing and podcasting microphones soon. Hopefully this provides a modest stopgap during this time when we can't be open to the public."
Joel Bonner: "I've had folks tell me how fascinating the music and process in our videos is to them, and that's really nice to hear. Sometimes when you are entrenched in a field or trade, you forget how magical it seems to people who are not involved or have any knowledge about it."
What would you like to see happen next?
Jim Barnes: "Ideally, we'd love to continue making fun and informative videos that bridge the gap between the library, the local music/arts scene, and the broader community."
Joel Bonner: "S+V has more video and programming ideas in the oven, so hopefully a more refined and focused version of what we've been putting out lately."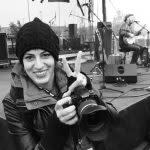 Fally Afani
Fally Afani is an award-winning journalist with a career spanning more than two decades in media. She has worked extensively in radio, television, newspapers, magazines, and more. Currently, she resides in Lawrence, Kansas, where she works as a music journalist and is the Editor of I Heart Local Music.