Venues were the first to close and will be the last to open as the country wades through the muddy waters of this deadly pandemic. For the moment, there isn't any music downtown. Even the buskers have bunkered down until it's safe to venture out.
As we get a firmer grasp over the extent of COVID's nasty grip on the live music industry in this town, it's time to take back a little control. It's completely ok to shut down and mourn the lack of live music if that's where you need to be. But we've spent the Summer watching those making the best out of a rotten situation.
Specifically, we've noticed three great compromises from some unlikely sources. In short, an outdoor concert encouraging attendees to remain in their vehicles and socially distanced is the best option.
Here's how Lawrence is managing live music when the world hit a sour note: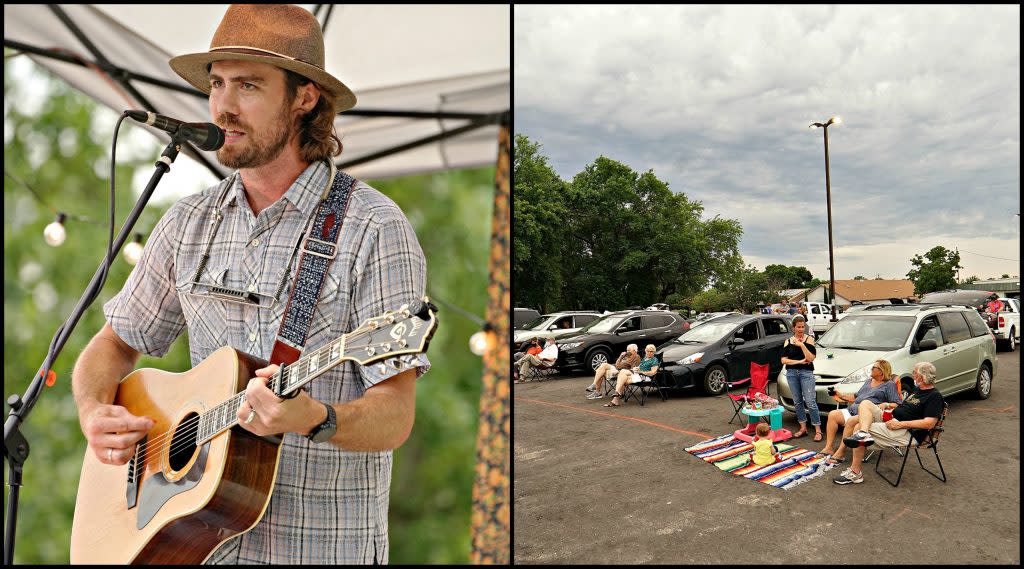 Lawrence Arts Center – 940 Live Series
One of the more exciting live events comes from the Lawrence Arts Center, though you won't find them Downtown. They've been utilizing an empty parking lot at the Douglas County Fairgrounds for their shows (this is normally where the stage was during the fair). So far, we've seen folk, bluegrass, and indie performers on this stage. Every show has been wildly successful and sold out rather quickly. Sky Smeed performed in June to an enthusiastic "honking party" (audience members honked horns in lieu of applause), while a three-act lineup took the stage in September. By September, the weather was pleasant enough that some even picnicked far apart on the grassy area behind the stage.
The Arts Center is planning more shows and additional performances (including a baby disco dance party) in the same area. It's best to follow their Facebook page for news and show announcements.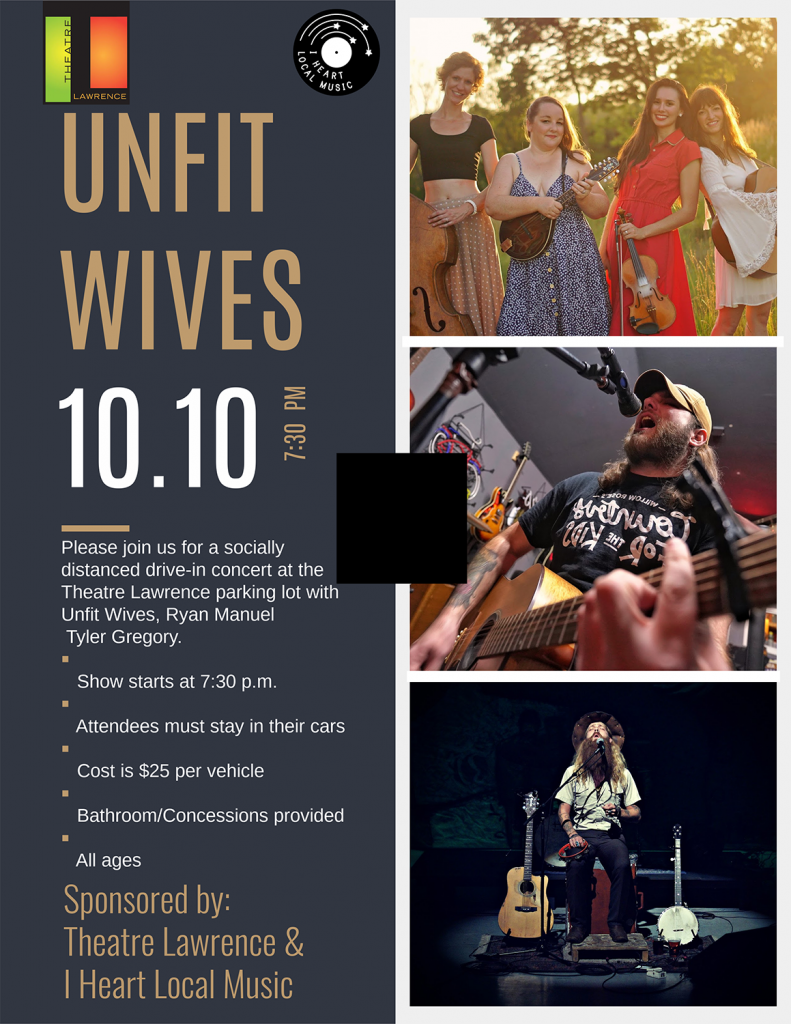 Theatre Lawrence
Theatre Lawrence has really knocked it out of the park with live entertainment during the quarantine. Located on the West side of town has allowed them to utilize their very large parking lot and bring in as many as 50 socially-distanced vehicles for a performance. Their drive-in shows have featured anything from interactive plays to musical guests and even movies, all of which were broadcast on a short-wave radio to the cars in attendance.
They had a fairly busy Summer and are starting to slow down and plan what the rest of the year will look like. For now (shameless plug), I Heart Local Music is jointly hosting a show with them on Saturday, October 10th with Unfit Wives, Ryan Manuel, and Tyler Gregory. Gates open at 7:00 p.m., show's at 7:30 p.m. You can find tickets here (they will go fast).

S&S Coffee
We have to give a shoutout to the first business to go out on a limb with live music was S&S Coffee. Nestled into the busiest intersection in town, the café had become a haven for both musical and visual artists pre-COVID. They often hosted singer-songwriter types in their amiable atmosphere.
In May, they transformed their parking lot into an outdoor venue. Space was limited, and tickets were not required. Generally, people pulled in, parked their vehicles six feet apart (an "enforcer" would come in with a six-foot stick to measure) and watched the performers play near the café's front door, while a wait staff ran drinks to and from the building. The café has since closed down, promising to reopen at a later date.
Be sure to catch the hilarious honking at the end of this clip:

Don't forget the live streamers!
We still need to support artists and venues with all of their COVID efforts. Lucia, the Replay, and Kaw Valley Public House all regularly stream music events (with some offering curbside food/drink orders). That way, you can grab a drink and some food and watch the show on their social media pages (listed below):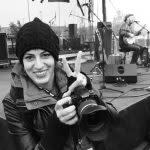 Fally Afani
Fally Afani is an award-winning journalist with a career spanning more than two decades in media. She has worked extensively in radio, television, newspapers, magazines, and more. Currently, she resides in Lawrence, Kansas, where she works as a music journalist and is the Editor of I Heart Local Music.